Vegan Soda Bread
This vegan soda bread is a simple quick bread that doesn't require any yeast. It has a hearty texture, perfect for enjoying with stew or smeared with a pat of vegan butter!
What is soda bread?
Classic Irish soda bread, like this one from Cook's Illustrated, is typically made with just a few simple ingredients, including baking soda, flour, and buttermilk. But since it relies on buttermilk, it's not vegan. I wanted to share an easy, vegan recipe that doesn't contain any dairy or eggs. Luckily, it wasn't hard to do! Keep in mind that soda bread isn't super soft, fluffy bread. It's almost more like a biscuit, meant to be enjoyed with butter or other toppings.
How to Make Vegan Buttermilk
Typically, the texture of soda bread comes from the combination of baking soda and buttermilk. But since we're not using buttermilk, we're substituting almond milk, apple cider vinegar, and orange juice. The acid from the vinegar and orange juice will help "curdle" the almond milk to give us a buttermilk substitute. Obviously, it's much lighter and lower in fat, so we'll add some melted coconut oil to the recipe to replace some of the fat that would typically be found in buttermilk and butter.
Additions and Mix Ins
For this recipe, I wanted a bread that could be enjoyed with just a simple pat of butter. To add interest and flavor I used a combination of walnuts, dried cranberries, and chocolate chips. You can use one or all of those mix-ins. Or you can substitute with other nuts, seeds, or dried fruit. I recommend using a total of 1 1/2 cups of mix-ins. If you were planning to serve this bread with soup or stew, I'd recommend either leaving it plain or just adding walnuts and cranberries.
Frequently Asked Questions
Can I divide the recipe in half? Yes! I've split the recipe in half to make one loaf, and it turned out fine.
Can I make this gluten-free? I wouldn't recommend this recipe with gluten-free flour.
Can I replace the coconut oil? Yes, if you don't have coconut oil you can use melted vegan butter.
Is this traditional Irish soda bread? No, this recipe isn't meant to be a traditional recipe since we're making it vegan. But it still has a classic soda bread taste!
How to Make Vegan Irish Soda Bread
Print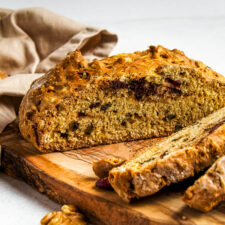 Vegan Soda Bread
Author:
Prep Time: 10 minutes
Cook Time: 40 minutes
Total Time: 50 minutes
Yield: 2 loaves 1x
Category: Snack
Method: Baked
Cuisine: American
Diet: Vegan
---
Description
This vegan soda bread is a simple quick bread that doesn't require any yeast. It has a hearty texture, perfect for enjoying with stew or smeared with a pat of vegan butter!
---
4 cups all-purpose flour
1 teaspoon salt
1 tablespoon baking soda
5 tablespoons granulated sugar
1/4 cup coconut oil, melted
1 1/3 cup almond milk (or other non-dairy milk)
1/4 cup orange juice
2 teaspoons apple cider vinegar
1/2 cup dried cranberries (sweetened or unsweetened is fine)
1/2 cup chopped walnuts
1/2 cup dairy-free chocolate chips (optional)
---
Instructions
Preheat oven to 400°F. Line a baking sheet with parchment or a silicon baking mat.
In a bowl or measuring cup combine the almond milk, orange juice, and vinegar. Set aside.
In a large bowl, combine flour, salt, baking soda, and sugar. Stir to distribute everything evenly.
Pour in the melted coconut oil. Stir and work with your hands until the coconut oil is in small clumps within the flour mixture.
Pour in the curdled milk mixture. Stir until a shaggy mass forms.
Add the cranberries, chopped walnuts, and chocolate chips. Stir to evenly distribute.
Flour your hands then divide the dough into two large balls. Dough will be sticky.
Slice an X into each loaf and place on prepared baking sheet.
Bake for 30-40 minutes until golden brown and firm all around.
Allow to cool for at least 40 minutes before cutting into the loaves.
---
Keywords: vegan soda bread