The Vegan Recipes that Bloggers Make Again and Again
Alex and I set a few goals recently and one of them was to eat less dairy. While I obviously only cook vegetarian food, I've found that cheese is often my shortcut. It's the easy thing I add to make something taste good. While there's certainly nothing wrong with cheese, I realized that I eat a whole lot more dairy than I used to. I wanted a few more vegan recipes in our weeknight rotation, so I reached out to a few blogger friends to see what vegan recipes they find themselves making over and over. These might not be the fancy recipes but they're the ones that you can make after work on a Tuesday night when you're tired and you don't want to go to the grocery store to pick up fancy ingredients.
This super simple potato and green bean curry could be your new weeknight staple recipe. "This is my weeknight go-to recipe. It takes only about 30 minutes to make, the whole family loves it and it's super budget friendly!"- Melanie, A Virtual Vegan
These Spanish beans and tomatoes are an easy and budget friendly meal idea! "We make these Spanish beans a lot. They're quick, easy and full of flavor."- Katharine, Veggie Desserts
This roasted tomato and chickpea soup will be a cold weather staple, but it's delicious enough that you'll crave this in the summer. "I'm always looking for quick yet healthy meals for dinner and to take to work as leftovers. This soup is made with pantry staples so it's easy to make but still really tasty."- Mary Ellen, V Nutrition and Wellness.
Pasta is an easy meal option, and you can step it up with this simple roasted red pepper tomato sauce. "We love pasta and this sauce is a cinch to throw together on any night of the week. I usually have all of these ingredients in my pantry. It's delicious and healthy, too" – Kate, The Artful Appetite.
This grilled vegetable Buddha bowl would probably work well with just about any vegetables you have in your fridge! "This vegan meal is summery, fast and so tasty! Make the lemon tahini dressing ahead of time and keep it in the fridge for a fast week day"-Julie, Running in a Skirt
Here are a few of my personal favorite easy vegan meal ideas!
This Moroccan chickpea soup is hearty enough to be served as a main course! Plus you can make a big batch at the beginning of the week and pack it up for lunch!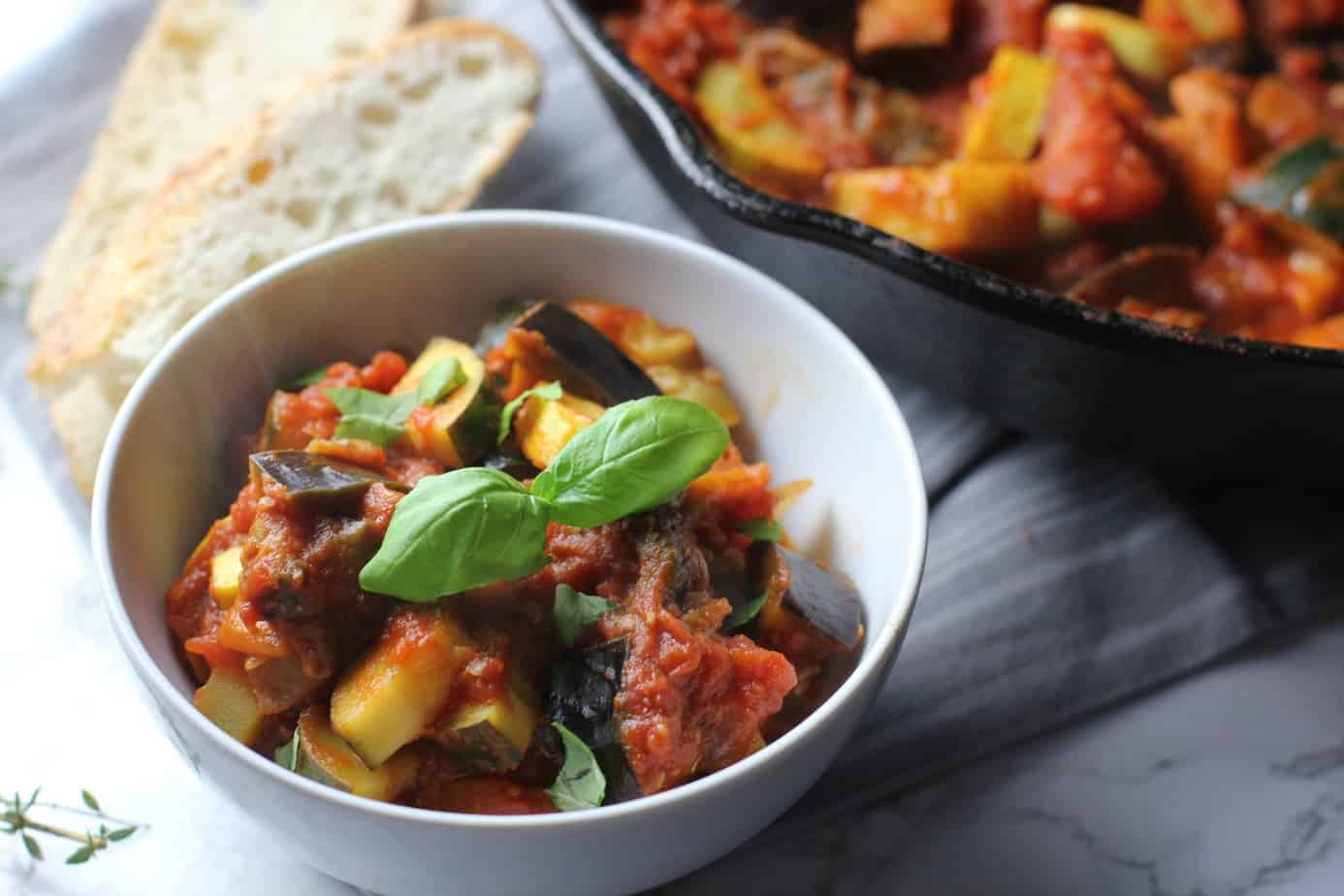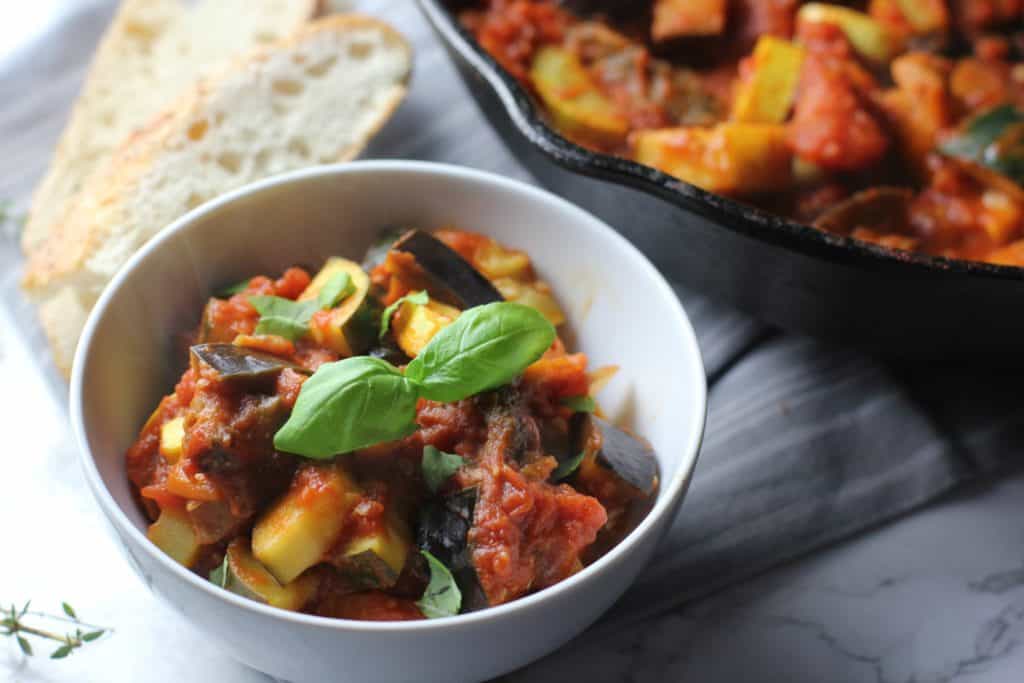 This one-pan ratatouille is delicious, especially if you serve it with a big slice of crusty bread on the side to soak up the sauce!
This black bean soup literally takes 5 minutes to throw together, thanks to a salsa shortcut!
This curried lentil soup is packed with flavor and the leftovers reheat perfectly for a quick packed lunch!
I'm starting to break the habit of grabbing cheese for our dinner recipes, and these ideas certainly help! I've also found that keeping my pantry with these grocery staples makes it easy to throw these recipes together without having to make a trip to the store!
Not ready to give up dairy but thinking about eating a little less meat? Check out these tips:
Do you have any vegan recipes that are perfect on a busy evening? Leave your ideas in the comments below!