When you're trying to eat healthy, having good food in the freezer can be a huge help. Rather than being tempted by takeout, keeping pre-made vegan freezer meals on hand can make things much easier!
Before we get into the recipes, here are a few general guidelines and tips for successfully frozen meals:
Use quality airtight containers. I like to use glass because it makes it really easy if I want to pop it right in the microwave. You don't want anything leaking in your freezer!
Make sure meals don't get lost in the freezer. Put your newest meals in the back and older meals in the front so you don't forget to eat what you've already made!
Portion meals ahead of time, if necessary. You don't want to thaw and refreeze a recipe, so if you're making a batch of chili that you plan to take for a single-serving lunch, pack it in single-serving containers.
Here are a few ideas to get your freezer stocked with healthy, vegan, plant-based meals!
This slow cooker vegan chili is perfect for a busy weeknight. Freeze the base then top it with things like sour cream and avocado after thawing when you're ready to serve it!
Chickpea curry is one of my favorite Indian dishes and I usually have a Trader Joe's version in my freezer. But if you want to make your own, this dish from The Artful Appetite is a great one to keep on hand!
This vegan macaroni and cheese is one of my all-time favorite vegan recipes! The cheese sauce can be frozen for up to two months. Simply reheat in the microwave and mix with your favorite pasta!
This eggplant curry can be stored in an airtight plastic container. You can either leave it in the fridge overnight to defrost or can be reheated straight from frozen if you add some extra water to help it along! Get the details on Rhian's Recipes.
Freeze these vegan black bean and quinoa veggie burgers on a sheet pan until frozen, then you can stack them in a freezer bag. (Just make sure they're frozen before you stack them or they'll stick together!) Get the recipe at Peas and Crayons.
This vegan lentil shepherd's pie is the perfect comfort food. Make it ahead of time, freeze it, and then pull it out on a busy night when you need to feed the whole family! Find the recipe on Emma Eats and Explores!
This vegan and gluten-free black bean soup is only 5 ingredients. Freeze it in single-serving containers for an easy lunch option!
This Vegan Lentil Loaf is the perfect main or side dish for the upcoming holidays. This recipe is full of flavor and nutrition, plus it's gluten-free!
This Sweet potato and Kale Soup is so hearty and delicious, made with sweet potato, crisp kale, fresh tomatoes, and onions.
This Hashbrown Casserole is the ultimate comfort food, satisfying, flavorful and no one could ever tell it is entirely vegan. Great for the freeze, thaw whenever you need.
Black Bean and Quinoa Freezer Burritos! These make-ahead vegetarian burritos are super easy to make, loaded with beans and veggies, and are freezer-friendly. Perfect for healthy lunch on the go or planning for busy times.
If you're looking for an easy, comforting and delicious vegan chili recipe, you're going to love this dump and start Instant Pot Black Bean Chili!
This thick and creamy Butternut Squash Soup is a healthy autumn favorite that can be made in bulk and frozen for later.
The easiest ever, best and creamiest Dump and Start Instant Pot Moroccan Chickpea Stew is just a few ingredients and minimal effort away. Comfort food, quick weeknight dinners, and lazy lunches are at your fingertips with this awesome Moroccan Harira.
This garlic lentil soup can be made on the stovetop or in the Instant Pot. Freeze leftovers for an easy protein-packed dinner recipe, whenever you need it.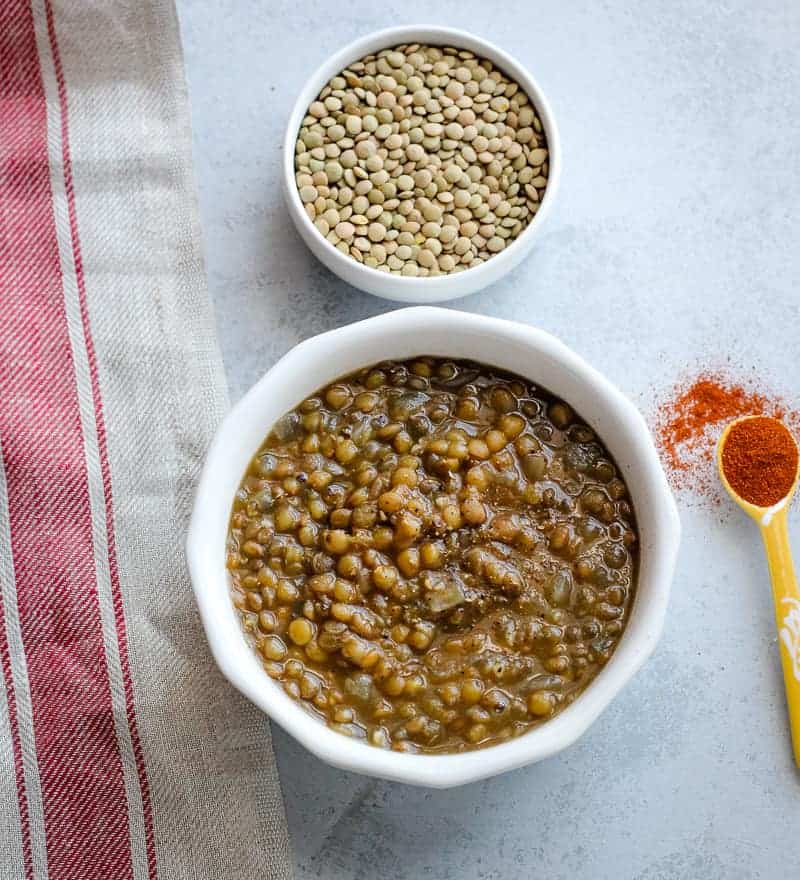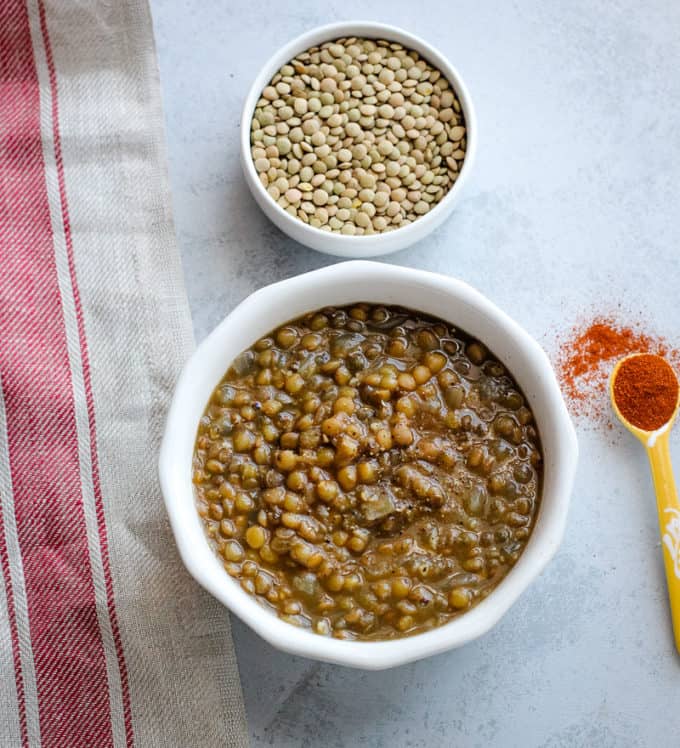 Vegan Chana Masala made easy! This vegan chana masala is a 1 pot Indian dish that is packed with plant protein, flavor and is perfect for meal prep. Serve with fresh naan and basmati rice for a delicious plant-powered dinner.
This lentil dal recipe is one of the best nourishing dishes that you can eat all year long. It's filling, creamy and full of flavor. Plus, it is freezer-friendly!
No time to make your own? Here are my favorite freezer meals from Trader Joe's!
What are your favorite frozen vegan meals?