Vegan Deep Dish Chocolate Chip Cookie
This Vegan Deep Dish Chocolate Chip Cookie is the perfect single-serving dessert. Studded with plenty of chocolate chips, this dessert will satisfy your sweet tooth!
There were a lot of potential titles for this post. "Single Serving Vegan Chocolate Chip Cookie." "Deep Dish Chocolate Chip Pie." But "Single Serving Vegan Deep Dish Chocolate Chip Cookie Pie" seemed a little long, so I had to shorten it. You get the picture though, right? This is an easy vegan cookie recipe that is plenty for one person or just enough for two. (But you better really love the person you're sharing it with… because it's really good.)
I decided to keep this recipe vegan so my non-dairy/egg consuming friends could join in the fun. If you wanted to make this gluten-free, you might have to play around with flour substitutes a bit. Little recipes like these can be a bit finicky so I can't promise results, but if you try it please let me know how it goes!
Tips for the Perfect Vegan Deep Dish Chocolate Chip Cookie
I like using mini chocolate chips, so you get a little bit of chocolate in every bite! But you can use any chips you have on hand.
To keep this vegan, I used Earth Balance buttery spread but you can use any butter or butter substitute you like.
Be sure to spray the ramekin before adding the dough, so your cookie doesn't stick to the cup!
Print
[Vegan] Deep Dish Chocolate Chip Cookie
Author:
Prep Time: 5 mins
Cook Time: 15 mins
Total Time: 20 mins
Yield: 1 1x
Category: Dessert
Method: Baked
Cuisine: Vegan
---
Description
This vegan chocolate chip cookie recipe makes plenty for one or just enough for two!
---
2 tablespoons Earth Balance spread (or butter if you're not vegan)
1 tablespoon brown sugar
1 tablespoon white sugar
1/8 teaspoon vanilla
1/8 teaspoon baking soda
Pinch of salt
1/4 cup flour
1 1/2 tablespoons mini chocolate chips
Non-stick cooking spray
---
Instructions
Preheat the oven to 375 degrees.
Spray the inside of a 4″ ramekin with non-stick spray.
In a small bowl, melt the butter and combine with the brown sugar and white sugar.
Stir until there are no lumps at all.
Add in the vanilla.
Combine the flour, baking soda, and salt.
Slowly sift in the dry ingredients.
Stir until combined.
Add in chocolate chips and press the dough into your ramekin.
Bake for 15 minutes or until golden brown on top.
---
Notes
This really does make a pretty large and dense cookie, so although I'm calling it a single serving recipe I do recommend sharing!
Keywords: Vegan Deep Dish Chocolate Chip Cookie
I tried to let mine cool for a couple of minutes but it was really hard not to dig right in.
Just look at that chocolate chip deliciousness. Good thing this recipe is a single serving!
Try one of these other single-serving recipes!
Single Serving Banana Bread!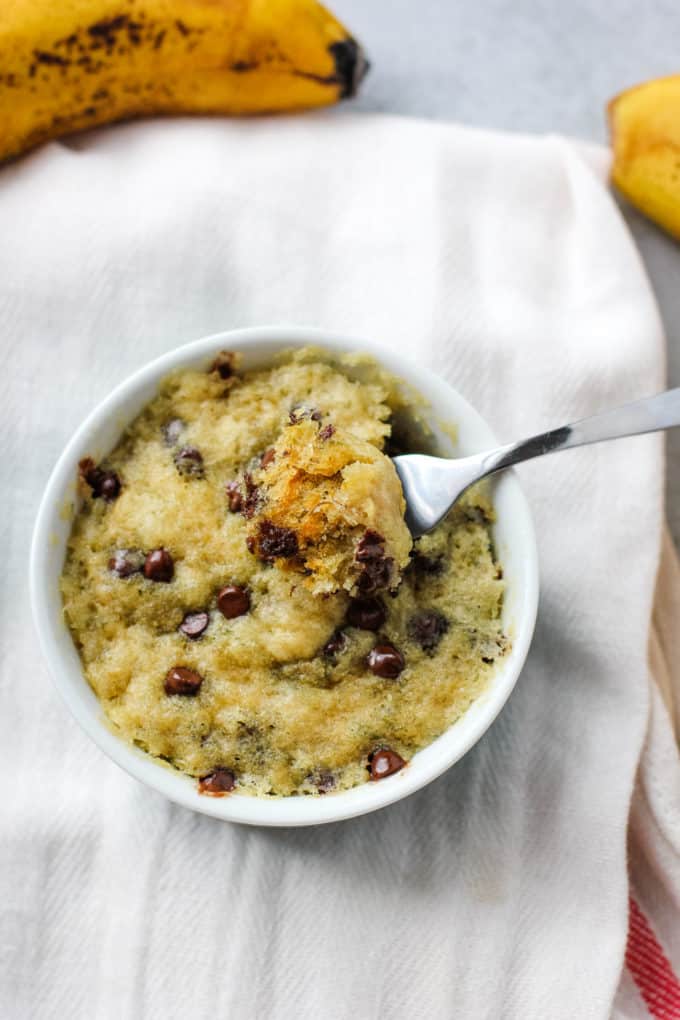 Single Serving Pumpkin Chocolate Chip Cookie
What's your can't-stop-eating dessert?