Chickpea Noodle Soup
This chickpea noodle soup is a vegetarian comfort food that tastes just like the classic favorite! It can be ready in just 30 minutes and it's perfect for a weeknight meatless meal!
When I was in elementary school, I loved chicken noodle soup. And by chicken noodle soup I mean the kind that came condensed in a can with those weird pieces of "chicken" in it. But I wasn't the only one who regularly ate this soup. My dad was also an avid chicken noodle soup eater… and I may have hidden cans of soup in the back of the pantry so I could be sure I always had one available. I was so sneaky. (Well, until my mom found hoards of chicken noodle soup stuffed in the back of the pantry.)
Oh, how things have changed.
I almost didn't post this recipe because it's so simple. We've been making it for months but it almost felt too simple to share. Then I remembered that the recipes I make over and over are the ones I have to share with you. So add this chickpea noodle soup recipe to your must-make list!
The Best Vegetarian "Chicken" Broth
While you can use any broth you like, I like the Edward & Sons' Not-Chick'n Bouillon Cubes. They're easy to keep in the pantry and they really taste like chicken broth! I also like Imagine Foods Vegetarian No-Chicken broth if you prefer to use a boxed version.
Types of Noodles to Use for Chickpea Noodle Soup
If you want to make a vegan version of this, you'll have to pick up vegan egg noodles. Believe it or not, Walmart makes a version of egg-free noodles that are perfect in this soup! I typically use regular egg noodles but it's nice to know there are options out there! You could also make this with chickpea noodles. Banza makes a Gemelli shape that is perfect for this recipe! It would make this recipe vegan and gluten-free.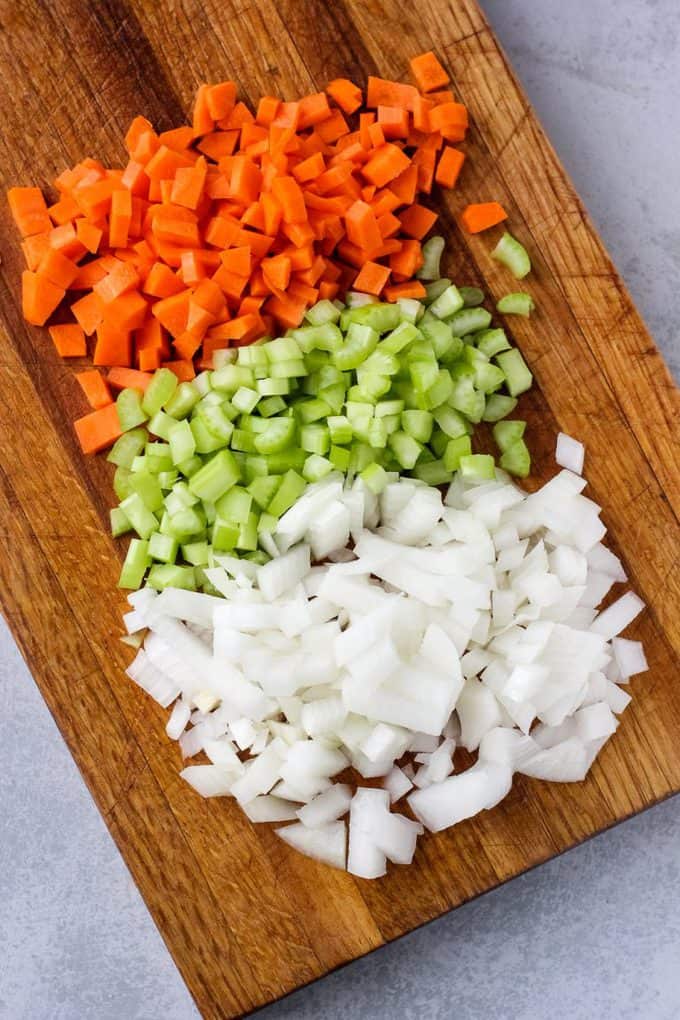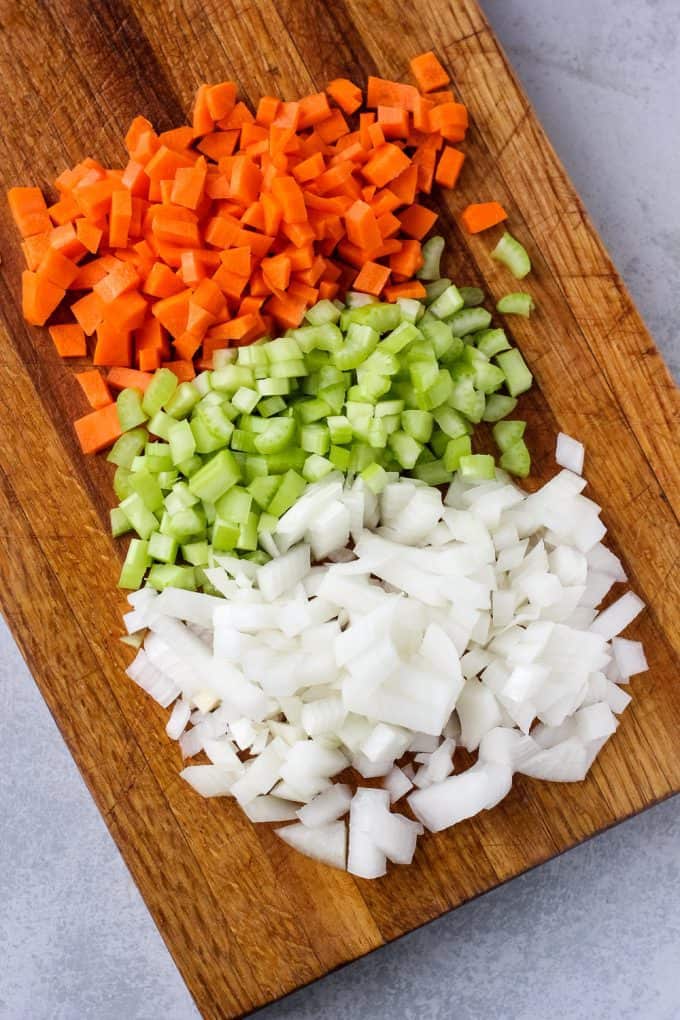 Tips for Perfect Chickpea Noodle Soup
Make sure you cut all of your vegetables in similar sizes, so they soften at the same rate.
To make this recipe vegan, use whole wheat or chickpea pasta. Egg noodles, as you might have guessed, are not vegan.
Be sure to stop cooking as soon as the noodles are al dente. They'll continue to cook and soften in the broth.
Print
Chickpea Noodle Soup
Author:
Prep Time: 10 minutes
Cook Time: 20 minutes
Total Time: 30 minutes
Yield: 4 bowls 1x
Category: Soup
Method: Stovetop
Cuisine: Soup
---
Description
This chickpea noodle soup is a vegetarian comfort food that tastes just like the classic favorite! It can be ready in just 30 minutes and it's perfect for a weeknight meatless meal!
---
1 tablespoon butter or olive oil
1 large white onion, diced
1 cup chopped celery (about 2 stalks celery)
1 cup chopped carrots (about 2 medium carrots)
1/4 teaspoon dried rosemary
1/4 teaspoon dried parsley
1/4 teaspoon dried thyme
8 cups vegan "chicken" style broth or vegetable broth (see note)
1 15oz can chickpeas, drained and rinsed
8oz egg noodles 
1/4 teaspoon dried rosemary
Salt & pepper to taste
---
Instructions
In a large pot, add the butter and heat over medium heat for 30 seconds.
Add the onion, celery, and carrots and cook over medium heat for 8-10 minutes or until the vegetables start to soften.
Add the rosemary, parsley, and thyme and continue to cook for 2 minutes.
Add the broth, egg noodles, and chickpeas, and bring to a boil.
Once boiling, reduce to a simmer and cook for 8-10 minutes or until the noodles are cooked.
Add salt & pepper to taste.
---
Notes
I like to use Imagine Foods Organic No-Chicken broth or Edward & Son's "Not-Chicken" style broth. You can use vegetable broth, but it won't have quite the same chicken soup resemblance.
Egg noodles contain eggs, so they're not vegan. For a vegan option, try chickpea noodles. The Banza Gemelli noodles are perfect in this recipe!
Keywords: Chickpea noodle soup
This is one of those throw-together-pantry-dinners that Alex and I both love on a chilly night. It's perfect with a big salad or some crusty bread, depending on what you're craving.
Although I haven't eaten chicken in over 10 years, sometimes I just crave things like this. It's not the chicken I'm after, but I love those buttery egg noodles. I can't really vouch for their nutritional value and you can certainly swap them out for something a little more nutritious like whole wheat noodles, but sometimes you need the real thing! And all those veggies and chickpeas balance things out quite nicely.
Looking for another comfort food staple? Try this creamy tomato soup recipe! It's vegetarian and it pairs perfectly with a grilled cheese or a side salad!
It's a childhood favorite… just a little healthier!
What was your favorite comfort food as a child?