Vegan Charcuterie Board
Enjoy a delicious charcuterie board that is completely plant-based. It's easier than you think! This vegan charcuterie board is perfect for your next party.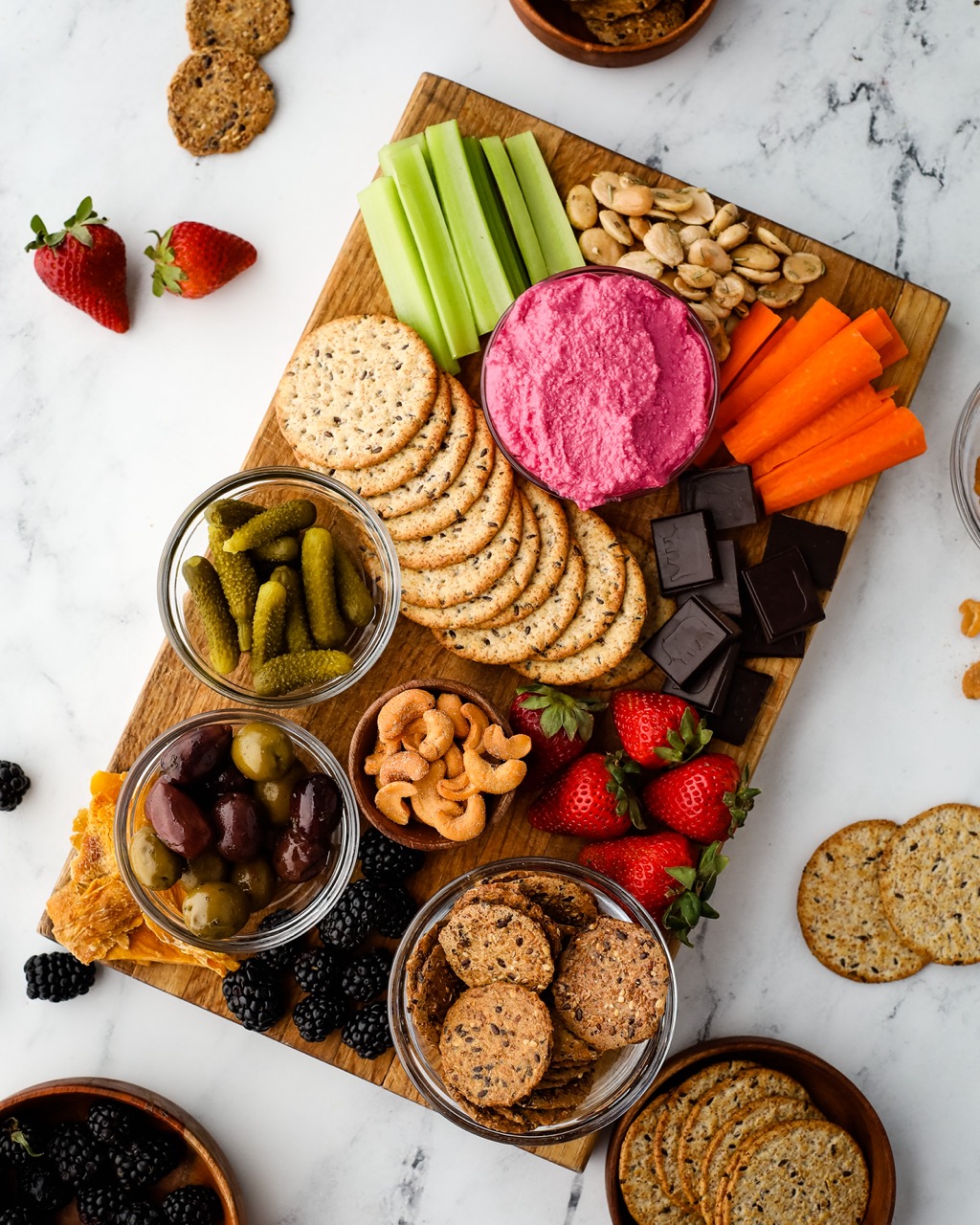 I've been a vegetarian for over a decade but once upon a time, I went vegan for 6 months. Back then it was nearly impossible to find a plant-based substitute for cheese. Although vegan cheese has come a long way over the past decade, I still skip over most of the "fake cheese" and reach for other options if I want to avoid dairy.
While you can absolutely add vegan-friendly cheese substitutes to your charcuterie board, I thought it would be fun to keep the options entirely meat- and cheese-free to give you some other ideas of things to snack on. With enough flavor and variety, you won't miss the meat or cheese!
The Essentials of a Vegan Charcuterie Board
The key to a fantastic vegan charcuterie board is variety. Aim for a diverse selection of flavors, textures, and colors. Here's a breakdown of essential elements to include:
Crackers and Bread: Provide a mix of crackers or bread to enjoy with various spreads and dips. Choose options like baguette slices, gluten-free crackers, and whole-grain options for a well-rounded selection.
Fruits: Fresh and dried fruits add a burst of color and natural sweetness to your board. Consider grapes, dried mango, blackberries, strawberries, sliced apples, fresh figs, or dates.
Nuts: Nuts add texture and a dose of healthy fats. Almonds, cashews, walnuts, and pecans are all excellent choices. I like mixing things up with spicy cashews, roasted nuts, or candied pecans. It's a great way to add a little additional flavor and interest to your board.
Pickles and Olives: A few tangy, briny elements like pickles, stuffed olives, and gherkins can balance the flavors of your board. I love spicy cornichons.
Spreads and Dips: Include savory spreads like hummus, vegan pesto, or tapenade for an extra layer of flavor. I used beet hummus to add a pop of color to my board!
Mustards and Jams: Provide an array of condiments, such as Dijon mustard, fruit jams, tomato jam, or chutneys, to complement the flavors on your board.
How to Arrange a Vegan Charcuterie Board
Now that you've gathered your ingredients, it's time to assemble your vegan charcuterie board. Here are some tips for creating an eye-catching arrangement:
Balance Colors and Shapes: Place contrasting colors and shapes next to each other for visual appeal. For example, arrange red grapes next to green olives or round berries near rectangular crackers.
Texture Variety: Mix textures by alternating creamy dips with crispy crackers, soft fruits with crisp vegetables, and smooth chocolate with crunchy nuts.
Layering: Build your board in layers, starting with larger items like strawberries and gradually filling in gaps with smaller items like nuts and grapes.
Focal Point: Create a focal point by placing a stunning centerpiece, like a dip or a pile of colorful fruit, in the center of your board.
What to Serve with a Vegan Charcuterie Board
If you're creating this board for a party, consider what beverages you want to pair with your charcuterie board. Some of my favorite options are:
Vegan Wines: Ensure your wine selection is vegan-friendly by checking for labels that specify no animal-based fining agents were used. (I'm not strict about this one but some vegans or vegetarians are!)
Non-Alcoholic Options: Consider providing non-alcoholic beverages like sparkling water, kombucha, or alcohol-free beer for those who prefer not to drink.
Cocktails or Mocktails: I love making a signature cocktail or mocktail for a party. Try my Spicy Ranch Water or Moscow Mule mocktail!
More Vegan Charcuterie Board Ideas
Looking for more plant-based inspiration? Check out these ideas from a few of my blogger friends:
Print
Vegan Charcuterie Board
Author:
Prep Time: 15 minutes
Cook Time: 0 minutes
Total Time: 15 minutes
Yield: Serves 8
Category: Snack
Method: No Cook
Cuisine: American
Diet: Vegan
---
Description
Enjoy a delicious charcuterie board that is completely plant-based. It's easier than you think! This vegan charcuterie board is perfect for your next party.
---
Hummus or vegan pesto
Crackers (gluten-free and/or regular)
Celery and/or carrot sticks
Cornichons or pickles
Black or green olives
Roasted cashews or roasted nuts
Blackberries and/or strawberries
Tomato jam or fruit jam
Dark chocolate (be sure it's dairy-free)
---
Instructions
Assemble all the ingredients on a large cutting board and serve immediately.
---
Keywords: Vegan Charcuterie Board