The Sculpt Society Review
Curious about The Sculpt Society? I've been using the app for over a month so I'm sharing all my thoughts about the app and the workout program!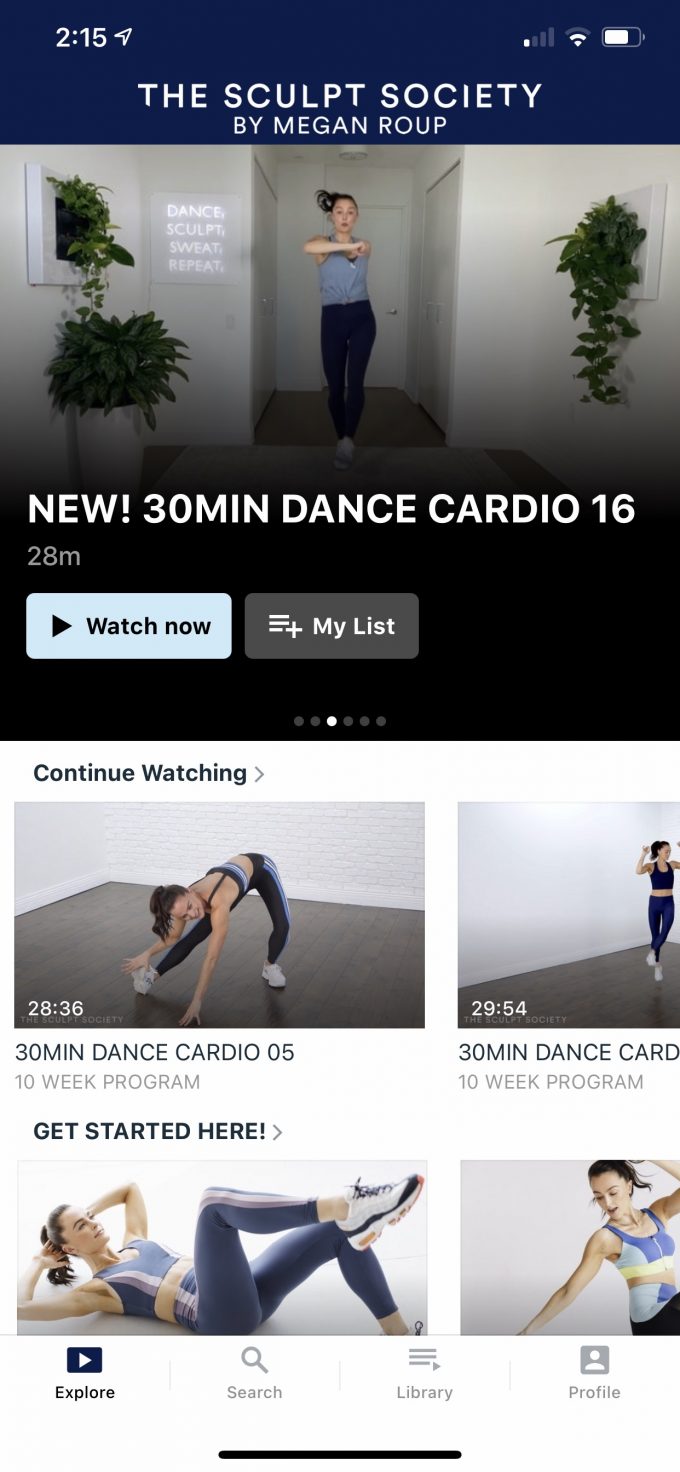 About a month ago, a friend sent me a link to The Sculpt Society and asked if I'd want to try it with her. There was an offer for a free two week trial, so I figured I'd give it a shot for a couple of weeks. Why not, right?
What is The Sculpt Society?
The Sculpt Society is a workout program created by Megan Roup. There are a variety of workout videos from dance cardio to pilates-style workouts with a wide range of length and intensity. The majority of the workout videos are around 30 minutes long.
What are the workouts like?
There are two main types of workouts: dance cardio and toning videos. Some of the videos incorporate both workouts into full body style videos. The dance cardio workouts is what really sets The Sculpt Society apart from other workouts I've seen.
Megan's workout videos will get your heart pumping in minutes and the choreography is fast, fun, and easy to follow. She'll give you plenty of cues so you know what's coming, but it's not so much that you can't enjoy the music. Unlike some "dance" workouts that are really just a series of squats set to music, her dance routines truly feel like dancing. The workouts fly by but you'll definitely feel it the next day!
Her toning videos are similar to a pilates or barre style workout, featuring light weights, high repetitions, and lots of bodyweight exercises. She has specific videos for arms, legs, booty, etc. but she also has total body workouts. In terms of length, they range from 10 minutes to 50 minutes, with most being around 30 minutes.
How Difficult are the Workouts?
The workouts are challenging but Megan offers modifications for beginners. If you're more advanced, there are opportunities to take it up a notch by adding ankle weights or trying longer workout videos. She has a 10 week beginner program and a 10 week intermediate/advanced program so you can select workouts that will meet you where you are.
Are the Workouts High Impact?
The dance cardio videos do involve a lot of jumping and bouncing. Most of the toning workouts are low impact and do not involve a lot of plyometrics. For the dance cardio workouts, it's recommended to wear a comfortable pair of sneakers with a lot of support.
What Equipment do You Need?
You don't really need any equipment other than sneakers and a mat. But having a light pair of weights (2-3 lbs) will definitely come in handy. She also gives you the option to use slider discs, ankle weights, and a pilates ball, but these truly are optional. You'll still get in a great workout with no equipment.
I do recommend investing in a quality pair of shoes. The dance workouts do require a lot of jumping and bouncing, so you'll want to make sure your feet are cushioned and supported!
How Much is The Sculpt Society?
The Sculpt Society is $19.00/month but if you pay annually, it's only $10/month! I didn't expect to continue the app after the 2-week trial but I loved it so much, I signed up for the whole year! I didn't think I could find something that would take me away from the Tone It Up app, but The Sculpt Society is my new favorite!
Is There a Sculpt Society Discount Code?
You can use my affiliate link to try The Sculpt Society for FREE for 2 weeks! There's no obligation to purchase anything, just give it a try and see if it's right for you! You might be surprised how much fun it is to work out!
Looking for more at-home workout ideas? Here are a few more optoins to check out:
Enjoy your workout!