Baked Gnocchi with Tomatoes
This baked gnocchi with tomatoes is rich and creamy with a delicious sauce made from mozzarella cheese. This simple one-pan meal is easy to make but hearty and filling.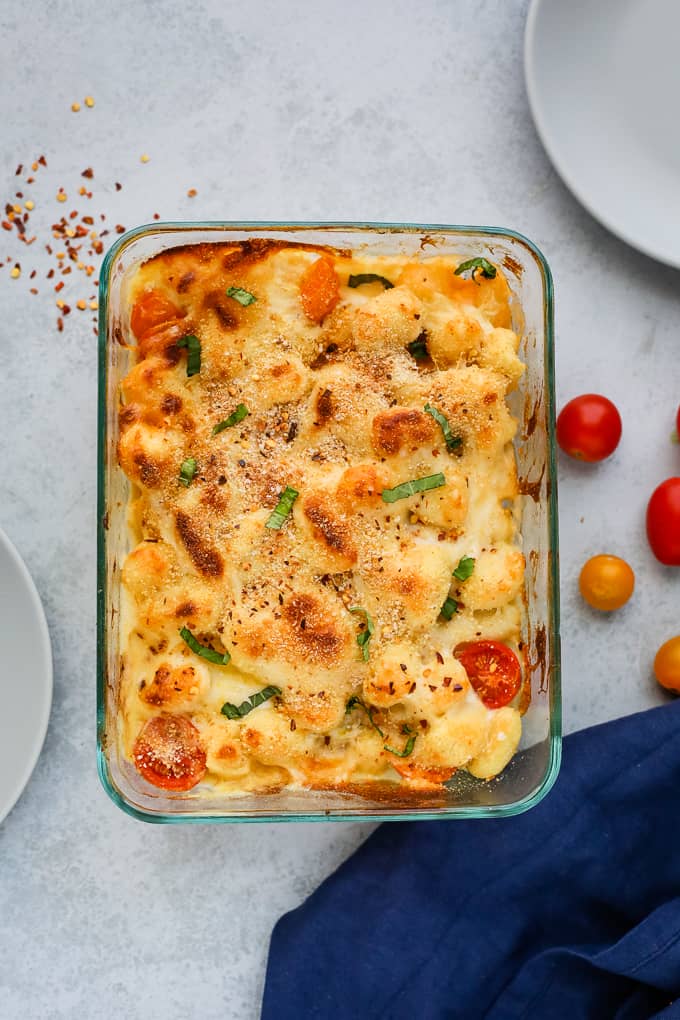 Gnocchi is one of my favorite comfort foods and I usually keep a package of shelf-stable gnocchi on hand for easy dinners. It's a great pantry staple because it lasts a long time and you can easily spice it up with just a few ingredients.
What is Gnocchi?
Gnocchi is typically considered a type of pasta but it's technically a little dumpling, made with potatoes and flour. It's usually served like pasta, with marinara sauce, pesto, or alfredo sauce. You can learn more about the history of dumplings in this post from DeLallo!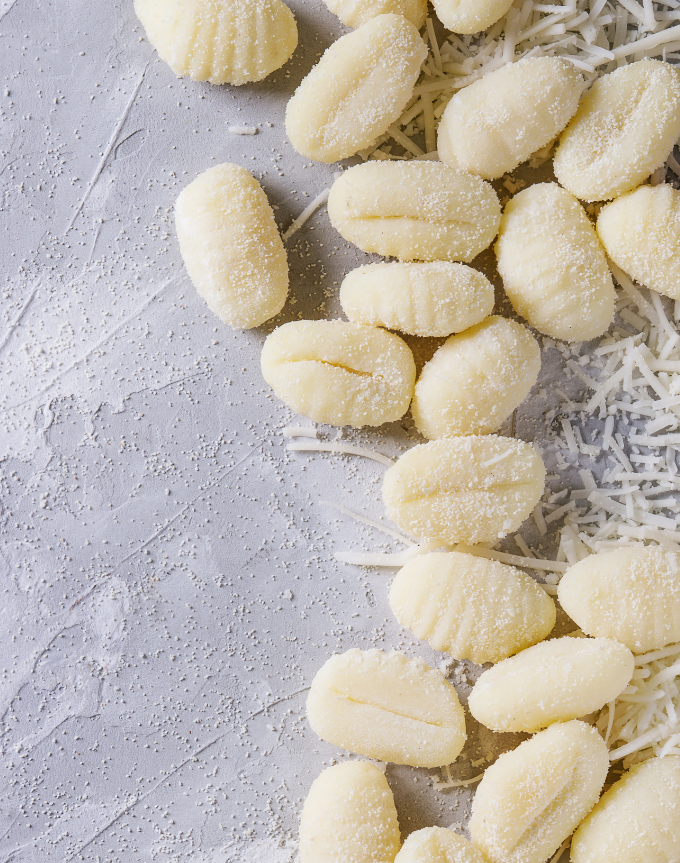 The Best Type of Shelf Stable Gnocchi
There are a number of different brands on the market, but DeLallo is my personal favorite. Some gnocchi comes seasoned or flavored, but I recommend plain gnocchi for this recipe.
Baked Gnocchi Ingredients
Olive oil– This helps create a crispy, golden brown exterior on the gnocchi.
Shelf-stable or refridgerated gnocchi– I'm sharing my favorite brands below!
Butter– This helps add richness to the sauce.
Milk– This makes the sauce extra creamy.
Flour– This helpes create a roux from the milk and butter.
Garlic powder- I love the garlic flavor this adds to the dish.
Salt– A little salt enhances all the flavors.
Mozzarella cheese– This creates the cheesy part of the dish.
Cherry tomatoes– This is an easy way to add vegetables to the gnocchi bake.
Breadcrumbs– These add a lovely texture to the dish.
Crushed red pepepr flakes- I like the heat these add to the recipe but you can skip them if you don't like the spicy taste.
How to Make Baked Gnocchi
Start by toasting the gnocchi in a skillet until golden brown. Then make a roux with the butter, milk, and flour.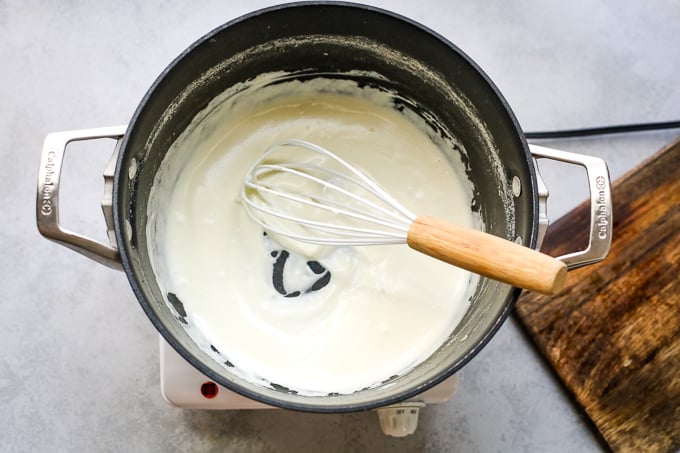 Add the gnocchi, tomatoes, and cheese sauce into a casserole dish and cover with breadcrumbs.
Bake until golden brown and cheese is bubbly. Top with fresh basil.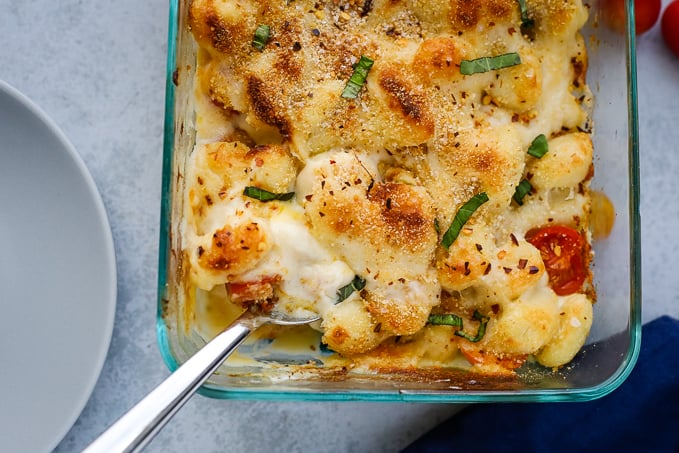 What is Cauliflower Gnocchi?
Cauliflower Gnocchi, made famous by Trader Joe's, took the world by storm a few years ago. The TJ's brand of cauliflower gnocchi is made from cauliflower, cassava flour, and potato starch. I don't recommend substituting frozen cauliflower gnocchi in this recipe. It's a little too soft and gummy for this recipe.
How To Make Baked Gnocchi
The trick to this delicious baked gnocchi is the rich and creamy sauce! Butter, flour, and milk create a simple roux and then the mozzarella cheese creates a deliciously rich sauce. Pour the sauce over toasted gnocchi and sliced tomatoes, and bake until bubbly and crispy!
Do I Need to Boil the Gnocchi First?
Nope! Whether you're using shelf-stable, frozen, or refrigerated gnocchi, there's no need to boil the gnocchi before using it in this recipe. Since we'll toast it in the skillet, it'll get golden brown before we add it to the baking dish.
How to Store Leftovers
If you have leftovers, store them in the fridge in an airtight container. To reheat, microwave, or reheat in the oven until cheese is melted. I do not recommend freezing this recipe.
Print
Cheesy Gnocchi Bake
Author:
Prep Time: 10 minutes
Cook Time: 30 minutes
Total Time: 40 minutes
Yield: Serves 4
Category: Pasta
Method: Baked
Cuisine: Italian
---
Description
This baked gnocchi with tomatoes is rich and creamy with a delicious sauce made from mozzarella cheese. This simple one-pan meal is easy to make but hearty and filling.
---
1 tablespoon olive oil
16 oz shelf-stable or refridgerated gnocchi
2 tablespoons butter
1 tablespoon flour
3/4 cup whole milk
1/4 teaspoon garlic powder
1/4 teaspoon salt
1 cup shredded mozzarella cheese
1 1/2 cups cherry tomatoes, halved
1/4 cup bread crumbs
Crushed red pepper flakes
---
Instructions
Preheat oven to 350 degrees.
In a large skillet, heat the olive oil over medium heat for 30 seconds.
Add the gnocchi and toast for 4-5 minutes until the gnocchi begins to brown slightly.
Remove the gnocchi from the pan, then add butter to the skillet.
Heat over medium heat until melted.
Whisk in the flour and continue to cook over medium heat for 1 minute.
Add the milk and continue to cook, stirring constantly until the sauce has thickened, about 3 minutes.
Add the garlic powder, salt, and mozzarella cheese and continue to stir until the cheese has melted.
In an 8×8 pan, combine the toasted gnocchi and chopped tomatoes.
Pour the cheese sauce over the gnocchi, and gently mix to combine.
Sprinkle with bread crumbs, salt, and crushed red pepper flakes.
Bake for 25 minutes uncovered until the top is golden brown.
---
Keywords: baked gnocchi with tomatoes
Looking for other ways to make baked gnocchi? Try this easy sheet pan gnocchi recipe!
If you need a tasty side dish idea, try this Air Fryer Broccoli!
Or serve it with these air fryer green beans. The lemon aioli is amazing!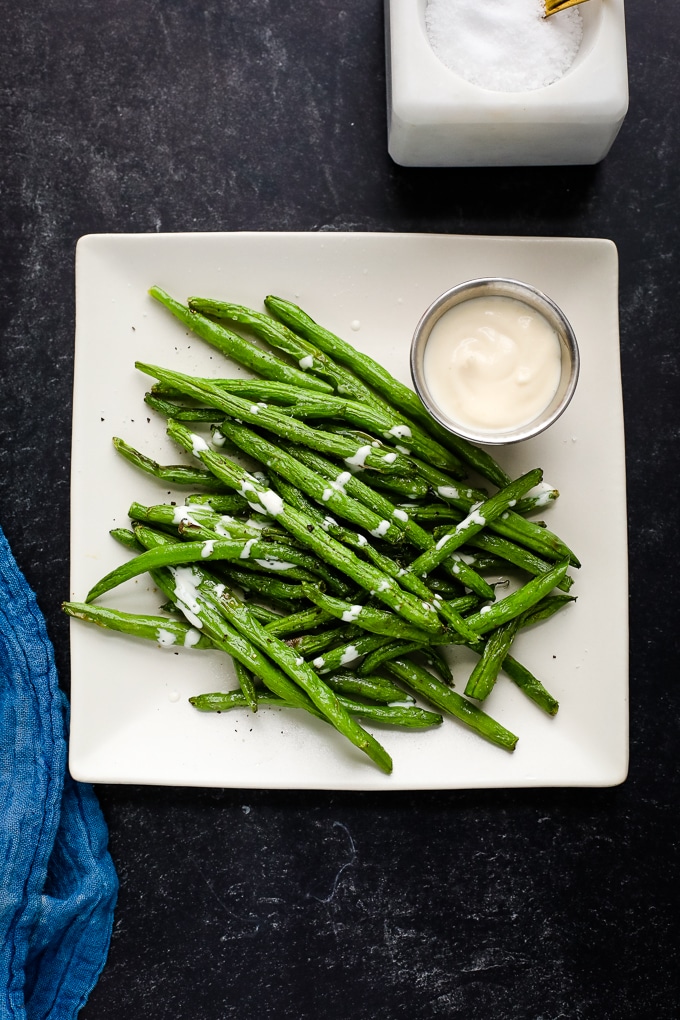 What's your favorite way to eat gnocchi?
This post was originally published February 2012. Updated July 2020.