Shredded Brussels Sprout Recipes
Not sure what to do with that bag of shredded Brussels sprouts that's been sitting in your fridge? I've got you covered! I love these crunchy, cruciferous vegetables. They're full of nutrients and they're delicious in so many recipes.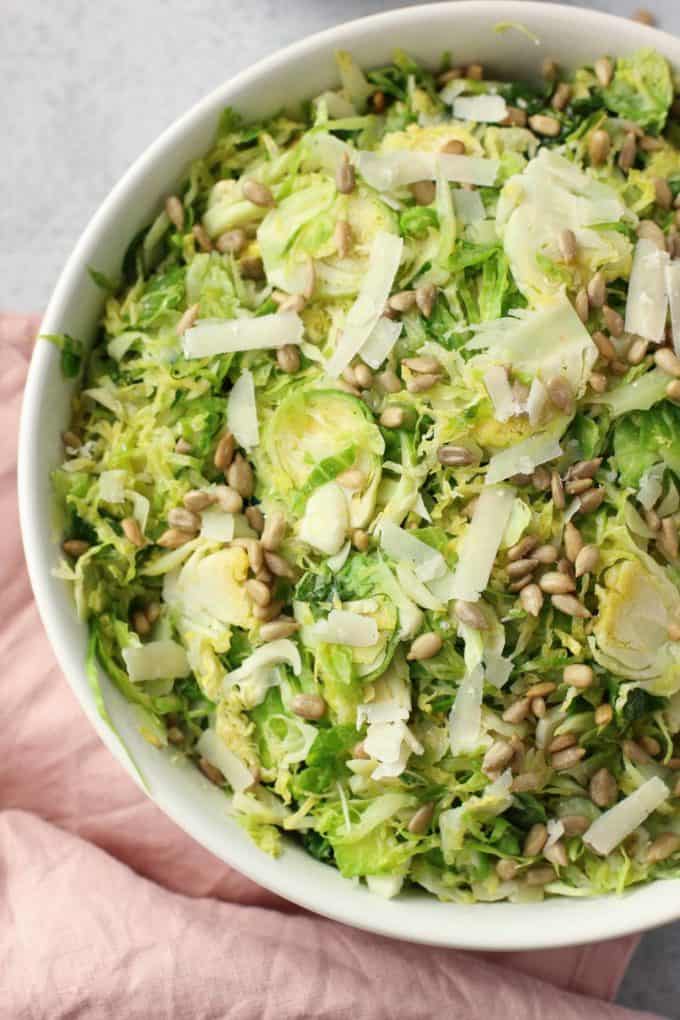 Where to Get Shredded Brussels Sprouts
I usually grab a bag of pre-shredded Brussels sprouts at Trader Joe's or Whole Foods, but I've seen them at many grocery stores! Buying the pre-shredded kind can make it easy to create recipes with minimal prep.
How to Make Shredded Brussels Sprouts
If you can't find shredded Brussels sprouts at the grocery store, you can easily make your own! If you have a food processor, it's quick and easy. Simply trim the end of the Brussels sprout, then use a shredding disk to shred the Brussels sprouts.
If you don't have a food processor, trim the end of the Brussels sprout, then use a sharp knife or mandolin slicer to thinly slice the sprouts. Don't worry if the sprouts aren't perfectly shredded. They'll work just fine in these recipes!
Shredded Brussels Sprout Recipes
These easy sautéed Brussels sprouts are a low carb vegetarian side dish that pairs perfectly with your favorite protein! Once your Brussels sprouts are shredded, this recipe comes together in just 10 minutes!
Photo Credit: champagne-tastes.com
This vegan shredded brussels sprouts salad is made with pan-seared brussels sprouts, almonds, dried cranberries, and a quick and easy maple vinaigrette.
Photo Credit: veggiedesserts.com
This Brussels Sprout Filo Pie has a creamy filling of shredded sprouts with a crown of phyllo pastry. It's bursting with wintery flavor and makes a show-stopping vegetarian or vegan main dish.
Photo Credit: whitecoatpinkapron.com
Shaved Brussels Sprouts and Kale Salad is a healthy and hearty salad packed with tangy flavor and crunch! It's the perfect make-ahead salad for any day of the week.
Photo Credit: iheartvegetables.com
This shaved brussels sprout salad doesn't require any cooking- you can eat these sprouts raw! Add some salty parmesan, pine nuts, lemon juice, and olive oil for a quick and easy salad!
Photo Credit: iheartvegetables.com
Shredded kale and Brussels sprouts are the base for this hearty salad! Topped with toasted chickpeas, salty parmesan, and crunchy almonds, this salad is loaded with delicious flavors!
Photo Credit: www.veggieinspired.com
Crunchy and tangy, this salad is perfect for a light lunch or a side dish for a larger meal. Oranges add a lovely unexpected sweetness!
Photo Credit: itsavegworldafterall.com
Shredded Brussels sprouts shine in this breakfast hash. With shallots, pears, and a touch of rosemary, it's full of delicious flavors!
Photo Credit: fromthelarder.co.uk
This Cheesy & Creamy Brussels Sprouts Gratin is easy to make without the need for a béchamel sauce. Shredded brussels are gently cooked in butter with finely cut leeks then smothered with a rich and creamy cheese sauce. Grilled until golden and bubbling.
Photo Credit: theviewfromgreatisland.com
Brussels Sprout Dip is an easy baked appetizer recipe packed with gooey cheese, lots of garlic, and shredded Brussels sprouts ~ even sprout haters love it!
Photo Credit: www.chiselandfork.com
These Brussels sprout tacos are loaded with shredded Brussels sprouts, taco seasoning, corn, black beans and topped with a homemade cilantro chimichurri sauce which makes these a great healthy taco choice!
Photo Credit: thedevilwearssalad.com
Rice and beans are a classic combination of ingredients but this Cauliflower Rice Salad, shredded Brussels sprouts and cannellini beans infused with fresh rosemary is no ordinary recipe.
Photo Credit: jessicainthekitchen.com
This Shaved Brussels Sprouts, Quinoa and Apple Salad is the perfect winter salad!! It's marinated with a divine sweet orange vinaigrette and is so filling and comforting!
Photo Credit: www.saltandlavender.com
This winter Brussels sprouts slaw is loaded with goodies like candied cashews and pomegranate! This a tasty salad, especially in cold weather!