Sheet Pan Chickpeas and Vegetables
Chickpeas, red potatoes, and asparagus are a delicious combination for an easy sheet pan dinner! With simple seasonings of dill and lemon, this dish is healthy, simple, and full of flavor!
I love sheet pan meals because they're simple to prepare and easy to customize based on your family's preferences. I'm also sharing my favorite substitutions so you can make this with the vegetables you have in the fridge!
Here are a few tips. to making a delicious sheet pan dinner
Don't crowd the pan. Leaving a little space between the pieces of food will help them roast and get crispy. If they're too close, they'll steam instead of roast, which can result in a soggy vegetable.
Rotate the trays and watch for hot spots. Depending on the positioning of your oven racks, you may want to swap the placement of the trays halfway through baking to ensure even browning.
How to Make Sheet Pan Chickpeas and Vegetables
Start by draining and rinsing your chickpeas, then let them dry on a baking sheet lined with paper towels. Gently pat dry to remove moisture.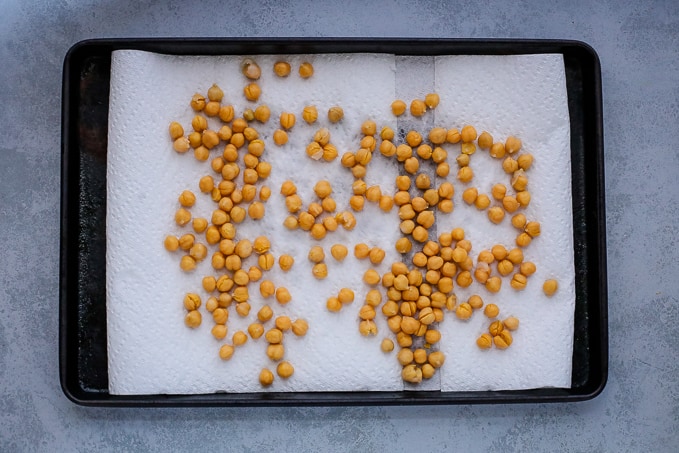 Line two baking sheets with parchment paper, then spread the chickpeas on one pan and the chopped potatoes on the second pan. We'll start by roasting the potatoes and chickpeas, but save some room on your chickpea pan for the asparagus!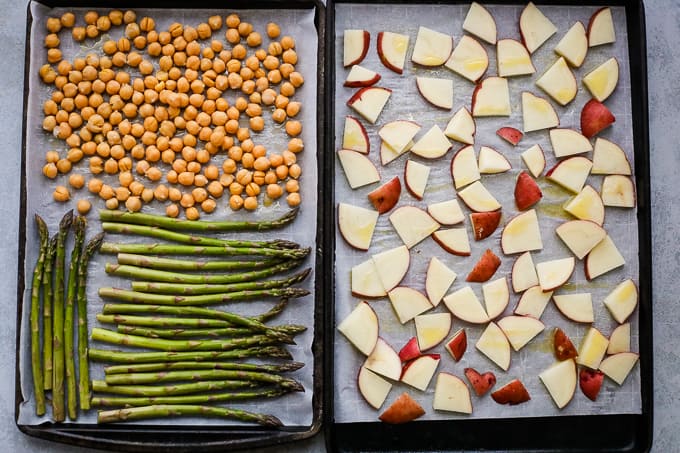 Drizzle with olive oil and lemon juice, then sprinkle with salt, garlic powder, and onion powder. Roast for 10 minutes then flip the potatoes and chickpeas and add the asparagus to the tray. Switch the position of the trays and continue to cook for 5-10 minutes.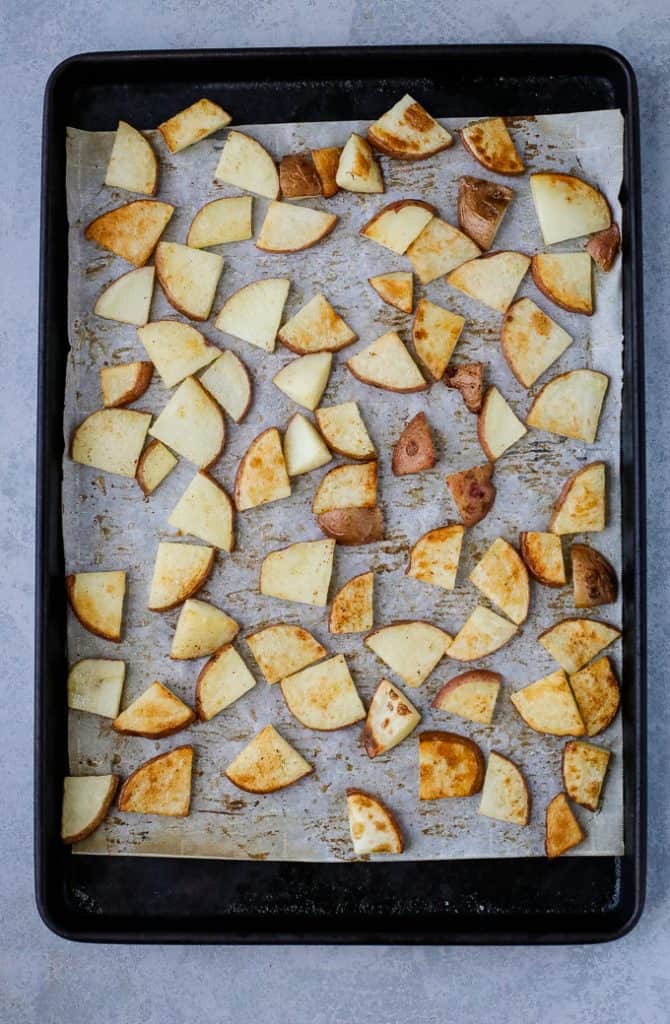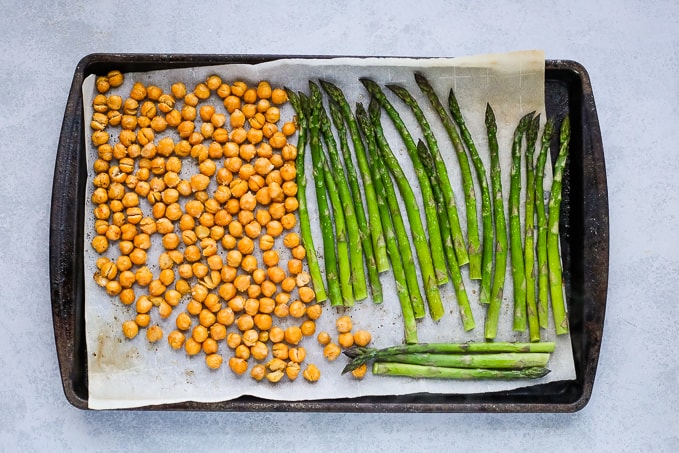 The potatoes and chickpeas should be golden brown and crispy. Sprinkle with fresh dill and serve immediately!
Substitution Ideas
I like to use small red, yellow, or purple potatoes. You can substitute fingerling potatoes or even sweet potatoes!
If you're looking for a different green vegetable, this recipe is delicious with broccoli! Cut into small florets and roast with the potatoes and chickpeas for the full baking time.
For a lower-carb option, use cauliflower florets in place of potatoes.
Print
Roasted Chickpeas, Red Potatoes, and Asparagus
Author:
Prep Time: 10 mins
Cook Time: 20 mins
Total Time: 30 mins
Yield: 2 servings 1x
Category: Dinner
Method: Roasted
Cuisine: Vegetarian
---
Scale
Ingredients
1 15oz can of chickpeas, drained, rinsed, and patted dry
1 lb red potatoes, cut into 1/2" thick pieces
1/2 pound of asparagus, trimmed
2 tablespoons olive oil
1 teaspoon lemon juice
1/4 teaspoon garlic powder
1/4 teaspoon onion powder
1 tablespoon fresh dill, chopped
Sea salt & pepper
---
Instructions
Preheat the oven to 400 degrees.
Line two baking sheets with parchment paper.
Spread the potatoes and chickpeas onto each pan.
Drizzle the chickpeas and potatoes with olive oil and lemon juice and sprinkle with garlic powder and onion powder, reserving a small amount of oil and seasonings for the asparagus.
Bake the chickpeas and potatoes for 10 minutes, then remove the trays from the oven. Flip the chickpeas and potatoes, then add the asparagus and remaining oil and seasonings to the pan and continue to bake for 5-10 minutes.
Once the chickpeas and potatoes are crisp and browned, take them out of the oven.
Sprinkle with fresh dill, salt and pepper.
---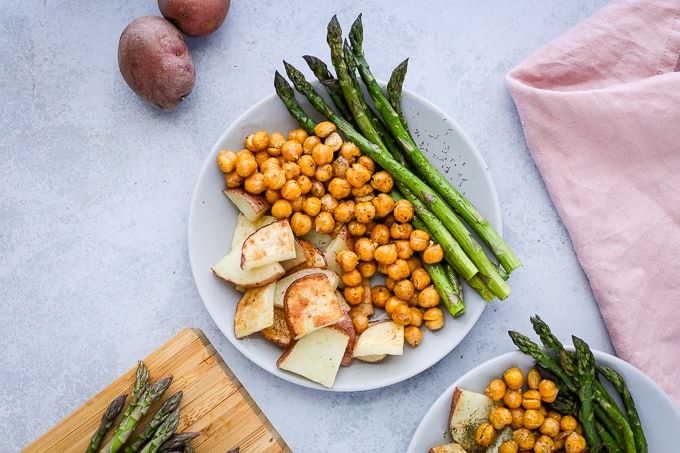 Looking for another sheet pan recipe? Try this sheet pan gnocchi with vegetables!
What's your favorite vegetable to roast?