Plant Based Meals Delivered with Veestro
This post is sponsored by Veestro. As always, all opinions are my own and I only work with brands that I know and love!
As much as I love cooking and trying new recipes, I still have days when the fridge is bare or there's no time for meal prep. That's when I find myself reaching into the freezer for dinner. I try to keep it stocked with a delicious assortment of options so that healthy eating doesn't have to go out the window just because I'm short on time.
What is Veestro?
When I found out about Veestro, a company that sends healthy, vegan, frozen meals right to your door, I was intrigued. I've tried lots of meal delivery services, usually in the form of make-it-at-home meal kits. Most of them resulted in great tasting dinners, but they typically took a while to prepare and I found it hard to make all the meals before the ingredients spoiled. I was happy to learn that Veestro meals come prepared and frozen which means finding time to make them (and having enough time to eat them) wouldn't be a problem.
Of course, I was still skeptical because all of their meals are 100% vegan. While I try to eat a mostly plant-based diet, I've found that a lot prepared vegan meals leave something to be desired. It's hard to find a good balance between health, cost, and flavor. But I'm happy to say: Veestro delivers. Literally.
What kind of meals does Veestro have?
I tried a variety of meals from their website including:
Beluga Lentil Braise
Moroccan Melange
Pasta Bolognese
Tortilla Chili
Veggie Empanadas
Kale Punch
All of these meals are completely vegan and I was excited that the ingredients list was pretty clean and each of these meals (with the except of the juice) had quite a bit of protein.
My favorite meals from Veestro
My favorite meal was probably the tortilla chili. To prepare it, I removed the meal from the box and placed it in a skillet over medium heat for about 15 minutes, stirring a bit to break it up.
The consistency was nice and hearty and the flavor was on point. It actually reminded me a lot of Trader Joe's Black Bean Enchiladas which I've blogged about before because I love them!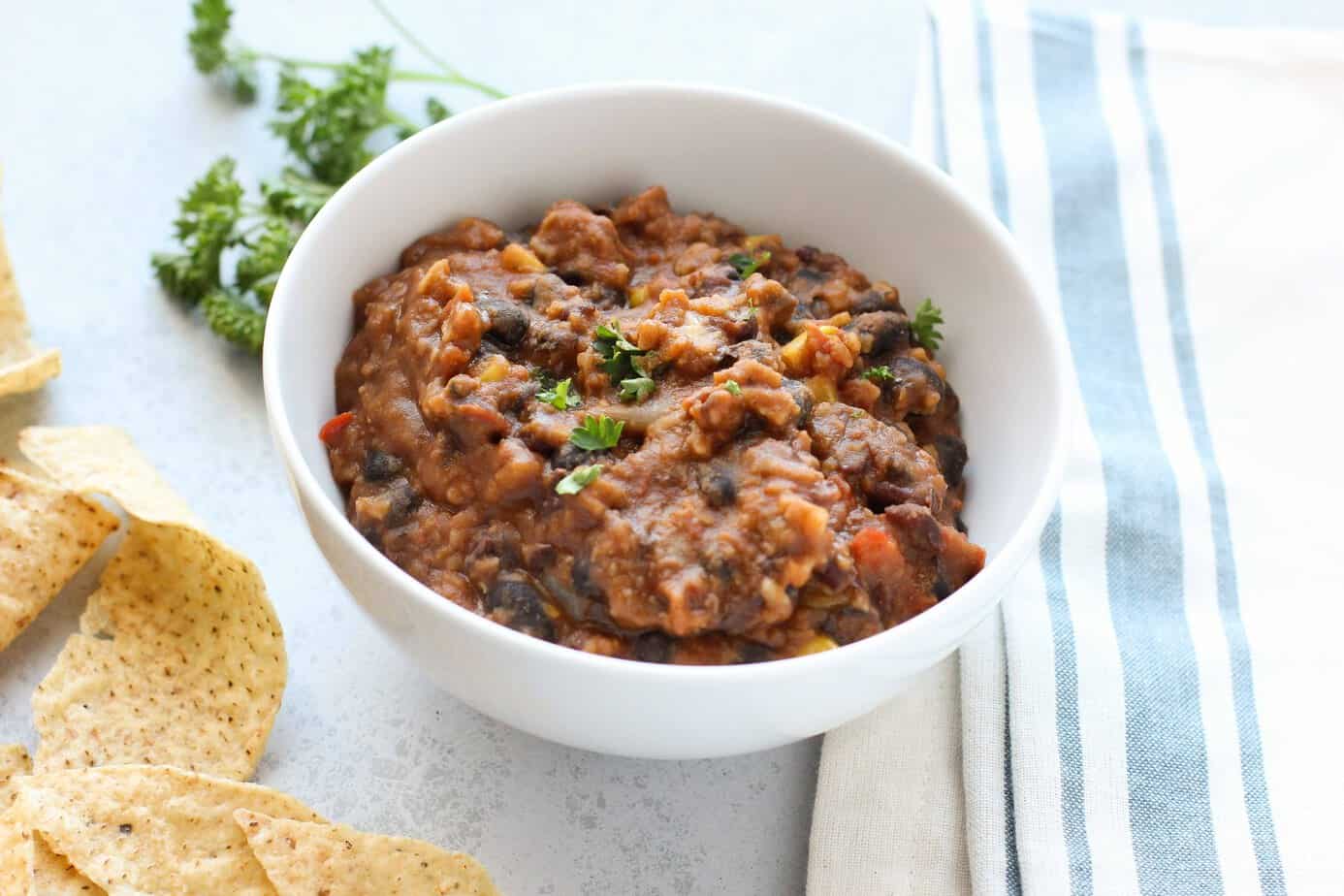 I had it with a few tortilla chips on the side and this hit the spot. As I mentioned, these meals had quite a bit of protein, so this chili kept me full all afternoon.
These veggie empanadas were a very close second favorite. They were super easy to prepare- I just baked them in the oven for about 15 minutes and then drizzled on the chimicurri sauce.
The flavor was deliciously savory and the inside was loaded with vegetables. The chimichurri sauce was a nice addition and I liked that it was separate, so you could decide how much to add. Overall, it was really filling and I'd absolutely get these again.
The pasta bolognese was also an impressive meal. There wasn't a ton of pasta in this dish but the sauce was so filling, I didn't even mind. The bolognese sauce was made with eggplant, mushrooms, carrots, and other vegetables. I'm not normally a big fan of eggplant or mushrooms but I still found myself licking the plate when I was done.
Even though this recipe was vegan, I think the sauce was "meaty" enough to please any omnivore. The 14g of protein was pretty impressive for a vegan pasta dish! Here's a look at the nutritional information and the ingredients list. As you can see, it's a clean list!
The kale punch was good, although it was a bit high in sugar since a lot of it was apple juice. I tend to prefer less sweet juices so next time I'd go for the Hand Greenade Juice, which is less sweet.
It's nice that all of their meals are posted online and you can see the ingredients and nutritional information before ordering. That makes it easier to know exactly what you're getting. Veestro also filters their meal options by various dietary preferences including gluten-free, high protein, nut-free, soy-free, and more. So in addition to being vegan, these meals can fit just about any sort of diet. I'm always looking for plant-based protein sources so this was nice to see!
Would I recommend Veestro?
I've tried a lot of meal services and I was truly blown away by Veestro. Keeping your freezer stocked with healthy options means you're less likely to be tempted by takeout. It takes the guesswork and complexity out of making good choices! If you're looking for healthy, plant-based meals, I'd highly recommend Veestro!
You can even save $20 off your first purchase with the code: IHEARTVEGGIES
Have you ever tried a meal delivery service?