Pasta e Fagioli
This Vegetarian Pasta e Fagioli is so hearty and delicious, you won't miss the meat! This cozy, filling soup is the perfect main dish!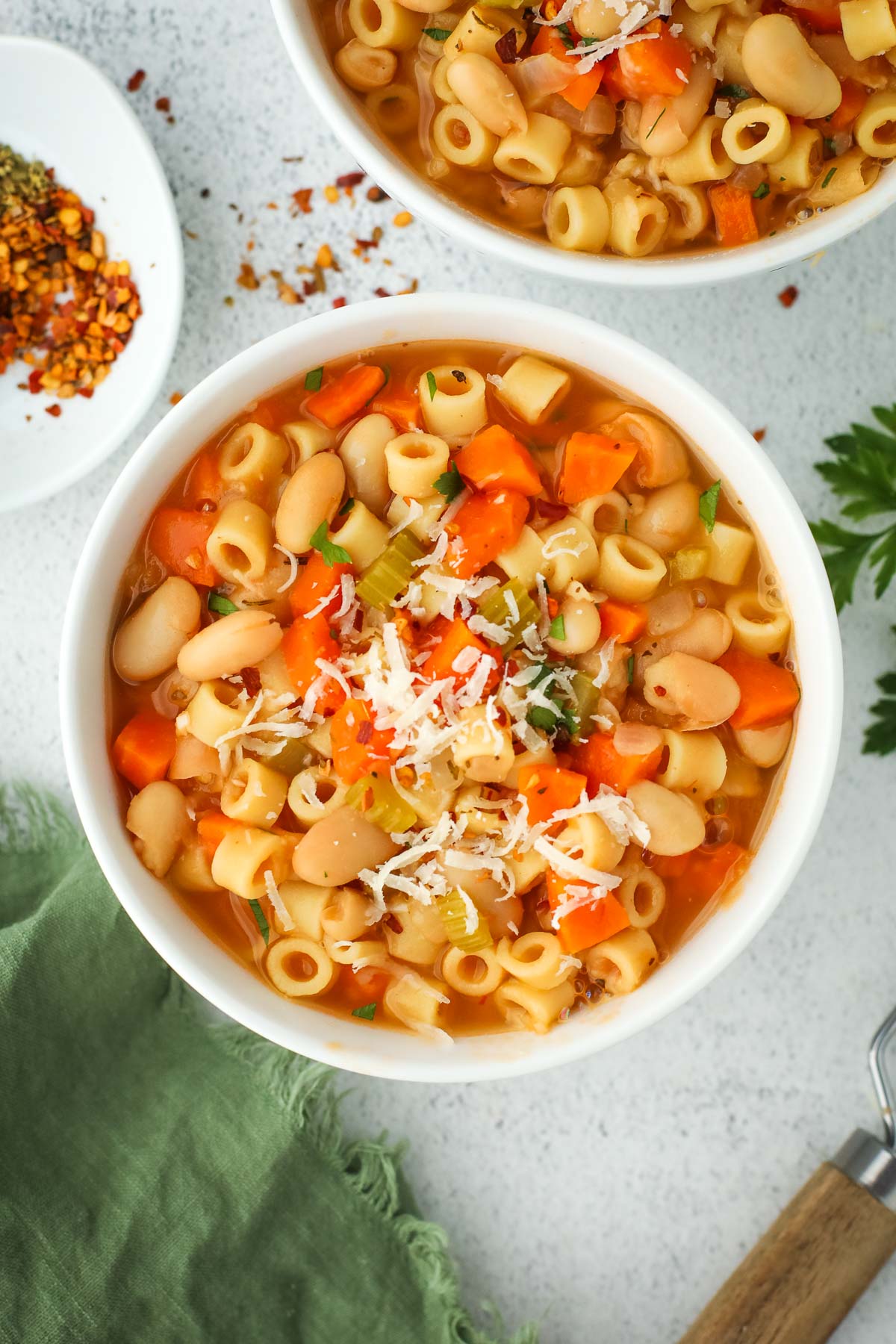 What is Pasta Fagioli?
Pasta e Fagioli, pronounced as "pasta eh fah-joh-lee," is a traditional Italian soup that boasts a rich history and an irresistible combination of flavors and textures. Translating to "pasta and beans" in English, this hearty and comforting dish has been a staple of Italian cuisine for generations, celebrated for its simplicity, nourishing qualities, and delicious taste.
The flavorful broth begins with a sauté of aromatic vegetables, including onions, celery, and carrots, which lend their natural sweetness and depth to the soup. The addition of tomato paste, contributes a savory taste, enriching the broth with delightful flavor. The real trick to this dish is blending cannellini beans into the broth.
Ingredients and Substitutions
Onions: Diced onions add a sweet and savory base to the soup, enhancing its overall taste.
Carrots: Diced carrots contribute natural sweetness and add a vibrant color to the soup.
Celery: Diced celery provides a mild, earthy flavor and adds texture to the soup.
Cannellini beans: The beans are the heart of the Pasta e Fagioli soup, providing creaminess in the broth as well as protein and fiber to make this soup satisfying. You can substitute with white navy beans, if desired.
Tomato paste: Tomato paste adds a rich, umami flavor. Do not substitute for tomato sauce, as tomato paste has much more concentrated flavor.
Garlic: Garlic infuses the soup with aromatic and savory notes. If you don't have fresh garlic you can substitute with garlic powder.
Red pepper flakes: If you enjoy a bit of heat, red pepper flakes can be added to provide a subtle kick to the soup.
Oregano: Oregano is a traditional Italian herb that brings a Mediterranean flavor to the soup.
Vegetable broth: Vegetable broth adds depth and flavor to the soup. I like the "not-chicken" style broth from Edward & Sons.
Ditalini pasta: The pasta adds heartiness to the soup and gives it a comforting texture. You can substitute with orzo, or other small pasta.
Parmesan cheese: Grated Parmesan cheese adds a creamy and nutty flavor to the soup, enriching its taste. For a vegan version, you can use a plant-based Parmesan substitute or simply omit the cheese
Is pasta e fagioli vegetarian?
Pasta e Fagioli is usually vegetarian friendly although some versions contain pancetta or bacon. The name "Pasta e Fagioli" translates to "pasta and beans," meaning it typically consists of pasta, beans, and vegetables. Obviously, I kept this version vegetarian and it can easily be made vegan. To keep it vegan, simply skip the Parmesan cheese at the end!
How to Make Pasta e Fagioli
Can I cook the pasta in the soup?
You can, but I recommend cooking the pasta separately for the best results. Unless you're planning to eat all of the soup right away, the pasta will get soggy when reheated. I love enjoying leftover soup, but it's best to keep the pasta and soup separate until you're ready to enjoy it. This way the pasta maintains its texture and doesn't get mushy.
Tips for the Best Pasta e Fagioli
Try adding a Parmesan rind to the soup when you add the beans. Simmering the rind in the soup will add a salty, umami flavor to the soup.
A small pasta shape like ditalini, orzo, or even small elbow macaroni works best in this soup.
Feel free to add an extra can of beans if you want to add a little extra protein and fiber to this dish.
You can use chickpea pasta or gluten free pasta, just be sure to cook it separately and combine the pasta with the soup just before serving.
How to Store and Reheat Pasta e Fagioli
If you plan to have leftovers, I recommend storing the soup and pasta separately. Allow the soup and pasta to cool and place them in an airtight containers in the fridge for up to 3-4 days. For reheating, combine the soup and pasta in a microwave-safe bowl, covering it partially for steam to escape, or warm it gently on the stovetop in a saucepan. Stir occasionally until the desired temperature is reached. Add a little water or broth if needed, and ensure the soup is thoroughly heated before serving.
Instant Pot Pasta e Fagioli
If you want to make this recipe in a pressure cooker, try my Instant Pot Pasta e Fagioli recipe! It's quick and easy to make and uses the same ingredients.
More Soup Recipes
If you enjoy this soup, be sure to try my Instant Pot Minestrone, Tuscan White Bean Soup, or Creamy Quinoa Soup. All of those recipes are packed with vegetables and they're great for leftovers!
Print
Pasta e Fagioli
Author:
Prep Time: 10 minutes
Cook Time: 40 minutes
Total Time: 50 minutes
Yield: 10 cups 1x
Category: Soup
Method: Stovetop
Cuisine: Italian
Diet: Vegetarian
---
1 tablespoon extra-virgin olive oil
1 large yellow onions, diced
3 carrots, peeled and diced
3 celery ribs, diced
1/2 teaspoon salt
2 (15oz) cans cannellini beans, rinsed, divided
1 cup water
2 tablespoons tomato paste
4 garlic cloves, minced
1/4 teaspoon red pepper flakes (optional)
1 teaspoon dried oregano
4 cups vegetable broth
1 1/2 cups (6oz) ditalini other small pasta
1 ounce Parmesan cheese, grated (1/2 cup), plus extra for serving
---
Instructions
Note: You can cook the pasta directly in the soup, but I don't recommend doing this if you plan on having leftovers. The pasta can be soggy when reheated. For best results, I recommend cooking the pasta separately.
Heat oil in a large pot over medium heat for 30 seconds. Add onions, carrots, celery, salt, and pepper and cook, stirring occasionally, until vegetables are softened about 10-12 minutes.
While the vegetables cook, blend 1 can of beans and water in a blender or food processor until smooth, about 30 seconds. Set aside.
In the pot with the vegetables, add tomato paste, garlic, oregano, and pepper flakes and cook until fragrant, about 2 minutes.
Stir in broth, remaining can of beans, and pureed bean mixture. Bring to boil, reduce heat to medium-low, and simmer, stirring occasionally, for 15 minutes.
While the soup is simmering, bring a large pot of water to a boil. Add the pasta and cook according to package directions. Once the pasta is al dente, drain and add the pasta to the soup. (This is the method I recommend for the best texture.)

One pot method: To cook the pasta directly in the soup, increase heat of the soup to medium-high and bring to boil. Add pasta and cook, stirring occasionally, until pasta is al dente, about 10 minutes.

Remove from heat and divide into bowls. Top with Parmesan cheese and crushed red pepper flakes, if desired.
---
Keywords: Pasta e Fagioli