Instant Pot Vegetarian Pasta e Fagioli
This vegetarian pasta e fagioli soup is made in the Instant Pot for a quick and easy dinner! The secret to this soup is blending cannellini beans into the broth for an extra rich flavor!
I love this recipe because it's quick and easy to make and this soup is really hearty and satisfying. I love finding new ways to use my Instant Pot and this one worked out great! After falling in love with the stovetop version of my pasta e fagioli, I knew I had to create an Instant Pot version!
What is Pasta e Fagioli?
Pasta e fagioli, pronounced as "pasta eh fah-joh-lee," is a traditional Italian soup with a delicious mix of flavors and textures. In English, it translates to "pasta and beans," which are two of my favorite things! To make this tasty soup, start by sautéing aromatic veggies—onions, celery, and carrots—to infuse the soup with their natural sweetness and depth. Add in tomato paste for a savory punch that boosts the broth's flavor game. But the real secret? Blending cannellini beans into the broth. It makes it super rich and creamy!
Ingredients and Substitutions
Onions– Diced onions add a sweet and savory base to the soup, enhancing its overall taste.
Carrots– Diced carrots add natural sweetness and help build the base of this soup.
Celery– Diced celery provides a mild, earthy flavor and adds texture to the soup. Sometimes I double the celery just to add some more veggies.
Cannellini beans– The beans are at the heart of this pasta e fagioli soup, providing creaminess in the broth as well as protein and fiber to make it satisfying. You can substitute with white navy beans, if desired.
Tomato paste– Tomato paste adds a rich, umami flavor. Do not substitute for tomato sauce, as tomato paste has a much more concentrated flavor.
Garlic– Garlic infuses the soup with aromatic and savory notes. If you don't have fresh garlic you can substitute with garlic powder.
Oregano– Oregano is a traditional Italian herb that brings a Mediterranean flavor to the soup.
Broth– Vegetable broth adds depth and flavor to the soup. I like the "not-chicken" style broth from Edward & Sons.
Pasta– The pasta adds heartiness to the soup and gives it a comforting texture. You can substitute with orzo or other small pasta.
Parmesan cheese: Grated Parmesan cheese adds a salty, nutty flavor to the soup. For a vegan version, you can use a plant-based Parmesan substitute or simply omit the cheese.
How to Make Pasta e Fagioli in an Instant Pot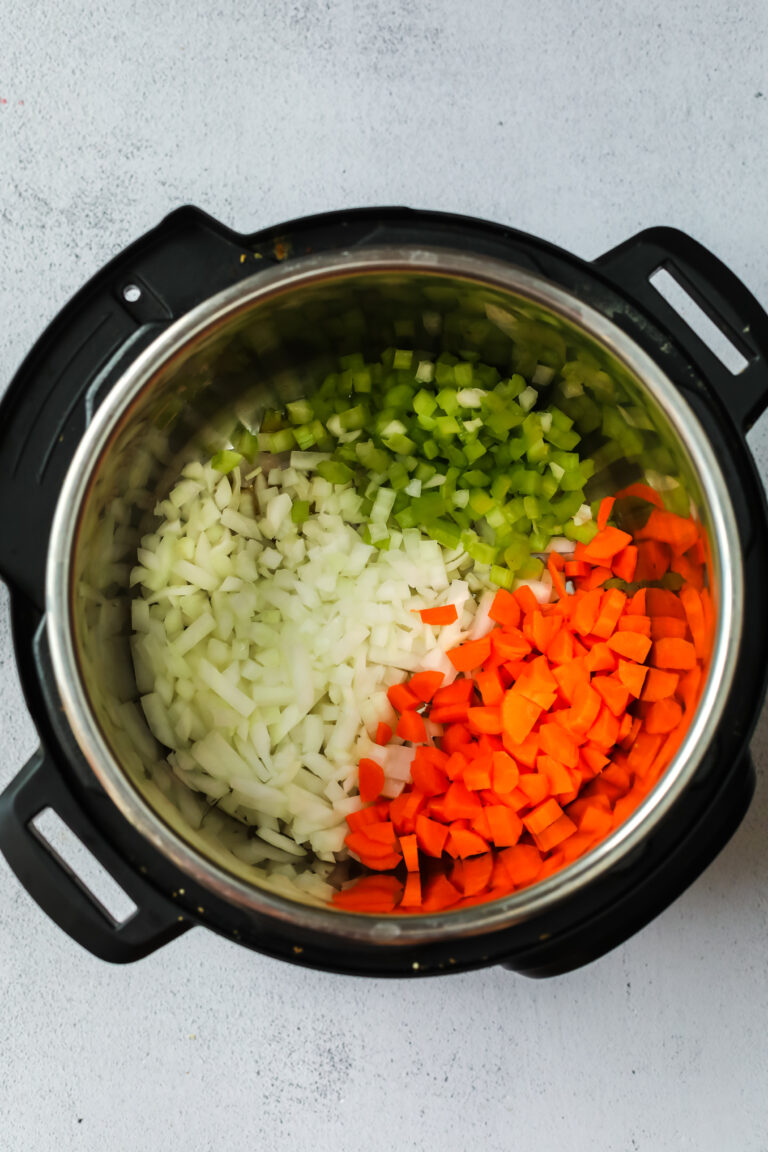 Tips for the Best Instant Pot Pasta e Fagioli
Be sure to quick-release the pressure right away. You don't want the pasta to overcook or it will become mushy.
Sauté the vegetables until they're pretty soft. Since the pasta cooks so quickly, it's important to cook the veggies for a little bit first, so they're not too firm at the end of cooking.
For extra flavor, add a Parmesan rind into the Instant Pot before pressure cooking.
Frequently Asked Questions
Is pasta e fagioli vegetarian? This soup is typically vegetarian, although some versions slip in pancetta or bacon. This version keeps it veggie and veganizing is a breeze. For a vegan twist, ditch the Parmesan cheese—it's that simple!
Can I reheat leftovers? Unfortunately, Pasta e Fagioli isn't the best for leftovers, as the pasta can get kind of mushy when reheated. If you do plan to enjoy leftovers, consider cooking the pasta separately, then mix it into the soup when ready to enjoy.
More Soup Recipes
If you enjoy this soup, be sure to try my Instant Pot Minestrone, Instant Pot White Bean Soup, or Creamy Quinoa Soup. All of those recipes are packed with vegetables and they're great for leftovers!
Print
Instant Pot Vegetarian Pasta e Fagioli
Author:
Prep Time: 10 minutes
Time to Pressurize: 10 minutes
Cook Time: 1 minute
Total Time: 21 minutes
Yield: 8 cups 1x
Category: Soup
Method: Instant Pot
Cuisine: Italian
Diet: Vegetarian
---
Description
This vegetarian pasta e fagioli soup is made in the Instant Pot for a quick and easy dinner! The secret to this soup is blended cannellini beans in the broth for an extra rich flavor!
---
1 tablespoon extra-virgin olive oil
1 large yellow onions, diced
3 carrots, peeled and diced
3 celery ribs, diced
1/4 teaspoon salt
2 (15oz) cans cannellini beans, rinsed, divided
4 cups vegetable broth, divided
2 tablespoons tomato paste
4 garlic cloves, minced
1/4 teaspoon red pepper flakes (optional)
1 teaspoon dried oregano
4oz whole wheat pasta shells or other small pasta
1oz (1/2 cup) Parmesan cheese, grated
---
Instructions
Note: You can cook the pasta directly in the Instant Pot, but it is best served immediately. If you plan to reheat leftovers, consider cooking the pasta separately and adding it to the soup when you're ready to serve it.
Set the Instant Pot to sauté and add the oil, onions, carrots, celery, salt, and pepper. Cook, stirring occasionally, until vegetables are softened — about 6-7 minutes.
While the vegetables cook, blend one can of beans and one cup of broth in a blender or food processor until smooth, about 30 seconds. Set aside.
Add the tomato paste, garlic, oregano, and pepper flakes to the Instant Pot and cook until fragrant, about 2 minutes.
Stir in 3 cups broth, remaining can of beans, puréed bean mixture, and pasta. Lock the lid in place and ensure the venting knob is set to the sealing position.
Pressure cook on high for one minute, then quick release the pressure.
Be sure to turn the Instant Pot off after cooking. (Otherwise the "Keep warm" function will continue to cook the pasta and make it soggy.)
Divide the soup into bowls, top with Parmesan cheese and crushed red pepper flakes, if desired.
---
Keywords: Instant Pot Vegetarian Pasta e Fagioli