Lunchbox Bagel Sandwiches
This post is sponsored by bubly™ sparkling water. The opinions and text are all mine.
Believe it or not, back-to-school season is around the corner! The weeks have been flying by and the end of summer is quickly approaching. While we're not sure what the school year will look like for our rising 4th grader, I'm already thinking about lunchbox recipes! Even if school ends up being virtual this year, I'm always trying to think of new ways to make easy lunches for our whole family.
Lately, I've been having fun playing with bagel sandwich variations and these recipes are perfect for a lunchbox! You can customize the toppings based on what you have on hand and these mini bagels are quick and easy to assemble.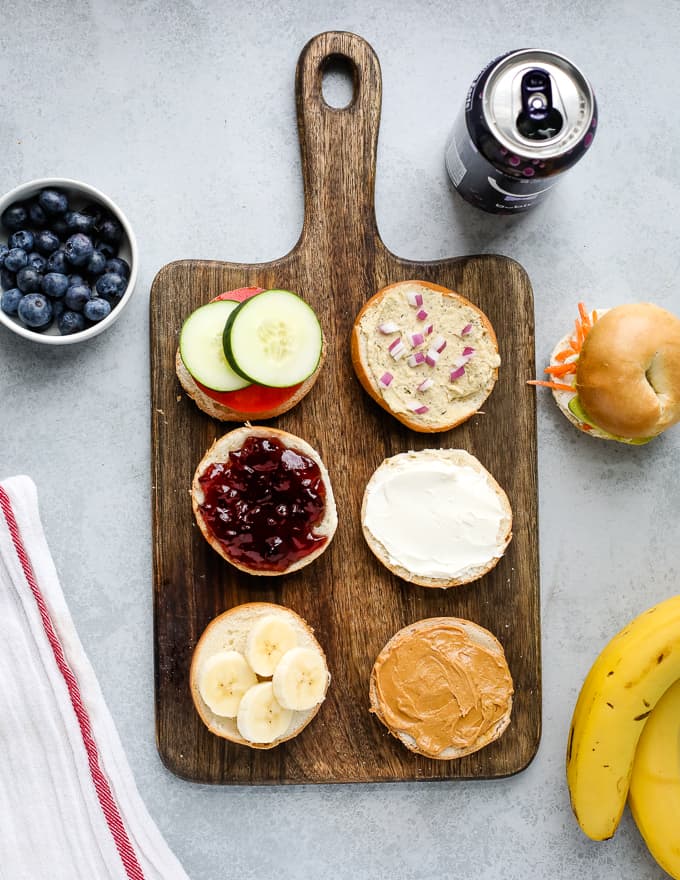 4 Mini Bagel Sandwich Recipes
The Californian- Spread one side with cream cheese and sprinkle with shredded carrots. Top the other side with avocado.
The Mediterranean– Spread one side of a bagel with hummus and top with red onions. On the other side, add a slice of tomato and two thin slices of cucumber.
The Jammer- Spread one half with blackberry jam or grape jelly. Spread the other half with cream cheese.
The Elvis- Spread one half with peanut butter and the other half with banana slices. Add a drizzle of honey, if you like!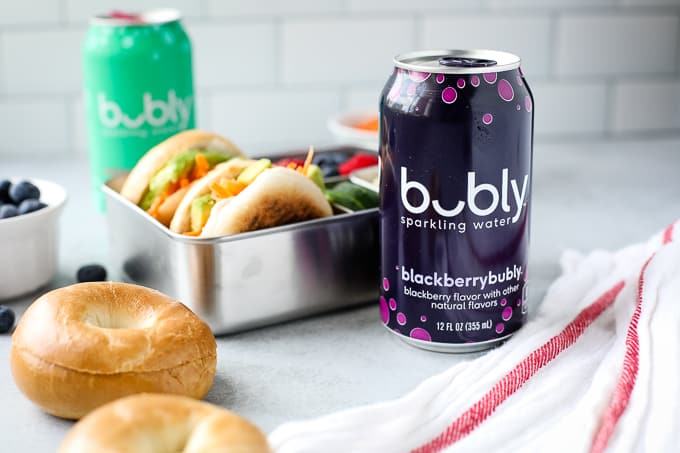 Tips for Lunchbox Sandwiches
Try to avoid ingredients that are too wet or might get soggy. I like to use ingredients that are best-served room temperature or chilled.
I like to use whole wheat mini bagels, for more protein and fiber. You can also switch up the flavors by using cinnamon raisin or everything bagels.
If you don't have a bento-style lunch box, skewer each mini bagel sandwich with a toothpick to prevent the ingredients from shifting on the sandwich.
Whether I'm packing lunches or enjoying my own lunch, I'm usually sipping on sparkling water. Lately, I've been loving bubly™ sparkling water! bubly™ sparkling water is a crisp, sparkling water filled with natural fruit flavors for a delicious taste. There's no sugar or sweeteners, so I don't have to worry about a sugar crash… for me or the little one!
I picked up the watermelon and blackberry flavors in the sparkling water aisle at Publix – you guys know how much I love Publix! I like keeping these cans in the fridge for when I want something with a little flavor, but I don't want any sugar. They're the perfect thing to sip on whether I'm packing lunches or answering emails! Make sure that you're logged into your Instacart so that you can order bubly™ sparkling water from Publix here!
Looking for more ideas? Check out my list of plant-based lunch recipes! That list has plenty of great options for a mid-day meal.
What's your favorite kind of bagel sandwich?