Northstar Cafe Veggie Burger Recipe
While I was in Columbus, I got to go to Northstar Cafe, which is probably my favorite restaurant in the world. They have lots of vegetarian/vegan options, and everything is natural and organic. YUM! The Northstar Cafe veggie burger is literally my favorite veggie burger in the whole wide world and I have eaten a lot of veggie burgers!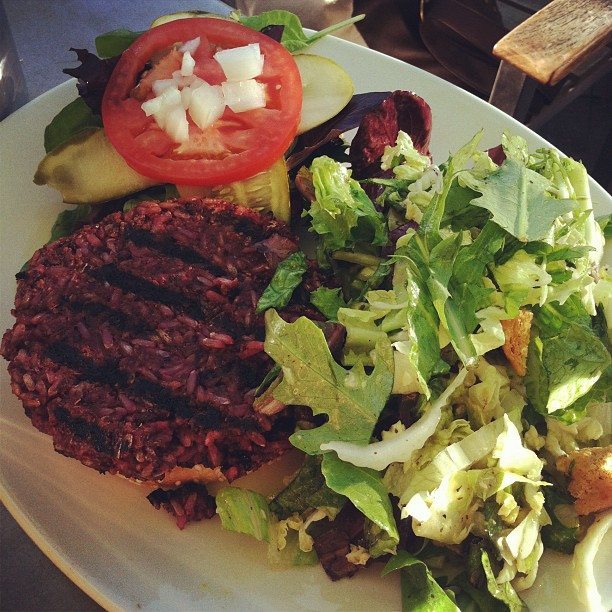 I can't even TELL you how amazing this veggie burger is. I was raving about it to my friend Krista and she was sweet enough to send me a similar recipe for a Northstar Cafe Style Veggie Burger!
The Northstar Cafe Veggie Burger Recipe
Print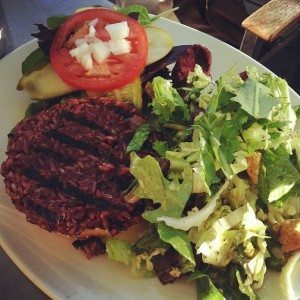 Northstar Cafe Veggie Burger Recipe
Author:
Prep Time: 20 mins
Cook Time: 5 mins
Total Time: 25 mins
Yield: 4 1x
---
Description
Try this copycat recipe for the Northstar Cafe Veggie Burger!
---
4 tablespoons hickory barbecue sauce
1 tablespoon molasses
1 15oz can black beans
2 cups cooked brown rice
1 tablespoon oat bran
2 tablespoons onions, finely chopped
1 tablespoon finely chopped canned beets
1 teaspoon beet juice
1 teaspoon chili powder
1/4 teaspoon ground cumin
1/4 teaspoon black pepper
1 teaspoon kosher salt
1 tablespoon pickled jalapeno pepper, chopped
1 egg white, add more if needed (to bind)
2 teaspoons olive oil
4 slices Monterey Jack cheese
---
Instructions
Stir together barbecue sauce and molasses. Set aside.
In a large bowl, mash beans.
Stir in 3 tablespoons of the barbecue mixture (reserving remaining for brushing) and remaining ingredients — rice through egg white.
Form into four 6 oz patties.
Heat olive oil in a cast iron or non-stick skillet over medium.
Grill burgers for 2 minutes on one side.
Turn and brush with remaining barbecue/molasses mixture. Top with Monterey Jack and grill for another 2 minutes or until cheese is melted.
Serve with lettuce, tomatoes, pickles, onions and mustard on a bun which has been grilled in butter.
---
I literally insist on going to Northstar Cafe every single time I'm back in Columbus. They have a few locations around town and I just can't resist their veggie burger! If you can't make it to Columbus, at least you can try something similar!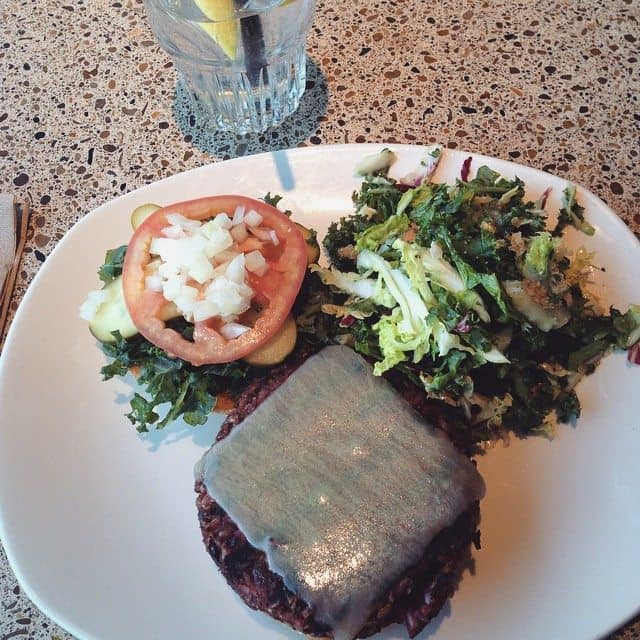 Now that I'm in Virginia, I'm glad I have this recipe so I can make the Northstar Cafe Veggie Burger at home!
Have you guys ever used beets in a veggie burger? I'm thinking that might be the "secret" ingredient. Do you have any "special ingredient" suggestions? Wish me luck!