15 Hummus Recipes Made Without Chickpeas
If you want to make hummus but you don't have any chickpeas, try one of these unique "hummus" recipes! Although hummus is technically a dip made with chickpeas, there are plenty of tasty ways to make a similar type of dip with anything from cauliflower to white beans. Switch up your spreads with one of these delicious ideas.
Hummus Recipes Without Chickpeas
Photo Credit: cooktoria.com
This Sweet Potato Hummus makes a perfect healthy snack that's packed with flavor. You'll be surprised how delicious it is!
Photo Credit: www.resolutioneats.com
This curried cauliflower hummus is a tasty app with just 43 calories and 2g net carbs per serving.It's a great way to get some extra veggies into your diet.
Photo Credit: www.garlicandzest.com
With sun-dried tomatoes, fresh herbs and lemon and a whole head of roasted garlic this cannellini bean dip can be served at room temperature or warmed in the microwave with a basket of pita chips or crunchy crudité.
Photo Credit: www.chopstickchronicles.com
Learn how to make easy Edamame Hummus. This recipe is super easy and ready in 15 minutes. Add a Japanese spin on traditional hummus by using Edamame soybeans instead of chickpeas
Photo Credit: amatterofnourishment.com
This vegan white bean and lentil dip is made with simple ingredients and it can be ready in just 5 minutes! The recipe is characterized by the combination of earthy flavors with the freshness of ginger, olive oil, and lemon juice.
Photo Credit: www.gritsandpinecones.com
You might not be familiar with Black-Eyed Pea Hummus, but it's as nutritious as it is delicious and it's just as easy to make. Give it a try!
Photo Credit: veganonboard.com
This twist on classic hummus uses adzuki beans instead of chickpeas. Fresh lemon and coriander leaves give it a fresh zing! 
Photo Credit: partylicious.net
This simple and healthy roasted garlic and beet dip is as beautiful as it is tasty. With only four ingredients it's easy to make a batch to serve with vegetables, chips, crackers or as a sauce for roasted vegetables or pasta! Bonus – it's vegan and paleo!
Photo Credit: yumveganlunchideas.com
No beans? No problem! You can make hummus with green split peas! With just a handful of ingredients, you can make the perfect dip, spread, or snack meal!
Photo Credit: www.veggieinspired.com
This easy white bean hummus is made with roasted carrots and peppers, toasted walnuts, and flavorful spices and herbs. It's perfect as a dip or a sandwich spread.
Photo Credit: bitesofwellness.com
This paleo artichoke hummus is the perfect snack food! It's great for dipping veggies or adding to your favorite sandwich or pizza, this dairy free hummus is lower in carbs and is vegan and Whole30 friendly!
This is a simple white bean hummus recipe, no tahini required! It is great as a dip for fresh or roasted veggies, as a spread on sandwiches or served with crackers.
Photo Credit: deliciouslittlebites.com
Roasted garlic cauliflower hummus is a delicious spread or dip made with the same classic flavors of traditional hummus. This recipe uses pureed roasted cauliflower and roasted garlic for plenty of flavor, with fewer carbs.
Photo Credit: www.nourish-and-fete.com
This fast, easy, and delicious white bean sun-dried tomato dip is packed with the flavor of garlic and herbs. It's perfect for parties, after-school, or game-day snacking!
Photo Credit: www.taketwotapas.com
Check out this recipe for white bean parsley hummus. No need for tahini- just 5 minutes and a few ingredients will have you snacking like a pro but with a twist!
How to Use Hummus & Other Spreads
If you need some new ideas for how to use one of these tasty spreads, I've got you covered! Try serving your favorite dip with one of these:
Toasted naan bread
Bell pepper strips
Bagel chips
Pretzel sticks
Carrot or cucumber slices
You can also serve hummus on top of toast, as a dip on a charcuterie board, or as a bagel spread. I love it in place of cream cheese on this bagel sandwich recipe!
If you're looking for an easy appetizer, try making these easy hummus stuffed peppers: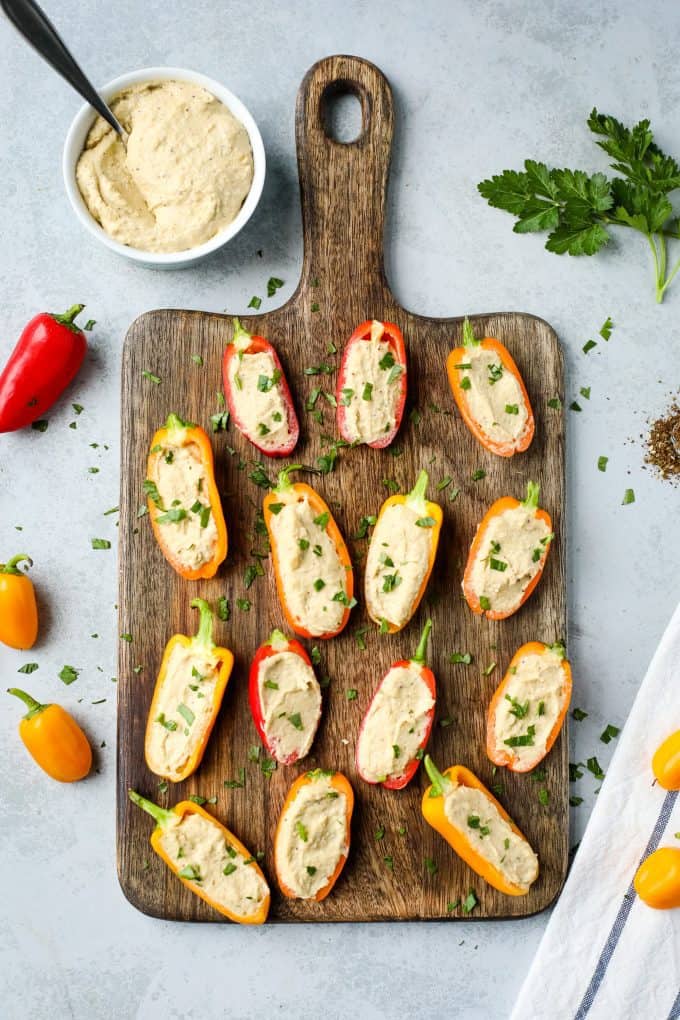 Comment below and let me know which dip you'd like to try!