I haven't been hitting the grocery store as often as normal, so I ran out of greens on Sunday, and wasn't able to make it to the grocery store until last night. The lack of fresh produce and veggies meant that I was eating a lot of smoothies and yogurt, which I love, but they don't really pack in a lot of greens the way I normally do.
I think my body was craving greens, because I loaded up on them yesterday.
Breakfast
Ok, this makes me sound a little high maintenance… but every morning starts off with 3 essential drinks.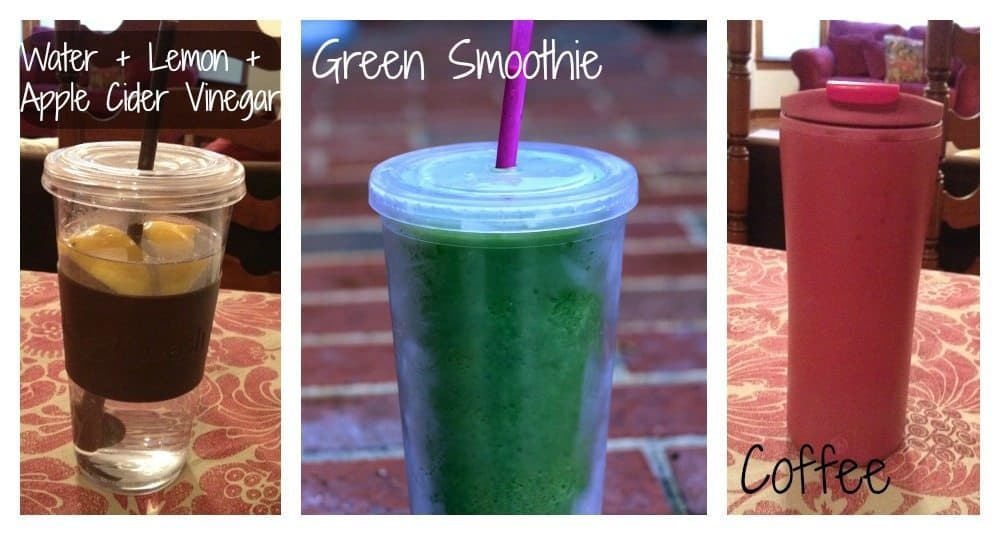 Water (+ lemon and apple cider vinegar)
Protein shake (+ frozen spinach)
Coffee (+ almond milk and stevia)
I look ridiculous with so many cups on the table. But don't judge. It's my thing.
Lunch
I was getting good at packing my lunches, but I was craving a salad. So I had the exact same salad as last week.
This was romaine, chickpeas, tomatoes, onions, carrots, feta, olive oil, and balsamic vinegar. So delicious. I could just eat this forever.
Snacky-Snack
I can't make it through the day without an afternoon snack. Sure, I could probably just eat a bigger lunch, but I kind of love having an afternoon snack. So I usually have something to much on at my desk. I'm addicted to these soy crisps. No greens here, but these actually pack in a decent amount of protein, which helps keep me full until dinner.
Dinner
I ate a light dinner, because I was meeting some girls for drinks at Secco, and didn't want to be stuffed.
My co-worker (Hi, Angela!) gave me some okra, which I'd never cooked with, but I figured would probably be good roasted.
I sliced it up with a mandolin slicer, sprayed it with a bit of olive oil, sprinkled on some salt and pepper, and roasted it in the oven at 400 for about 15 minutes. I'll be honest, it wasn't my favorite. I think okra is probably best fried. Oh well.
I had this with some vegan mac n' cheese, and it was perfect! I hadn't had that in forever! Couscous + soymilk + nutritional yeast. Add a little salt and pepper, plus a little paprika, and it's quite good.
What greens are you eating today?