Feta and Orzo Pasta Salad
This feta and orzo pasta salad is a light and delicious side dish. Prepare it in advance for a picnic or serve it warm with your favorite protein.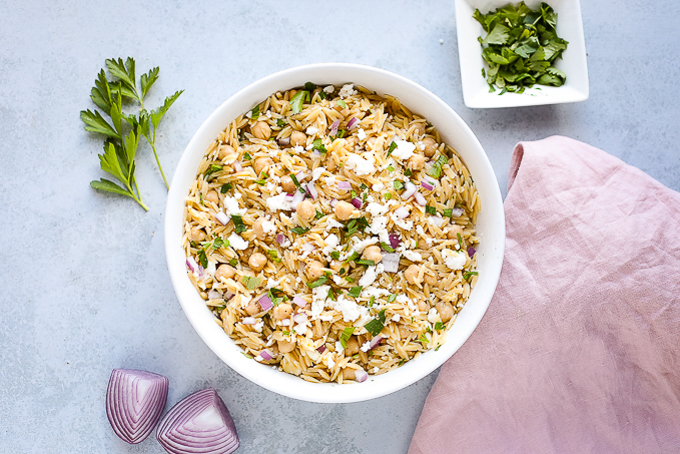 This pasta salad is perfect for a picnic or barbecue because it can be made and kept in the fridge for up to a day in advance! Fresh parsley, garlic, and lemon give this dish a delicious flavor that can be served with a variety of main dish options. I've also enjoyed this as a quick lunch option since the chickpeas provide lots of protein and fiber to keep me full all afternoon!
What is Orzo?
Although it might look like a grain, orzo is actually a small pasta shape. At the grocery store, you can usually find it near the pasta, but sometimes it will be stocked near the rice. It's hard to find whole-wheat or gluten-free orzo pasta, but if you need a substitute, try Banza's chickpea "rice". The rice shape is actually pretty similar to orzo and it's gluten-free!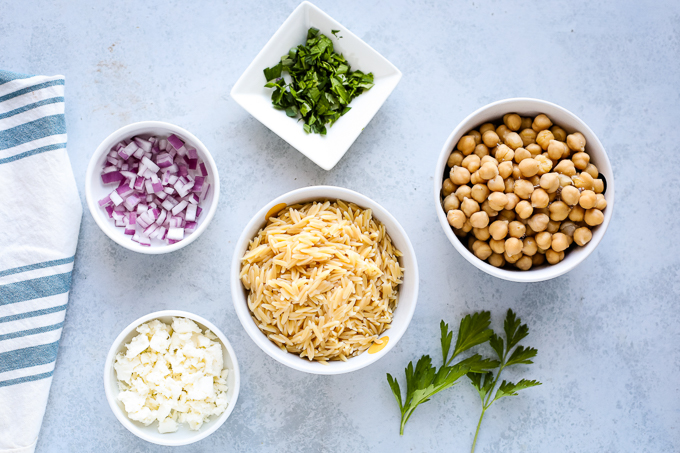 Tips for Perfect Orzo Pasta Salad
You can make this dish up to 2 days in advance. Keep it in an airtight container in the fridge.
Be sure to finely dice the red onion. Raw onion can have a strong bite, so small pieces are key! For a more mild flavor, try shallots instead.
I highly recommend buying a whole block of feta and crumbling it yourself. Crumbled feta has anti-caking agents that make it less creamy.
Substitution Ideas
If you're gluten-free, try using Banza's chickpea rice. It's actually really similar to orzo pasta but it's made with chickpeas so it's gluten-free.
If you want to make this recipe vegan, skip the feta and add a handful of salted, sliced almonds. That will add a salty flavor to replace the cheese.
To make this a main dish, feel free to add your favorite protein or serve it in a whole grain pita!
Print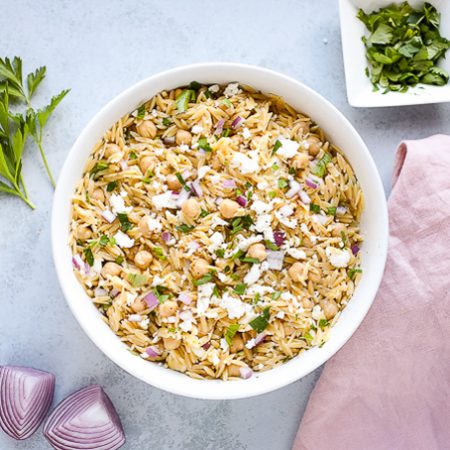 Feta and Orzo Pasta Salad
Author:
Prep Time: 8 mins
Cook Time: 7 mins
Total Time: 15 mins
Yield: 3 cups 1x
Category: Dinner
Method: Stovetop
Cuisine: Vegetarian
---
Description
This feta and orzo pasta salad is a light and delicious side dish. Prepare it in advance for a picnic or serve it warm with your favorite protein.
---
1 cup dry orzo pasta
3 oz feta cheese, crumbled (about 1/2 cup)
1 15oz can chickpeas, drained and rinsed
2 tablespoons olive oil
1 tablespoon lemon juice
1/4 teaspoon salt
1/4 teaspoon garlic powder
1/4 teaspoon dried oregano
2 tablespoons red onion, diced
1/4 cup fresh parsley, chopped
Dash of black pepper, crushed red pepper, oregano
---
Instructions
Bring a small pot of water to a boil and add in the orzo. Cook for 7 minutes, or until tender.
Drain the pasta and spread it on a large plate to cool.
Whisk together the olive oil, lemon juice, salt, garlic powder, and oregano.
In a large mixing bowl, combine the orzo, feta, chickpeas, diced onion, and parsley.
Drizzle with olive oil mixture and toss to combine.
Add salt and pepper to taste.
---
Keywords: orzo pasta salad
Looking for more orzo recipes? Try this easy Parmesan Orzo Pasta recipe!
What's your favorite kind of pasta salad?