This past weekend, we took a trip to Madison, Wisconsin and we ate pizza 3 times in 3 days. I love pizza, so I'm not complaining. (And Ian's pizza is delicious if you're ever in the area!) I'm pretty sure I'd eat pizza every day if I could. But since eating pizza on the daily probably wouldn't feel that great, I've been finding other ways to get my pizza fix in a slightly healthier way. My latest pizza obsession? These super easy zucchini pizza bites!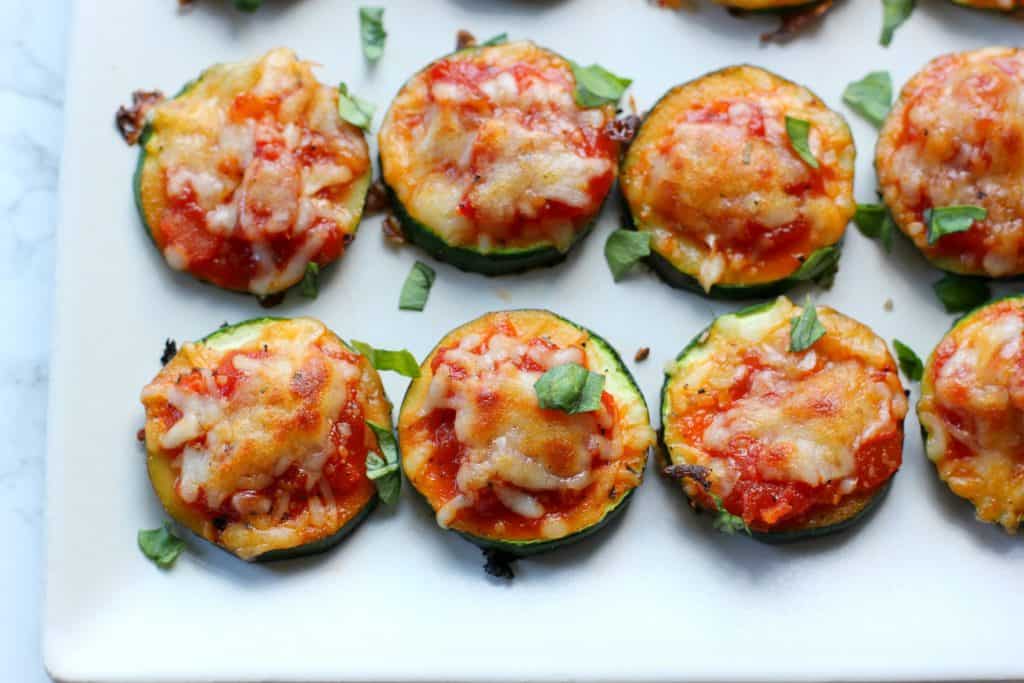 Since these are only a few ingredients, the ingredients themselves are super important. Normally I use Rao's tomato basil (I'm seriously obsessed. I could eat their sauce by the spoonful) but I used Dave's Gourmet for this particular batch.
Print
Easy Zucchini Pizza Bites
---
Ingredients
1 large zucchini (or 2 smaller ones)
1/2 cup your favorite marinara sauce
2 oz shredded mozzarella cheese
6 basil leaves, turn into small pieces
---
Instructions
Preheat the oven to 375
Using a mandoline or sharp knife, slice the zucchini into 1/2″ thick rounds
Lay on a paper towel and sprinkle with salt. Let sit for a few minutes and dab with the paper towel to remove the moisture.
Spray a large baking sheet with non-stick spray, or lay down a sheet of parchment paper, then arrange the zucchini in a single layer.
Top with a spoonful of sauce and a pinch of cheese.
Bake for 10-12 minutes or until the cheese begins to brown.
Sprinkle with fresh basil and serve!
---
Notes
I love adding fresh grated parmesan cheese on top and a sprinkle or oregano, but you can keep it simple if you don't have these things on hand.
These little pizza bites are perfect for a little appetizer or you could serve them alongside this spicy kale salad, which is the salad I've had on repeat lately. It's so good!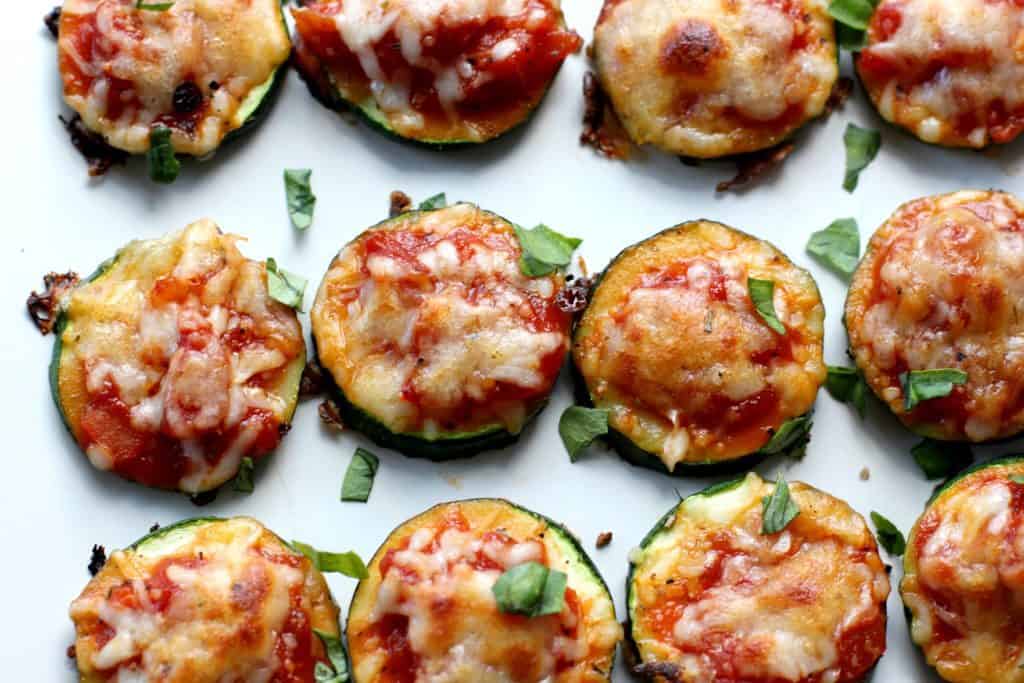 Obviously, you could top these zucchini pizzas with whatever you fancy. While I'm not a pepperoni person, I could see myself adding some diced pepper or onion on top. I just wouldn't go too crazy or they might fall apart on you!
Got some leftover zucchini? Try this lightened-up zucchini bread!
What's your favorite pizza topping?