Caesar Pasta Salad
This tasty Caesar pasta salad is loaded with vegetables and tossed in a creamy vegan Caesar dressing for a dish that is full of flavor! This simple recipe is perfect for lunch to go!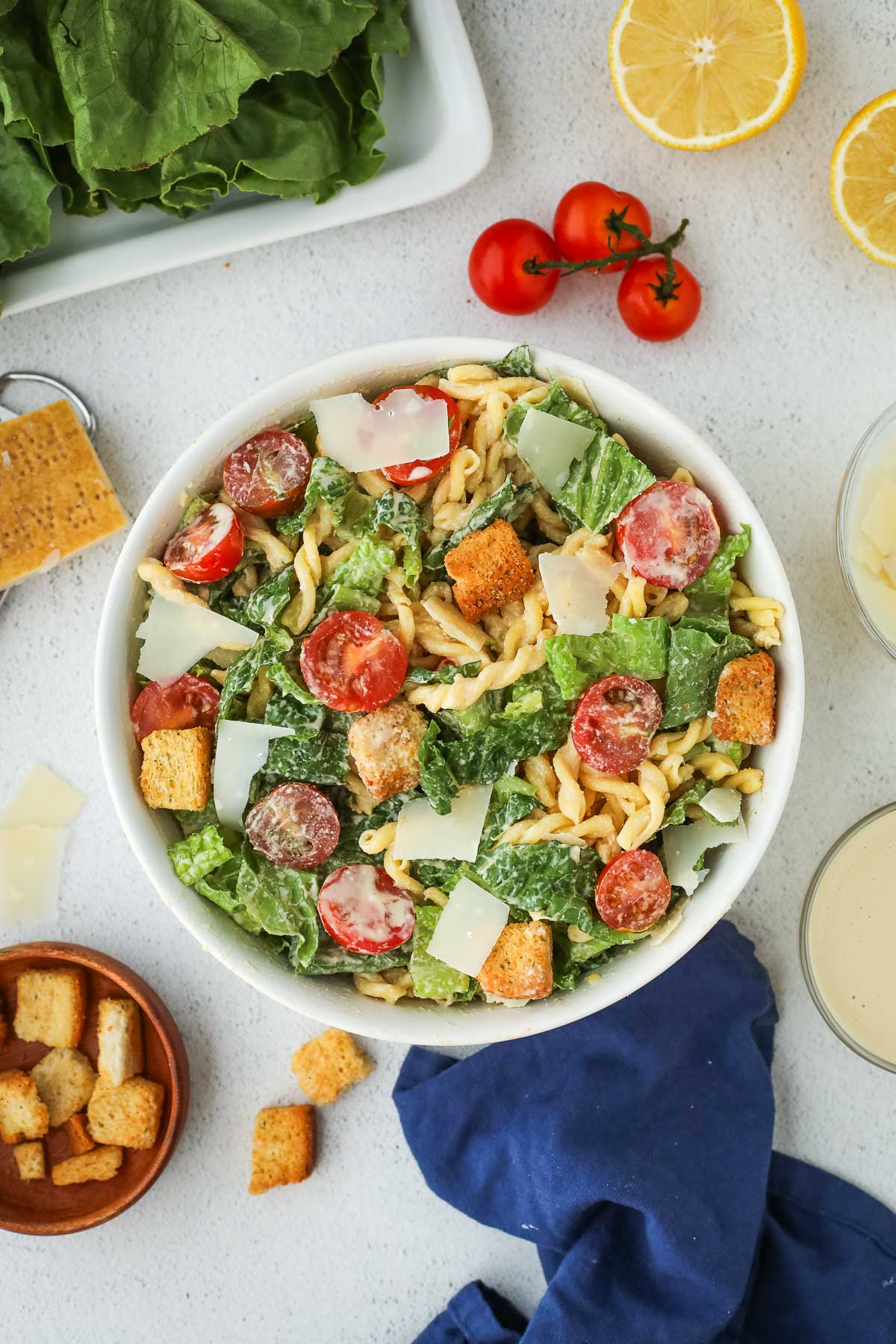 I love Caesar salads and my vegan Caesar dressing is one of my favorite salad dressings of all time. I've been enjoying big salads for lunch, but sometimes I want something more substantial. Usually, I'll add crispy chickpeas on top, but then I started thinking… why not add pasta?
I used chickpea pasta to add more protein and fiber to my salad, but you can use any type of pasta you like. I do recommend using a short pasta noodle like bow tie, penne, or gemelli. I used Banza's gemelli noodles for this version.
Ingredients & Substitutions
Pasta– I used chickpea pasta for extra protein and fiber, but you can use any kind of pasta you like.
Romaine– Crunchy romaine is the perfect base for this Caesar salad, but you can substitute with kale if you prefer. Be sure to remove the kale stems.
Tomatoes– While tomatoes aren't a traditional ingredient in Caesar salad, I liked adding some extra veggies to this salad! I used cherry tomatoes but regular tomatoes work well, too.
Caesar dressing– I used my homemade vegan Caesar dressing which is made with just a few ingredients. But you can use storebought if you prefer.
Croutons– You have to have croutons for a Caesar salad! You can use store-bought or homemade.
Parmesan cheese– If you want to keep this recipe vegan you can skip the Parmesan cheese or substitute it with a vegan-parmesan style cheese. Violife makes a great one!
How to Make Vegan Caesar Dressing
Traditional Caesar dressing contains anchovies, meaning it's not vegetarian. And even the vegetarian-friendly versions typically contain dairy, so I wanted to make a vegan version that everyone could enjoy! This one is cashew-based and it's made with just cashews, olive oil, lemon juice, balsamic vinegar, and garlic. It's super easy to make if you have a blender!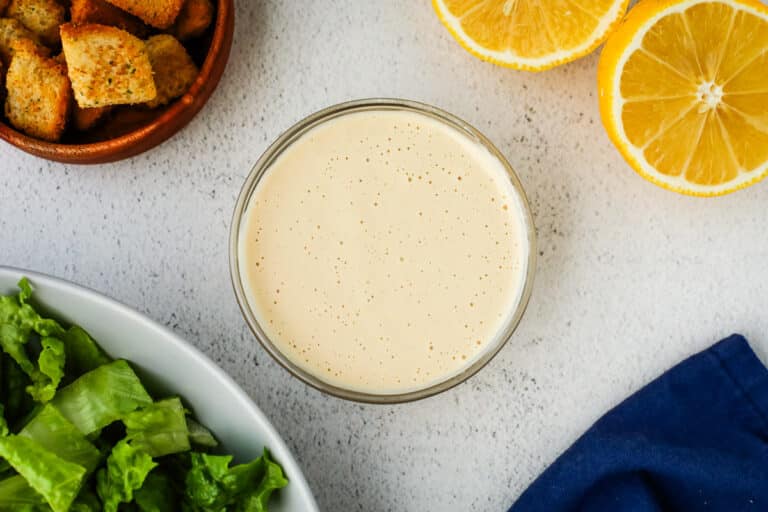 Benefits of Chickpea Pasta
I love using chickpea pasta or other legume-based pasta because it's a great source of protein and fiber. I wanted to make this salad more filling and using healthy pasta was an easy way to do it! There are a lot of great brands on the market! I like Banza, Chickapea, and Barilla. You can also use whole wheat pasta, if that's what you prefer.
How to Make Homemade Croutons
Croutons are a must-have for any Caesar salad. You can use storebought croutons but it's surprisingly easy to make croutons at home! You can use my recipe for whole wheat croutons or if you want a gluten-free option, try my polenta croutons! You can even make croutons in the air fryer. However you decide to bake them, all you have to do is cut stale bread into cubes, toss with olive oil and salt, and then bake until golden and crispy!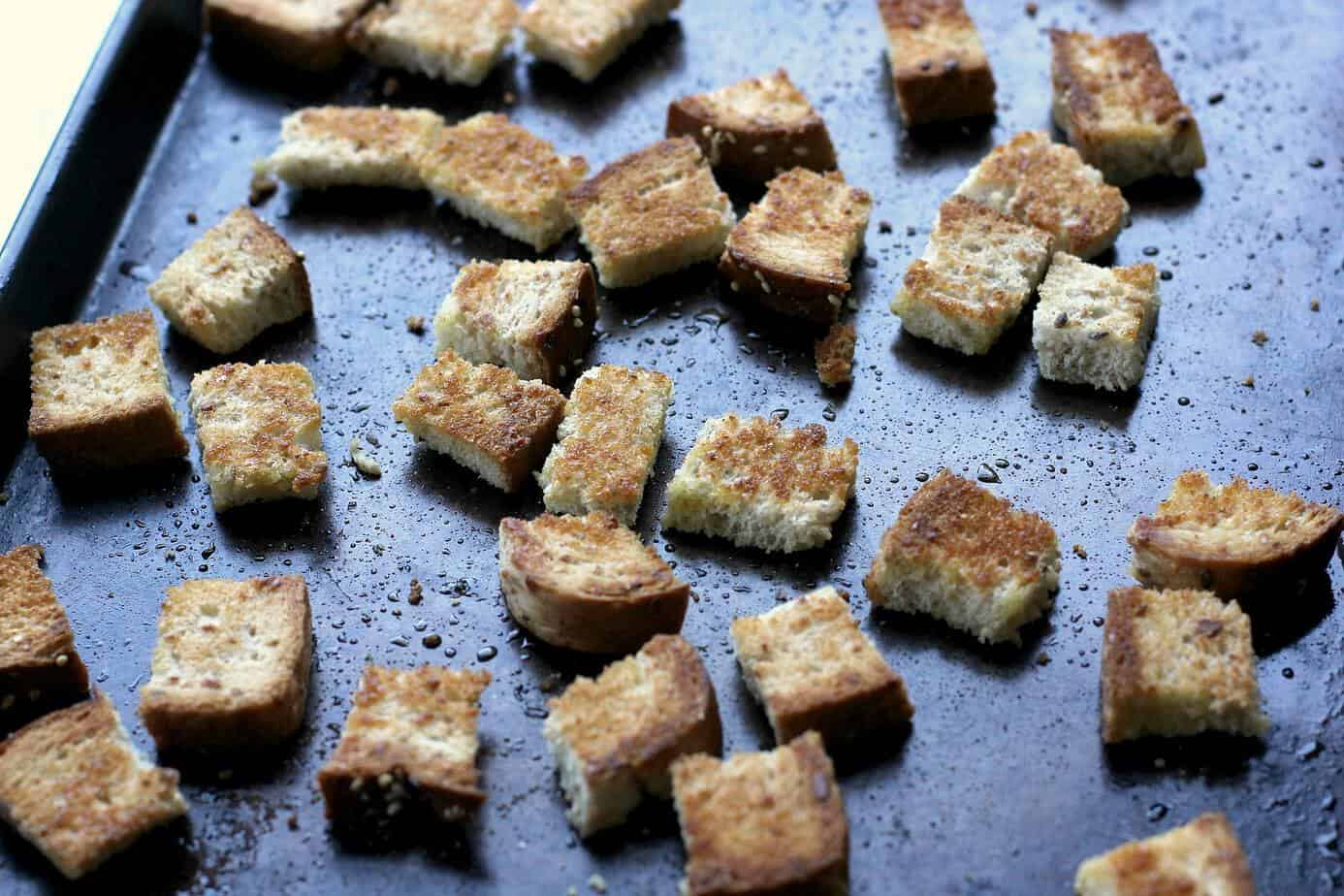 More Pasta Salad Recipes
If you enjoyed this pasta salad recipe, be sure to try this southwest style pasta salad or my vegan pasta salad! You can also make a delicious pasta salad with orzo and pesto. It's so easy! All of these recipes make a great packed lunch.
Print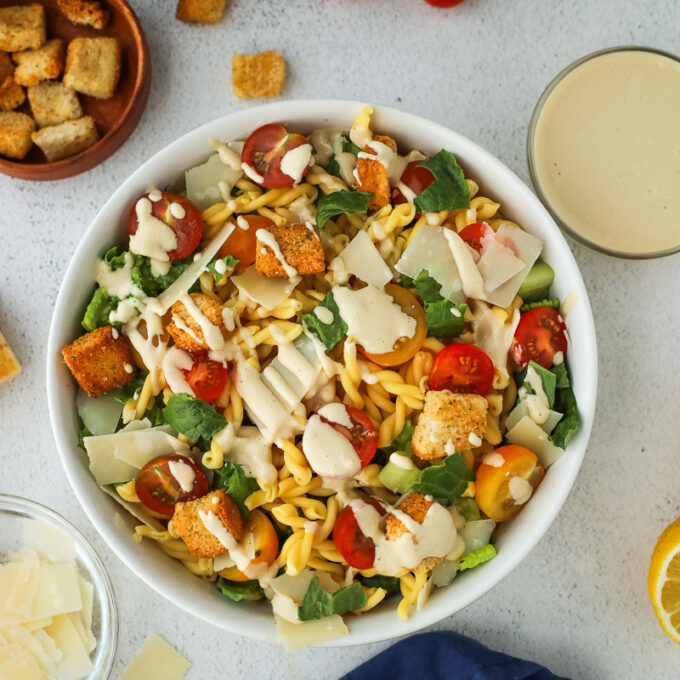 Caesar Pasta Salad
Author:
Prep Time: 10 minutes
Cook Time: 10 minutes
Total Time: 20 minutes
Yield: 12 cups 1x
Category: Salad
Method: Stovetop
Cuisine: American
Diet: Vegetarian
---
Description
This tasty Caesar pasta salad is loaded with vegetables and tossed in a creamy vegan Caesar dressing for a dish that is full of flavor! This simple recipe is perfect for lunch to go!
---
8 oz whole wheat or chickpea pasta
2 large hearts of romaine, washed and chopped
1 cup cherry tomatoes, sliced
1 cup croutons
2/3 cup vegan Caesar dressing or your favorite Caesar dressing
1 oz Parmesan cheese, grated
---
Instructions
Cook the pasta according to package directions. Allow it to cool.
In a large bowl, combine the romaine, pasta, tomatoes and croutons.
Toss with Caesar dressing and then sprinkle with Parmesan cheese.
---
Keywords: Caesar Pasta Salad, vegetarian caesar, vegan caesar pasta