I have to eat an afternoon snack. Maybe I don't eat enough for lunch, or maybe it's all in my head, but I must an afternoon snack every single day. If I don't, I'm starving when I get home. So I typically pack a piece of fruit or some sort of granola bar to tide me over until dinner.
But I've recently started being more of an ingredients-label reader… not just a calorie counter. And have you looked at some of those granola bar ingredients recently? Even if they're "good for you" in terms of calories, protein, and fat… they can be loaded with confusing ingredients.
What happened? When did a granola bar because a concoction of 50 different ingredients? What happened to a simple list of some whole grains and natural sweetener? Do I need 20 grams of protein in my afternoon snack? I don't know. But what I do know is. I was spending way too much money on expensive protein bars that had a laundry list of ingredients I couldn't pronounce. And now I want to get back to the basics.
So last week, as part of a FitFluential campaign, I received a jar of NuttZo to review. It comes in three flavors: Original, Chocolate, and Peanut-Free. I was sent a jar of Original, which seemed like a good start. I was impressed with the ingredients list, which includes 7 different nuts, plus flax seeds, and is packed with good-for-me Omega 3's. (Plus NuttZo donates a portion of their profits to an orphanage. So, there's that.)
I had it in my protein shakes in the morning, and enjoyed it on some frozen waffles, but I wanted to do more with it. So why not work it into a recipe? It was time to come up with a simple granola bar recipe, made with real ingredients.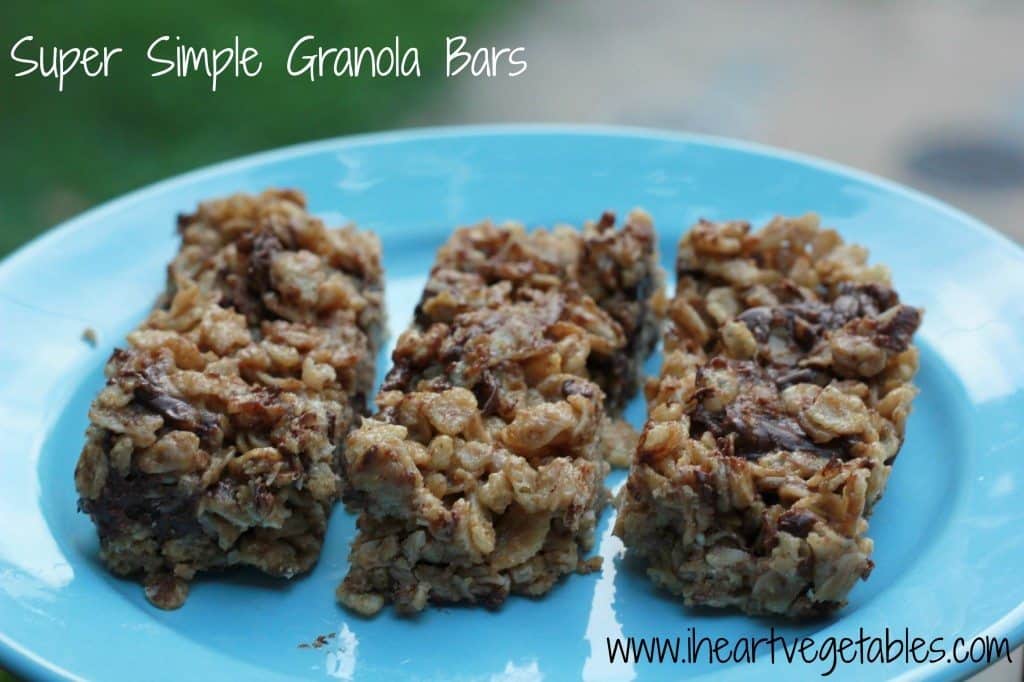 Super Simple Granola Bars
2 tbsp honey
3 tbsp brown sugar
1/3 cup salted nut butter (I used NuttZo)
1 cup whole grain oats
1 cup crispy rice cereal
1/3 cup chocolate chips (optional but obviously delicious)
Note: This will work with any nut butter, but I highly recommend a salted, creamy kind. If you get unsalted, just add a pinch or two into the recipe! But seriously, give NuttZo a shot! It's sold at most Whole Foods stores, and of course online.
In a medium sauce pan, warm up the honey and brown sugar over low heat, until the brown sugar is dissolved. Stir in the nut butter until combined. Remove from heat and stir in the oats and rice cereal. If you're adding in chocolate chips, wait until the mixture has cooled a little bit, or else it will melt. Spread into a 6×8 pan (or medium loaf pan) and let set. Cut into bars, and wrap in plastic wrap, for an easy on-the-go snack!
Honestly, these taste more like dessert. They're gooey, sweet, and crunchy. Yes, they have sugar in them, and these aren't going to pack in 50 grams of protein or anything, but they're a nice alternative to your vending machine selection. Plus, you can whip these up in literally 5 minutes. So no excuses! I will warn you, they are very crumbly. If that's a problem, just pop them in the fridge of freezer, and that should help. Even if they're crumbly, I promise you'll be eating every last crumb.
Note: These double as dessert. Promise.
What's your favorite granola bar?