Chocolate Pumpkin Mug Cake
This post is sponsored by iHerb. As always, all opinions are my own.
This chocolate pumpkin pie cake is the perfect single-serving dessert! It's so rich and decadent, you'd never guess it's made with healthy ingredients!
Fall is here and I'm craving all the pumpkin recipes. From these vegan pumpkin chocolate chip cookies to this pumpkin pie dip, I can't get enough! If you find yourself craving a pumpkin treat, or you just have a few tablespoons of pureed pumpkin leftover from another recipe, then I have the solution for you!
This single-serving dessert is made in the microwave and it can be ready in about 5 minutes! Plus, mug cakes have built-in portion control, so you don't have to worry about devouring a whole batch of cookies.
Do you ever feel like you have trouble finding certain ingredients at the grocery store? Maybe your local supermarket doesn't carry almond flour or you can't find real vanilla extract for a good price? Well, I have a solution for you: iHerb is like your favorite natural grocery store, but online!
iHerb carries over 30,000 natural products and ships to over 150 countries. From coconut sugar to chia seeds, they have just about everything. Orders are shipped from climate-controlled distribution centers to ensure the quality of their products and they offer customer service in 10 languages, 24/7.
If you're in a smaller city, it can be hard to track down things like coconut sugar and cacao powder, but iHerb makes it easy. I've also been really impressed with their prices on things like organic coconut oil and chia seeds. Nearly everything I used for this pumpkin mug cake came straight to my doorstep from iHerb!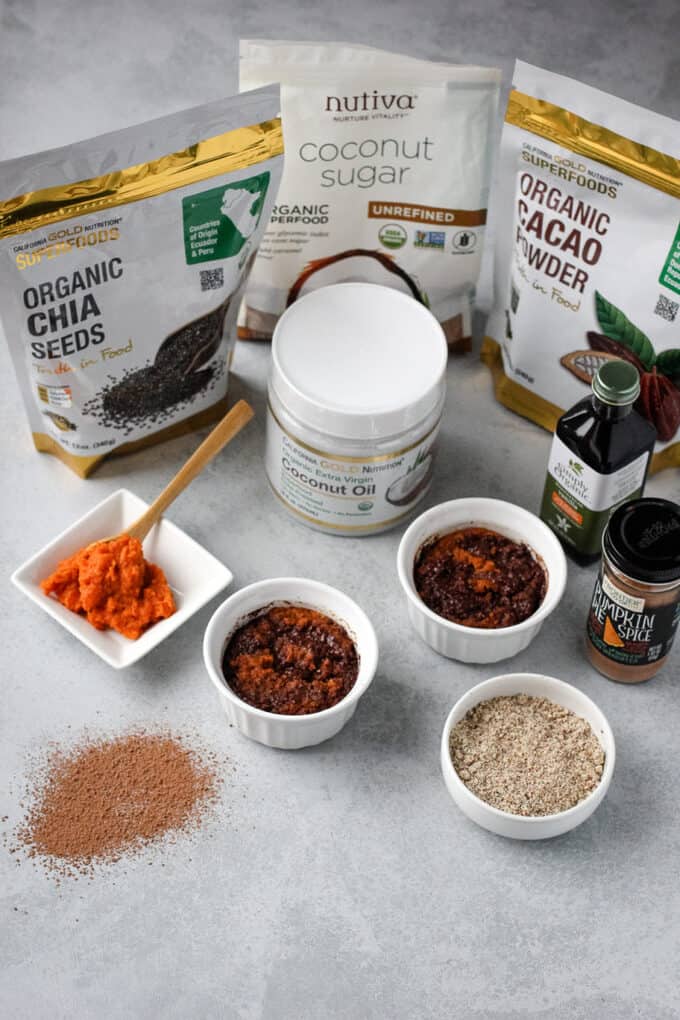 I ordered chia seeds, coconut sugar, cacao powder, coconut oil, almond flour, vanilla, and pumpkin pie spice and they came right to my door in just a couple of days. If you want to try iHerb, you can get a discount off your first order using this link!

Tips for making the perfect mug cake
Spray your mug or ramekin with non-stick spray or, simply melt the coconut oil in the dish you're using! That will help prevent the cake from sticking to the sides.
Make sure you microwave the mug cake on 50% power. This allows you to cook the center without burning the sides. I prefer to make this mug cake soft and gooey, almost like a lava cake. But if you want it to be more firm, just keep cooking until you get your desired consistency.
I like using a ramekin because it's easier to reach the cake with a fork, but a mug will work just fine!
Print
Chocolate Pumpkin Mug Cake
Author:
Prep Time: 5 minutes
Cook Time: 5 minutes
Total Time: 10 minutes
Yield: 1 1x
Category: Dessert
Method: Microwave
Cuisine: Dessert
Diet: Vegan
---
Description
This microwaveable mug cake comes together quickly for a tasty dessert filled with good-for-you ingredients.
---
1 teaspoon chia seeds
1 tablespoon water
1 1/2 teaspoons coconut oil, melted
3 tablespoons pumpkin
1/4 teaspoon vanilla
2 tablespoons almond flour
1 1/2 tablespoons cacao powder
1 tablespoon coconut sugar
1/4 teaspoon pumpkin pie spice
Pinch of salt
---
Instructions
In a small dish, combine the chia seeds and 1 tablespoon of water. Set aside for 5 minutes, until thickened.
In a ramekin or mug, mix the coconut oil, pumpkin, and vanilla until combined.
Once the chia seeds have thickened, add it to the pumpkin mixture.
Add the almond flour, cocoa powder, coconut sugar, pumpkin pie spice, and salt. Mix until combined.
Microwave on 50% power for 3-4 minutes for a soft, pie consistency. Microwave for an additional 1-2 minutes on 50% power for more of a cake like texture.
---
Keywords: pumpkin mug cake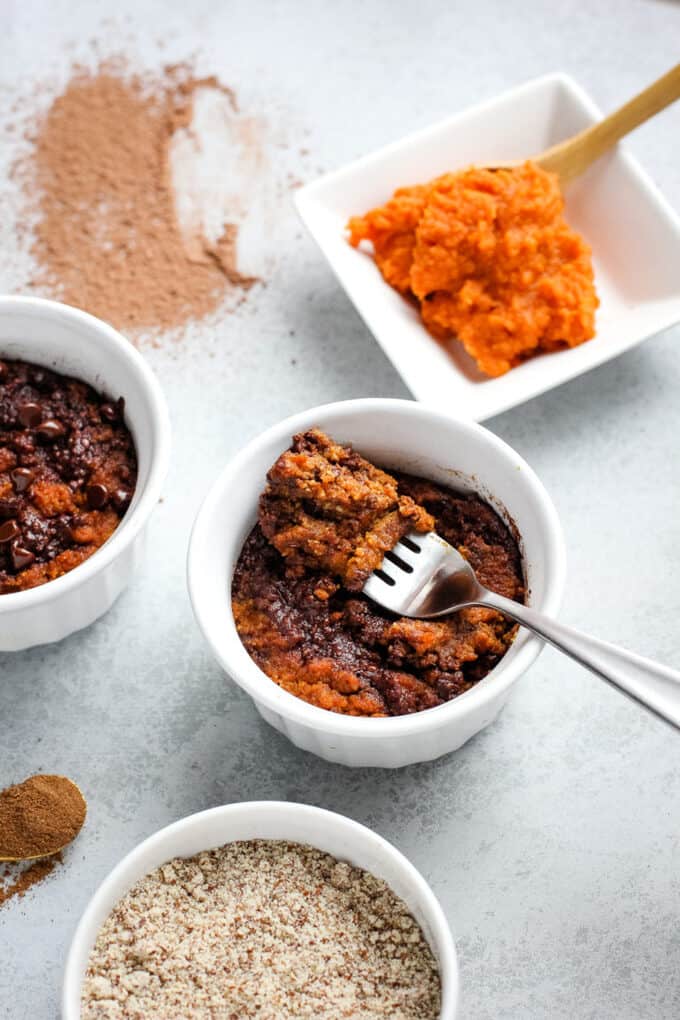 Substitution Ideas
If you don't have pumpkin pie spice, you can substitute cinnamon and a pinch of ginger.
For a little extra sweetness, sprinkle a few mini chocolate chips on top just before microwaving!
If you want to add a little crunch, try adding a few chopped pecans into the mixture before microwaving. It gives it even more of a pumpkin pie flavor!
Looking for more ways to use pumpkin? Try these vegan chocolate chip pumpkin cookies or this no bake pumpkin pie! If you have leftover cacao, check out this list of ways to use cacao powder!
And don't forget, new customers will get a 10% discount on their first iHerb order with no minimum purchase, by using this link. Now is the perfect time to stock your pantry before the holiday baking season!