10 Healthy Pasta Swaps That Aren't Zucchini Noodles
Don't get me wrong, I like zucchini noodles. They're a great vehicle for my favorite sauce and they're an easy low carb swap for pasta. But I think we need to switch it up. There's a whole world of pasta swaps out there! So put down your zucchini and get ready for a whole host of vegetable (or legume) based pasta swaps!
If you've ever made sweet potato fries in your spiralizer, then you're halfway to these Thai Sweet Potato noodles! If you're looking for a creamy sauce with a spicy kick, say hello to this recipe!
For a Mediterranean twist, you can make these sweet potato noodles with avocado tahini. Combined with basil and feta, these noodles incorporate nearly all of my favorite foods into one dish!
If you don't have a spiralizer, you can actually buy sweet potato noodles in a package. They're not exactly the same as the ones you'd spiralize yourself, as they're made with sweet potato starch, but you can typically find them in the Asian section of the supermarket. Then you can make these yummy Korean Stir Fry Noodles!
Chickpea pasta is one of my personal favorite pasta swaps. Depending on how you make it, most people probably wouldn't even notice it's not regular pasta. It's one of my favorite ways to make this macaroni and cheese a little bit healthier.
Or if you're in an all-things-pumpkin phase, you can make this Vegan Pumpkin macaroni and cheese with the same chickpea noodles!
You can also use chickpea pasta in this spicy one-pot enchilada dish. Cheesy Mexican + Pasta = the ULTIMATE comfort food recipe. Yet this one is quite healthy thanks to the protein and fiber of the chickpea pasta and the black beans!
As simple as it is, I love making this 5-ingredient baked ziti with chickpea noodles. Thanks to the creamy ricotta and my favorite marinara sauce, no one would even suspect this isn't traditional pasta!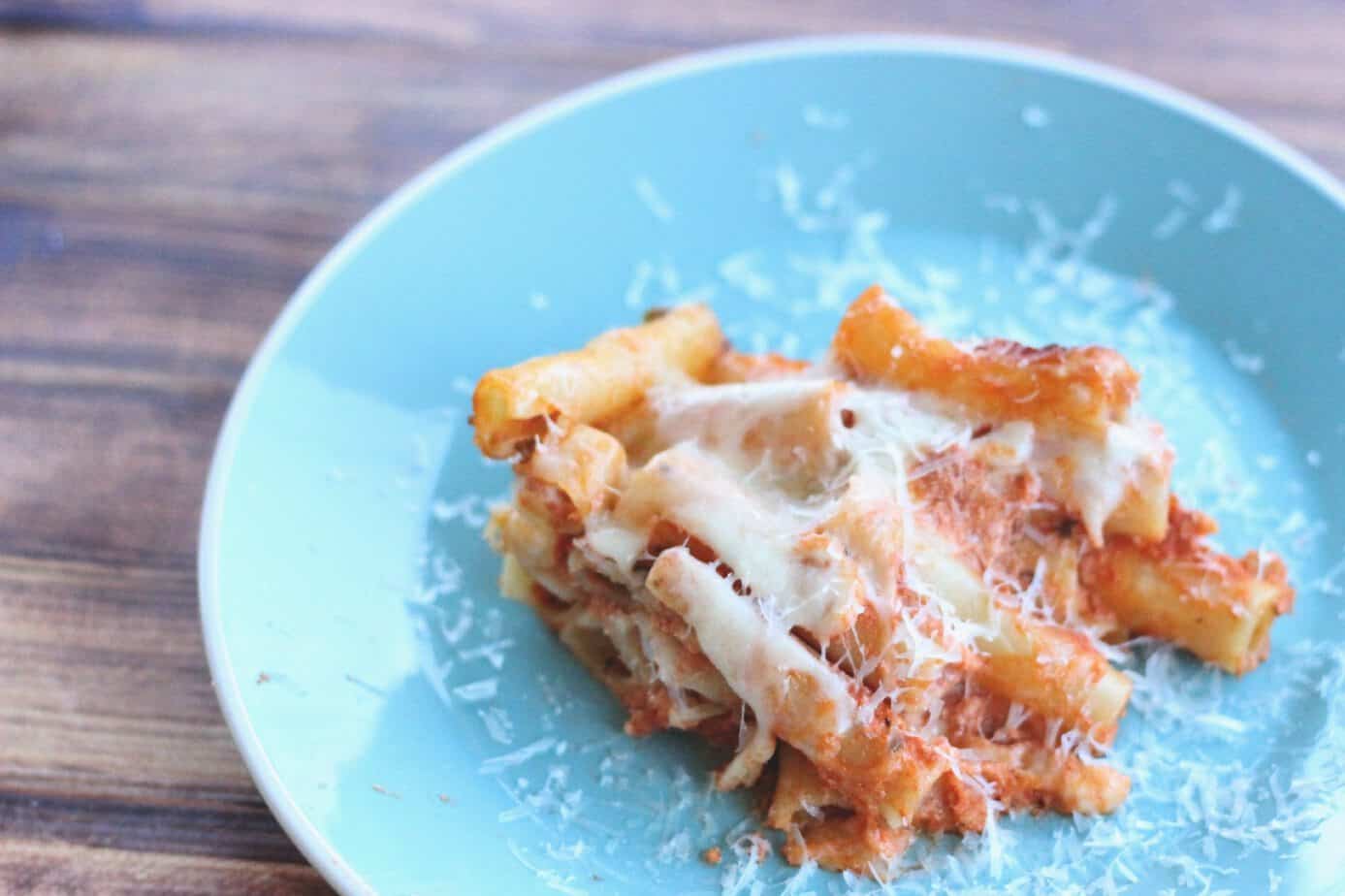 Spaghetti squash makes a lovely base for this tomato and mushroom dish. With spaghetti squash, the trick is to make sure you're using a thick sauce that won't make your final dish watery. This sauce hits the mark!
One of my other favorite spaghetti squash recipes is this super simple lasagna recipe because it's insanely cheesy. You can even make it right inside the spaghetti squash if you want to make clean up easier.
If you haven't tried red lentil pasta yet, you can snag it at Trader Joe's or in the gluten free section at most larger grocery stores. Then you can make this one-pot ricotta pasta! Looking for a plant-based option? Try my one pot red lentil pasta which is vegan!
If you're having any trouble finding these pasta swaps at the grocery store, check the gluten-free section or the natural food aisle. Places like Trader Joe's have tons of pasta swaps and you can even find Banza's chickpea pasta on Amazon!
Don't forget to pin this post to find the recipes later!
Have you tried any of these pasta alternatives?