Healthy Onion Dip
This tasty caramelized onion dip is made with cottage cheese, so it's a protein-packed snack! It's perfect when you want something rich and creamy but secretly healthy!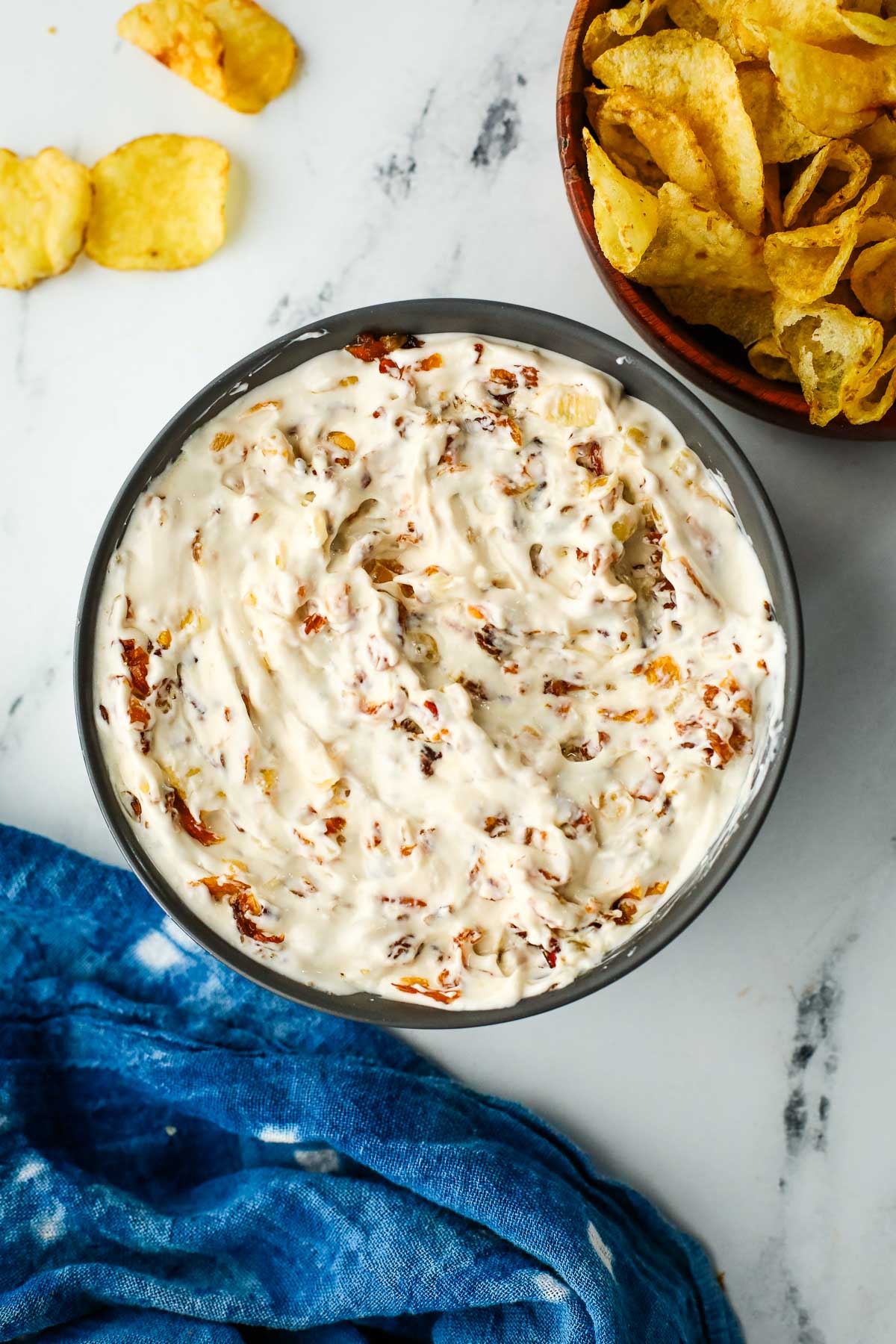 After I fell in love with this Greek yogurt onion dip, I wanted to see if I could make an even healthier version using cottage cheese. This cottage cheese chip dip turned out so well! I love the rich creamy dip infused with caramelized onions. It's so good! It does take a little while to caramelize the onions, but I promise it's worth it!
Ingredients and Substitutions
Olive oil– The olive oil is used to sauté the finely chopped yellow onion. It adds a rich flavor and helps to soften the onions. Feel free to use butter instead.
Yellow onion– The finely chopped yellow onion is the main flavor base of the chip dip, providing a savory and aromatic taste.
Salt– Salt draws out moisture from the onions and helps them caramelize.
Sugar– This helps speed up the caramelization of the onions.
Cottage cheese– The blended cottage cheese provides additional creaminess and a mild flavor, contributing to the overall texture and taste of the dip.
Plain Greek yogurt– Greek yogurt adds creaminess and tanginess to the chip dip, creating a smooth texture. Fat-free is fine.
Mayonnaise– Mayonnaise contributes to the creamy texture of the dip and adds a rich, savory taste.
Balsamic vinegar– Balsamic vinegar adds a touch of acidity and depth to the dip, enhancing its overall flavor profile.
Worcestershire sauce– Worcestershire sauce brings a complex umami flavor, adding depth and richness to the chip dip. Be sure to use vegetarian Worcestershire as traditional Worcestershire contains fish. I like Annie's brand for a vegetarian option.
Garlic powder– Garlic powder provides a burst of garlic flavor without the texture of fresh garlic.
How to Caramelize Onions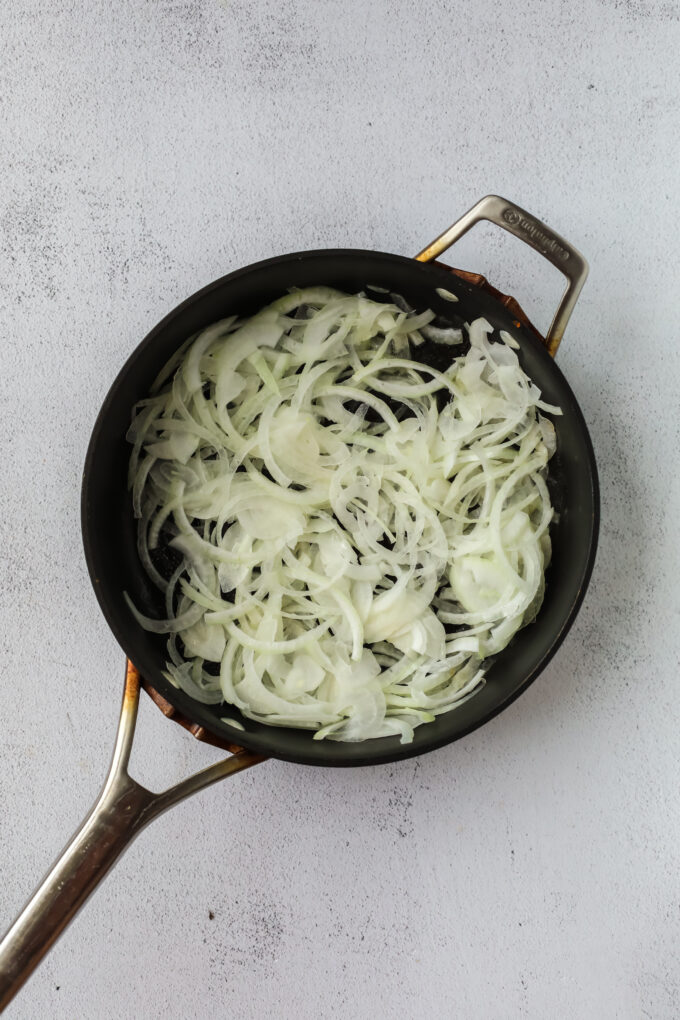 In a large skillet, melt one tablespoon of butter over medium heat. Swirl the butter around the pan to coat it evenly. Add very thinly sliced onions to the skillet and stir them into the butter until they're coated. Sprinkle the onions with salt and sugar, distributing evenly. Keep the heat at medium and cook for 20 minutes. Check the pan to make sure it's not too dry; if needed, add a splash of water to prevent sticking. Reduce the heat slightly to medium-low and continue cooking for another 10-15 minutes until the onions turn a deep brown color.
What to Serve with Cottage Cheese Onion Dip
Obviously, you can pair this cottage cheese chip dip with your favorite potato chips. I love using Kettle chips, which are thicker and crunchier so they can stand up to this thick, creamy dip. But you can also dip cucumber slices, carrot sticks, or bell pepper strips! We often serve it with cucumber slices and it's delicious!
More Dip Recipes
Print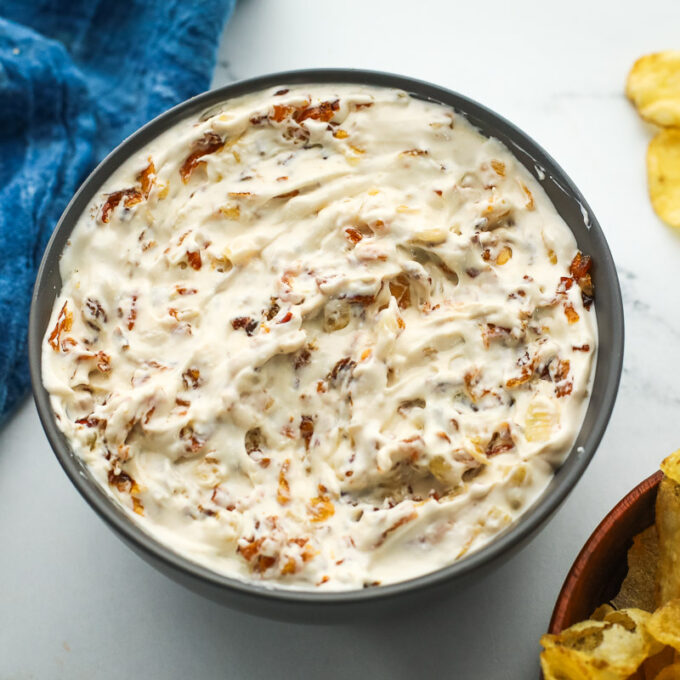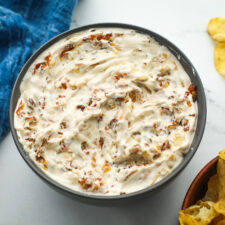 Healthy Onion Dip
Author:
Prep Time: 10 minutes
Cook Time: 30 minutes
Total Time: 40 minutes
Yield: 1 1/2 cups 1x
Category: Snack
Method: Stovetop
Cuisine: American
---
Description
This tasty cottage cheese chip dip is a healthier version of your favorite creamy onion dip!
---
1 tablespoons butter
1 large yellow onion, finely chopped
1/2 teaspoon salt
1/2 teaspoon sugar
3/4 cup cottage cheese
1/4 cup plain Greek yogurt
1/3 cup mayonnaise
1/2 teaspoon balsamic vinegar
1/2 teaspoon vegetarian Worcestershire sauce
1/2 teaspoon garlic powder
---
Instructions
To caramelize the onions:
Add one tablespoon of butter to a large skillet and turn the heat to medium. Allow the butter to melt and swirl it around the pan.

Add the very thinly sliced onions and stir them into the butter so they're evenly coated. Sprinkle with salt and sugar and stir until distributed.

Keep the heat at medium and cook for 20 minutes. After 20 minutes, ensure the pan isn't too dry. (If the pan looks dry or the onions look like they may stick to the pan, add a splash of water.)

Turn the heat down slightly to medium-low and continue to cook for 10-15 minutes, until the onions are a deep brown color.

Let the onions cool slightly, then transfer to a cutting board. Finely chop the onions, then set them aside. The onions can be prepared a day in advance.
To prepare the dip:
Blend the cottage cheese in a blender, food processor, or using an immersion blender, blend the cottage cheese until smooth. Add the Greek yogurt, mayonnaise, balsamic vinegar, Worcestershire sauce, and garlic powder. Continue to blend until smooth.

Stir in the caramelized onions.

Cover and transfer the bowl to the fridge. Allow the dip to chill for about 30 minutes. This dip can be prepared up to 2 days in advance.
---
Keywords: Healthy Onion Dip, cottage cheese chip dip