Vegan Pasta Salad
This tasty pasta salad is filled with a rainbow of vegetables and tossed in a flavorful vinaigrette for a showstopping side dish! This make-ahead recipe is perfect for a picnic or a simple packed lunch.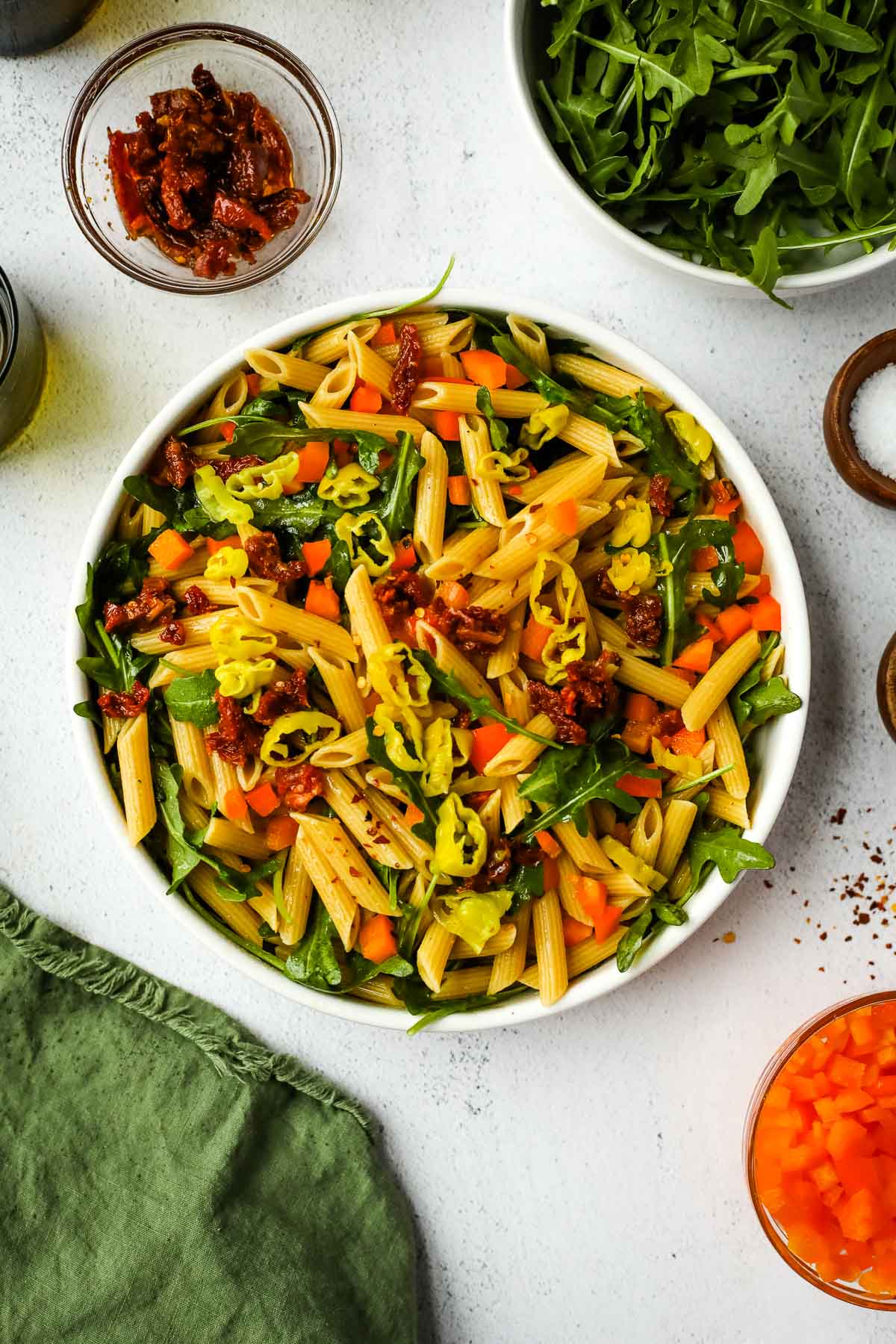 This simple pasta salad is filled with delicious flavors and plenty of vegetables for a healthy, simple dish. It's a great way to get in a variety of nutrients in one dish, and it's easy to substitute ingredients based on what you have in your pantry. When it's made with whole wheat pasta, it's a good source of protein and fiber.
Pasta salad is also the perfect dish for meal prepping and taking on the go. It can be made ahead of time and stored in the refrigerator for several days, making it a convenient option for busy days. It's also easy to pack, making it an excellent option for picnics, lunch at work, or school.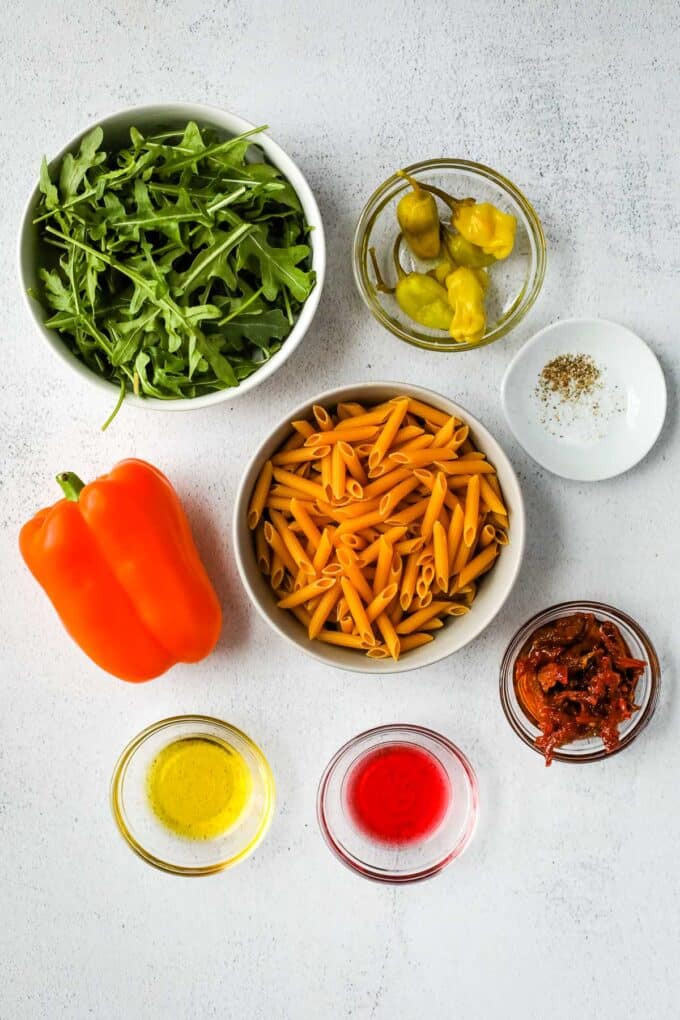 Ingredients and Substitutions
Pasta– I recommend a short pasta like penne or fusilli. I used Barilla Protein Plus pasta as it has extra fiber and protein, making this recipe extra filling. You can use chickpea pasta if you want to keep this recipe gluten-free.
Olive oil– I recommend high-quality olive oil with a light, fruity flavor.
Sun-dried tomatoes– Be sure to use tomatoes packed in oil. These have the best flavor and texture.
Red wine vinegar– This adds a tangy flavor to the dressing. Feel free to substitute with champagne vinegar, white wine vinegar, or even balsamic vinegar.
Garlic powder– I prefer garlic powder instead of fresh garlic since it has a more mild flavor.
Arugula– I like the slightly peppery flavor of arugula, but you could substitute it with baby spinach.
Pepperoncini– I love the briny flavor but if you don't like the spiciness, feel free to substitute with olives instead.
The Key to Perfect Pasta Salad
This is a trick I learned from America's Test Kitchen. The key to the perfect pasta salad is actually to overcook the noodles just slightly. I cooked mine one minute past al dente. Then after draining the pasta, rinse it under cold water. (Normally, I'd never advise rinsing pasta, but this is a unique case!) This helps stop the cooking process so the noodles don't get soggy. By overcooking the noodles slightly, they're the perfect texture once cooled.
The Best Pasta Salad Dressing
I wanted to keep the vinaigrette simple but still add lots of flavor. The secret is to use some of the oil from the sun-dried tomatoes. It's infused with the savory, briny flavor of the tomatoes, which adds depth to the dressing. The red wine vinegar adds brightness and the olive oil adds a subtle, fruity flavor. A little garlic powder and salt and pepper are all you need for spices.
How to Make Pasta Salad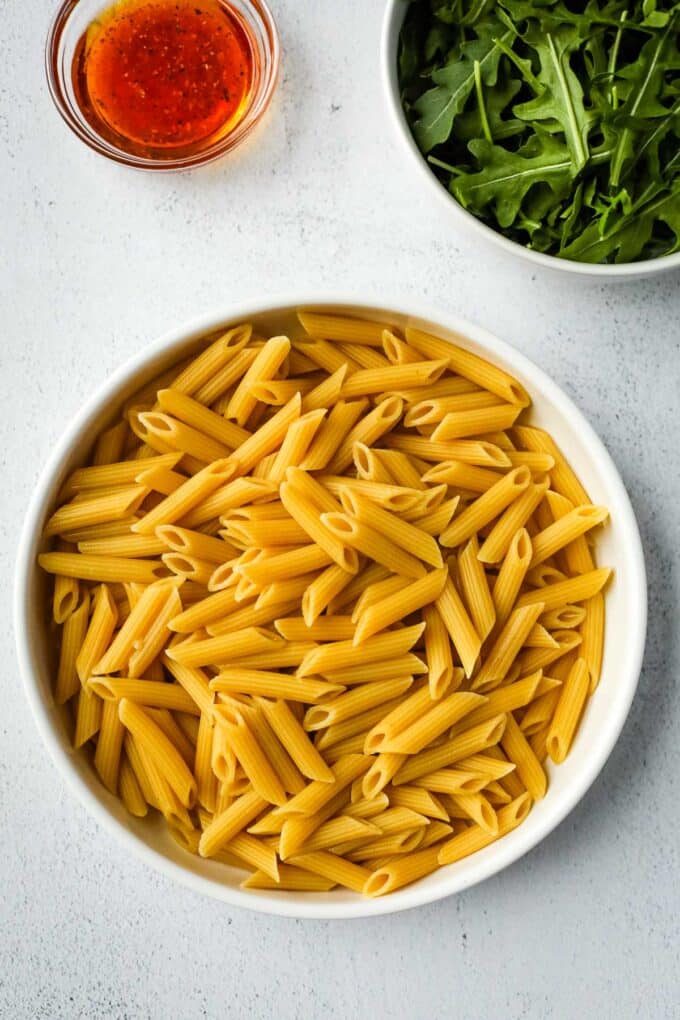 Frequently Asked Questions
What ingredients are in a pasta salad? There are a million different pasta salad recipes out there, but this one uses a combination of pasta, vegetables, greens, and a few tangy ingredients, including pepperoncini and sun-dried tomatoes. I put substitution ideas in the ingredients section, so if you're missing anything, don't worry!
Is it best to make vegan pasta salad the day before? Pasta salad can certainly be made in advance so the flavors have time to meld together and intensify. Additionally, pasta salads often taste better when they have been chilled in the refrigerator for a few hours or overnight. This allows the pasta to absorb the dressing and the flavors to develop fully. But don't worry if you want to enjoy it on the same day. Just a couple of hours in the fridge will be just fine!
What do sun-dried tomatoes taste like? Sun-dried tomatoes have a concentrated, intense flavor that is somewhat sweet and somewhat savory. They are often described as having a chewy texture with a slightly tangy, acidic taste. The flavor of sun-dried tomatoes is much stronger than that of fresh tomatoes, and they're delicious in this pasta salad. I prefer sun-dried tomatoes that are packed in oil, so you can use some of the oil to flavor the dressing.
Can I add protein to this dish? Yes! If you want to enjoy this as a main dish, try adding cannellini beans or chickpeas (drained and rinsed) to the pasta salad for additional protein and fiber.
Can I add cheese? I kept this recipe vegan but if you want to add cheese, try adding marinated mozzarella balls or freshly grated Parmesan cheese!
What should I serve with pasta salad? You can serve this pasta salad as a side dish (it's great for picnics), but it can also be enjoyed as a main course for a simple lunch. If you want to pair it with something, try it with roasted vegetables, a cup of your favorite soup, or add your favorite protein.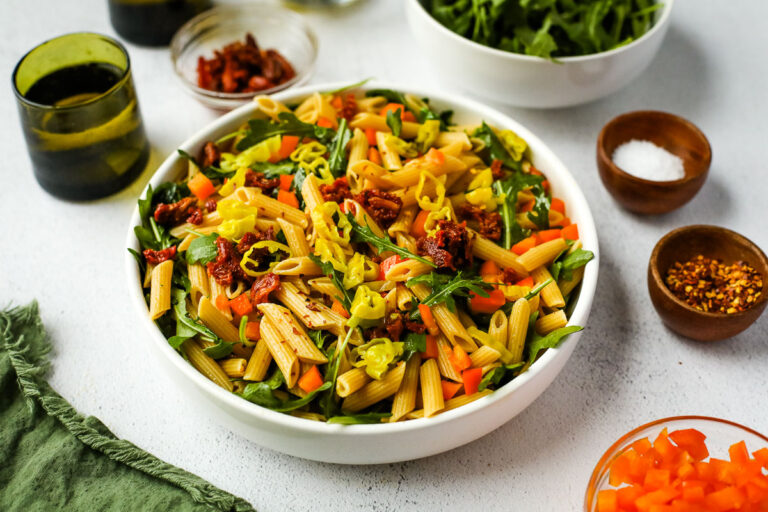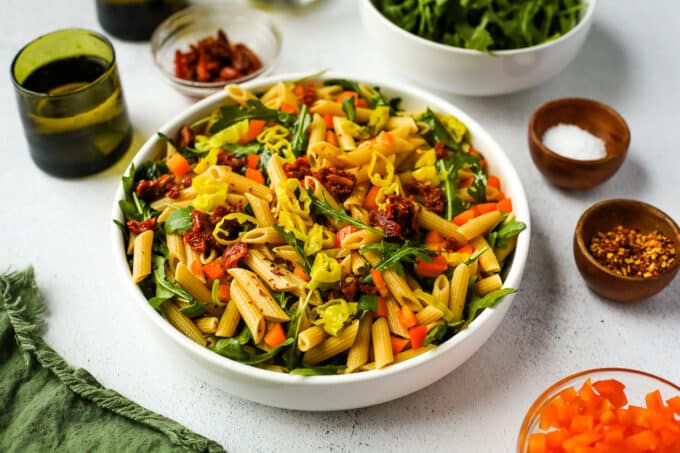 Print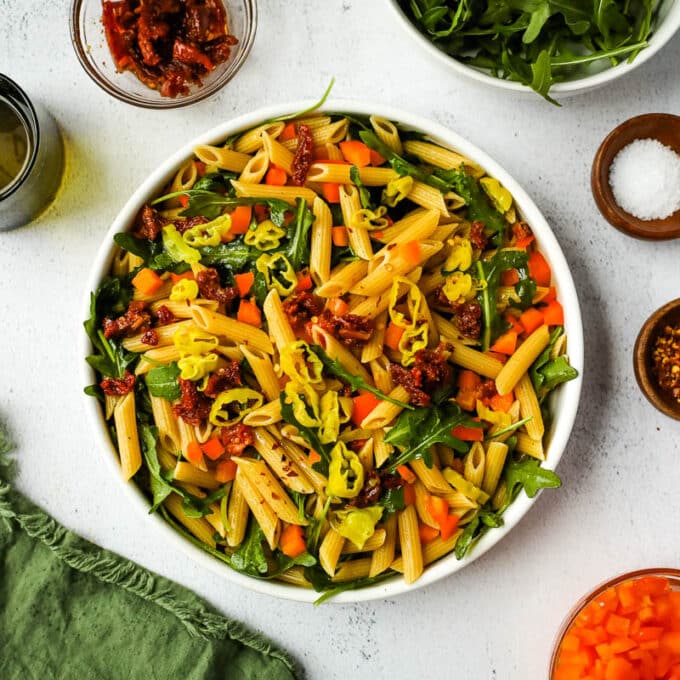 Vegan Pasta Salad
Author:
Prep Time: 10 minutes
Cook Time: 10 minutes
Total Time: 20 minutes
Yield: 6 cups 1x
Category: Side Dish
Method: Stovetop
Cuisine: American
Diet: Vegan
---
Description
This tasty pasta salad is filled with a rainbow of vegetables and tossed in a flavorful vinaigrette for a showstopping side dish! This make-ahead recipe is perfect for a picnic or a simple packed lunch.
---
8oz penne pasta
2 tablespoons olive oil
4oz oil packed sun-dried tomatoes (with 1 tablespoon oil reserved)
2 tablespoons red wine vinegar
1/4 teaspoon garlic powder
Salt and pepper to taste
2 cups arugula
1/4 cup pepperoncini, sliced
---
Instructions
Cook the pasta according to package directions, then add one minute of cooking time past al dente.
Drain in a colander. Rinse the pasta under cold water.
In a small bowl, combine the olive oil, red wine vinegar, oil from the sun-dried tomatoes, garlic powder, salt, and pepper.
Toss the pasta with the dressing until evenly coated.
Combine the pasta with the arugula, bell pepper, sun-dried tomatoes, and pepperoncini.
---
Keywords: vegan pasta salad
More Vegan Pasta Recipes