Remember when I showed you a His & Hers WIAW, and you got to see how the man-friend eats [the complete opposite of what I eat]?
Well there is another man in my life.
My brother and I have always been close. He's only 2 1/2 years older.
That's us, on the day that he married his lovely wife, Aricka, a couple of years ago 🙂
Anyways, he might be just as stubborn about eating meat as the man-friend. But after a long discussion during our 8 hour car ride back from Columbus…
He accepted the challenge to go 1 week without meat.
His lovely wife is on board with this, which makes it about 10 times easier for him 😉
He even said "Maybe I could do a guest post on your blog about it"
Um. YES! So stay tuned my friends.
After he told me he was going to try being a vegetarian, I immediately invited him and his wife over for dinner. (I'm a nice sister, right?)
I wanted to make a vegetarian meal that would show him how delicious vegetarian food can be! (Although Aricka makes him delicious vegetarian meals sometimes, so it's not like he'd never had one before!) And I'll warn you right from the start that this was not a low calorie dinner. But I've gotta ease these men into it…
I decided on Angela's Barley Risotto (which I'd actually made before here) and a cheesy potato bake, that was the product of an afternoon of brainstorming. I'll share the recipe soon! I also made an apple walnut salad, because I had to have some greens in this meal.
But since it wouldn't be a true WIAW without the other accompanying meals of the day, here's what else I've been noshing on.
Breakfast:
The weather has still been warm here, so I haven't given up my smoothie in the morning
1 frozen banana, 2 handfuls of ice, splash of soymilk, 2 packets of stevia, topped with homemade granola, and a side of dark chocolate dreams peanut butter. YUM.
Lunch: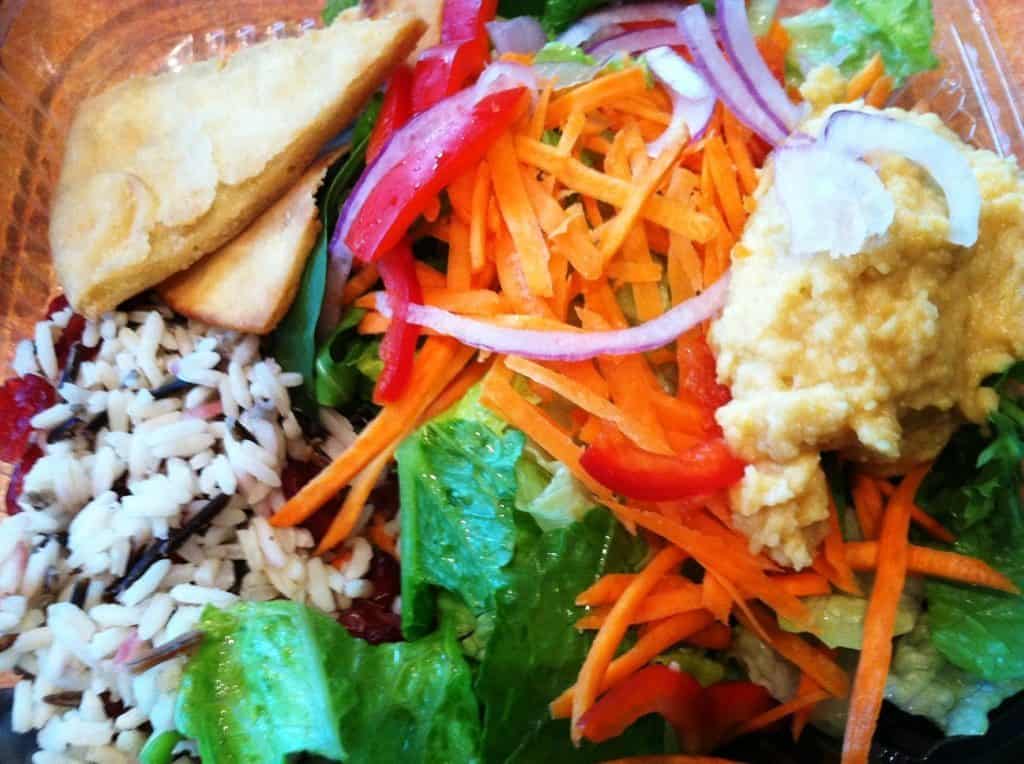 I was lazy, and didn't pack a lunch at work, so this is what I pulled together from the salad bar. Veggies, hummus, pita, and a little bit of rice. This was eaten with an unpictured red pepper soup.
Dinner:
The spread that I whipped up for my brother, his wife, and the man-friend.
*Blogger fail, I didn't actually take any pictures at dinner, but I had leftovers the next night, so I took a photo of that!*
Dessert:
Unpictured cake batter ice cream that my sister-in-law made. Holy monkeys, was it good. For a "healthified" cake batter ice cream recipe… click here!
Any vegetarian recipes I should recommend for my brother['s wife] to make?