Tzatziki and Chickpea Flatbread
As we were driving home from church on Sunday, I was trying to think of what to make for dinner. I knew I had some naan in the freezer and I happened to have all of the ingredients to make tzatziki so I wanted to do something with that. For a little extra protein, I decided to add some chickpeas and lately I've been loving my chickpeas roasted… so one thing led to another and we ended up with this super easy & delicious flatbread!
If you want to make things super simple you could use store bought tzatziki but I promise this recipe is so easy that you could make your own!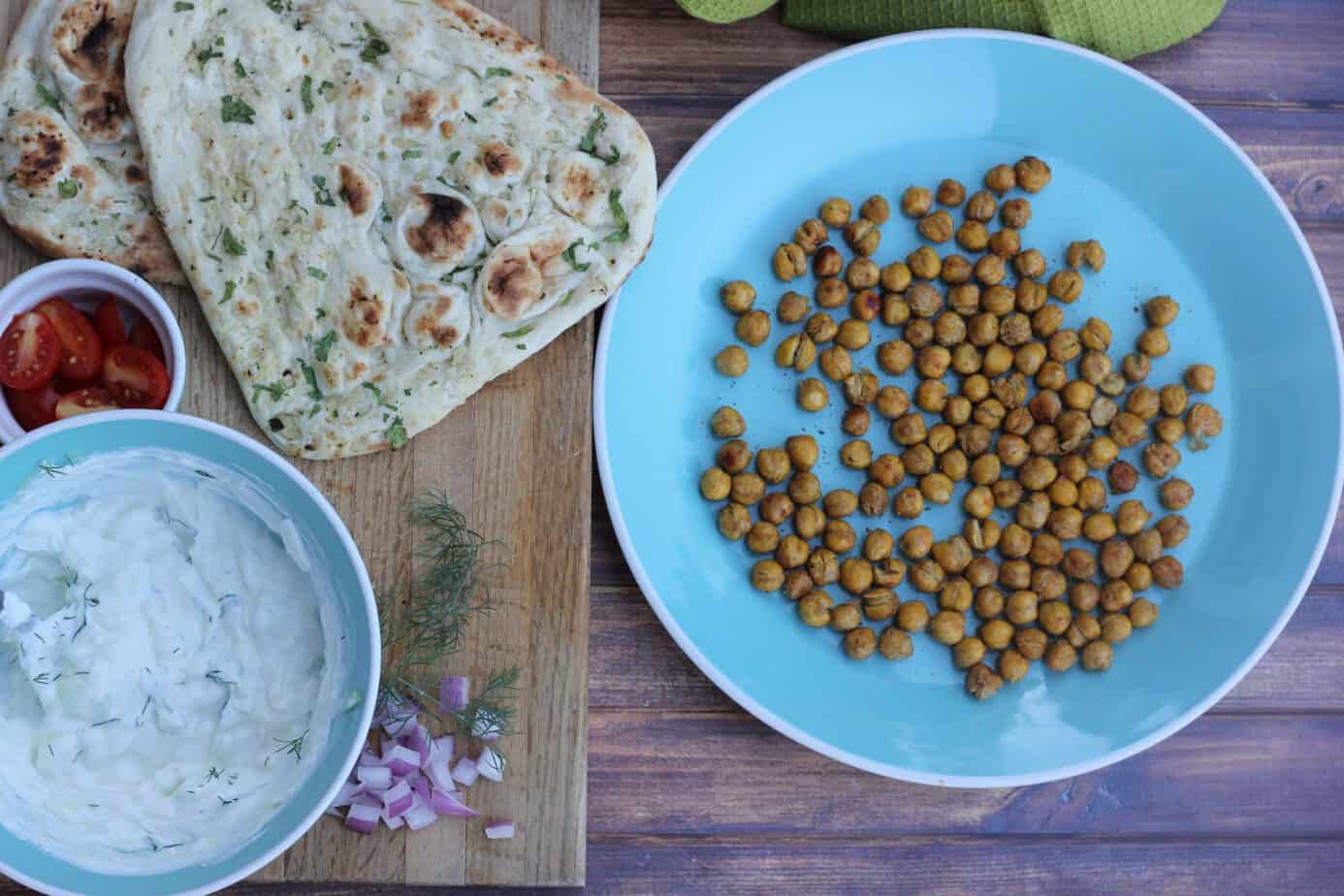 Print
Tzatziki and Chickpea Flatbread
Author:
Prep Time: 15 mins
Cook Time: 20 mins
Total Time: 35 mins
Yield: 2 1x
Category: Dinner
---
2 pieces of naan (I used the garlic naan from Trader Joe's)
1 can of chickpeas, rinsed & drained
¼ tsp cumin
¼ tsp garlic powder
¼ tsp salt
½ cucumber
½ cup plain 0% Greek yogurt
1 clove garlic
2 tbsp olive oil
1 tbsp lemon juice
1 tbsp fresh chopped dill
Dash of salt
Optional: Cherry tomatoes, red onion, fresh herbs.
---
Instructions
Preheat the oven to 400
Toss the chickpeas with the cumin, garlic powder, and salt.
Spray a cookie sheet with non-stick spray and spread out the chickpeas into an even layer.
Pop them in the oven and cook for 15-20 minutes.
They'll start to brown and shrink a bit. Don't take them out too early, because you really want them to get crispy!
Once they're almost done, pop in the naan to heat it up. Even if it's frozen, it'll probably only need a few minutes in the oven.
While all of that's cooking, you can make your tzaziki!
Peel the cucumber and slice length wise.
Scoop out all the seeds.
Grate the cucumber using a large box grater.
Squeeze the moisture out of the grated cucumber and add it a small bowl.
Combine with the Greek yogurt.
Using a garlic press, crush the garlic clove and add to the yogurt mix.
Add in olive oil, lemon juice, dill, and salt. Stir to combine.
To assemble the flatbreads, just top the naan with the tzaziki and then top with chickpeas. You can also add in a little diced onion, tomato, and/or more fresh herbs!
Serve immediately!
---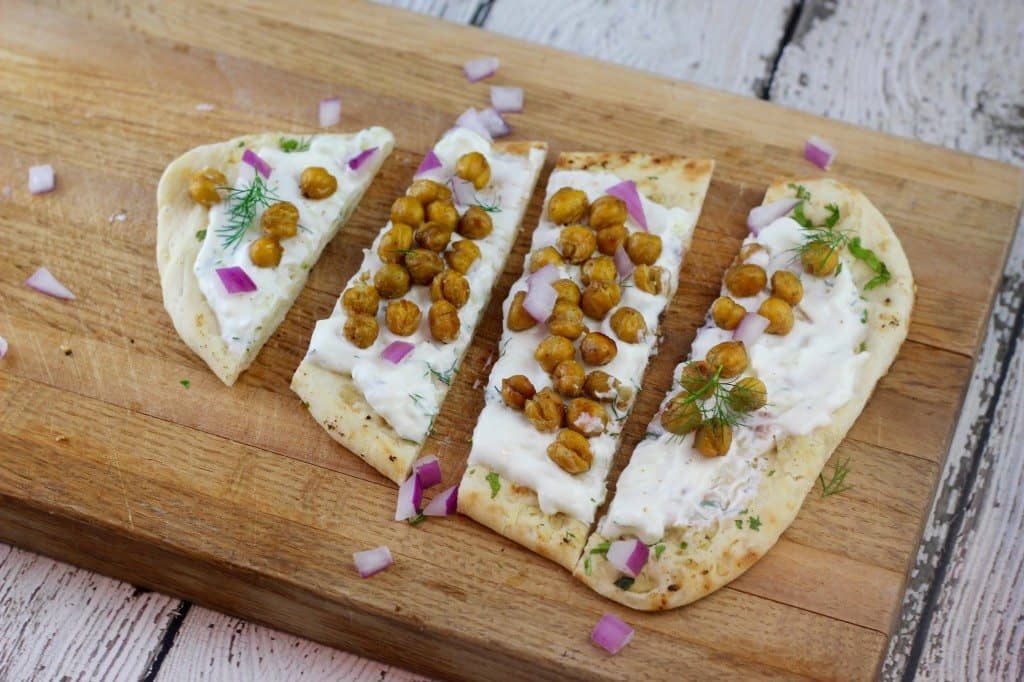 I really loved the creamy tzatziki with the crunchy chickpeas. And naan… well that speaks for itself. Even if you don't like Indian food, you like naan. It's just so soft and delicious. It made the perfect flatbread base!
Got a little leftover flatbread? You can always use it to make this easy white pizza…
Just saying. Naan is pretty darn versatile.
I've been spending the past couple of days traveling to DC and Baltimore, most recently for the Natural Products Expo. I have so much to tell you! I'm pretty sure I sampled over 100 products yesterday. I'll be recapping my favorites on Monday! In the mean time, I hope you all have a great weekend!
What's your favorite kind of flatbread?