Marley Spoon Vegetarian Meal Kit Review
Alright, friends. I'm back with my fifth meal kit review and I think this week was our favorite one yet! If you're just now joining me on this meal kit journey, here's the deal: I'm trying all the meal kit delivery options to figure out which one is best for vegetarians. Most of the pros and cons apply whether you're trying the meatless meals or the regular meals, but I'm focused on the vegetarian options.
This week, we tried Marley Spoon, the meal delivery kit by Martha Stewart, and it definitely impressed us.
Note: I received a complimentary box from Marley Spoon in exchange for an honest review. This is not a sponsored post and as always, I'm sharing my honest opinion. Here we go!
About Marley Spoon
Like all meal delivery kits, Marley Spoon delivers quality ingredients and delicious recipes. To be totally honest, I didn't expect anything different on this one. There were four vegetarian options for the week and I picked three of them to try. I would have liked a little more variety, but I ended up liking what they had to offer. It was nice to at least have options. HelloFresh, for example, only has 3 veggie meals each week, so you don't get to pick what they send if you're a vegetarian.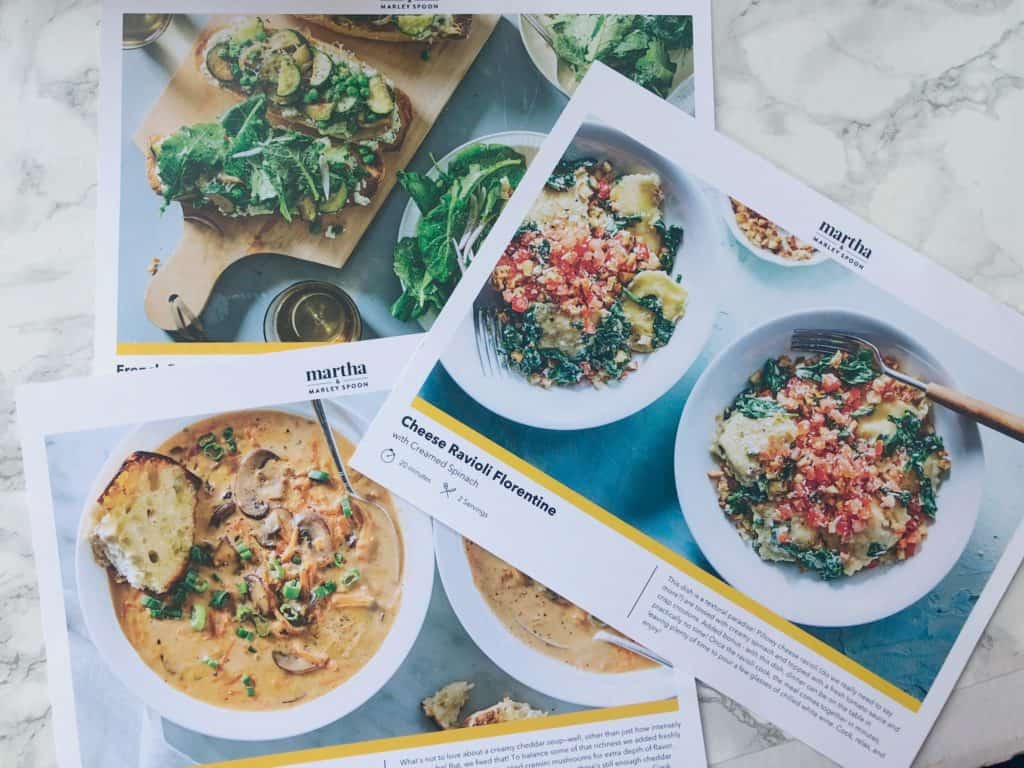 Cost of Marley Spoon Vegetarian Meals
The price per meal depends on how many you order but generally, it's $10.25 for 3 meals that serve 2 people. There is a check box to make sure all your boxes are vegetarian, but it doesn't lower the price. The price is pretty competitive compared to what we've seen with other meal kits, but I think it's a bummer that the meatless meals aren't at least a little bit cheaper.
Vegetarian Recipes From Marley Spoon
Here are the three recipes we received in our box:
Cheese Ravioli Florentine– Pre-made cheese ravioli topped with a homemade tomato sauce and toasted breadcrumbs.
White French Bread Pizza– French bread pizzas topped with a homemade pesto-ricotta sauce, zucchini and peas, plus a kale salad.
Cheddar and Mushroom Soup– Creamy soup with sauteed mushrooms and grated carrots.
This is where Marley Spoon stood out. We loved all of the recipes. They were a little more cheese-focused than I would have liked but there were no complaints from either of us. I expected the french bread pizza to be kind of boring but the pesto-ricotta sauce was delicious and since we piled the pizzas high with green veggies, I felt a little better about it. Plus, there was a kale salad included!
The cheese ravioli was served with tomato sauce, creamed spinach and breadcrumbs. Even though it was just packaged ravioli, all the sauces and toppings made it a little fancier. It was easy enough that we made this meal the day we installed our paver patio. If I had the energy to do it on that night, I could pull it off any night!
The cheddar and mushroom soup was my least favorite because I don't really like mushrooms but I actually didn't mind them in this soup. This was probably the least healthy meal since it was a pretty cheesy soup, but it did incorporate shredded carrots for an extra dose of veggies.
Marley Spoon Meal Prep
Compared to the other meal kits we've tried, I'd say Marley Spoon was on the easier side. They did tend to require quite a few dishes, but the actual steps were simple.
Here's how long it took us to make each dish and how many dishes we had to wash when we were done:
Ravioli Florentine– 24 minutes | 1 skillet, 1 small saucepan pan, 1 cutting board, 1 colander.
French Bread Pizza– 26 minutes | 1 bowl, 1 sheet pan, 1 skillet, 1 cutting board.
Cheddar Mushroom Soup-  33 minutes | 1 large pot, 1 cutting board, box grater.
We didn't learn any new kitchen skills while preparing these recipes, but they were great for busy weeknights.
Actual Cost of Marley Spoon Meals
Since cost seems to be the main barrier when it comes to these meal kits, I did some research and went to Instacart to see how much it would cost if I were to buy the ingredients on my own and make the recipes that came in my box. (Note: Instacart currently has a partnership with Whole Foods and the prices online are the same as the prices in the store. I didn't take into account any delivery fee or tips in the below prices.)
Cost of ingredients per recipe:
Ravioli Florentine– $19.35
French Bread Pizza– $20.65
Cheddar Mushroom Soup- $20.72

Total cost of ingredients: $63.72 (Marley Spoon Total- $61.50)
To order all the ingredients from Instacart, would cost me $63.72. So if I had an empty pantry and had to start from scratch, buying all these ingredients would cost me about the same amount as the box. Of course, if I bought all the ingredients from the grocery store, I'd end up with extra ingredients that I could use in other recipes. As I mentioned with my other meal kit reviews, if your leftover ingredients tend to go to waste, the cost of these meal kits might not be much higher than your grocery bill. Plus, you save yourself a trip to the store and I'm all about saving time!
Overall Marley Spoon Meal Kit Review
Marley Spoon has been our overall favorite so far. We really enjoyed all of the recipes, they were easy to prepare, and it seemed like a good value. If you're looking for a meal kit to try, this would be the first one I'd recommend.
Looking for other ideas? Here are the other meal kits I've tried:
I'm still planning to try Purple Carrot and I recently tried Hungryroot so I'll be sharing my experience with that.
What meal kit should I try next?