Healthy Snacks You Can Order Online
If you're avoiding the grocery store, but you're looking to spice up your snack supply, I have a solution for you! All of these snacks and treats can be ordered online so you can get tasty bites delivered directly to your door. Of course, many of these items are also available at the grocery store, so if you see them on the shelves, give them a try!
I split up my list by salty snacks and sweet snacks, so you can find the perfect snack depending on what you're craving!
Salty Snacks
Rhythm Superfoods
Rhythm Superfoods makes tons of healthy snacks for satisfying your cravings. Their kale chips are classic, but the ranch carrot sticks are my personal favorite. They're super crunchy and packed with flavor, and the ingredients list is super clean. The also make beet chips and cauliflower chips, if you want to add a little more variety to your snacking!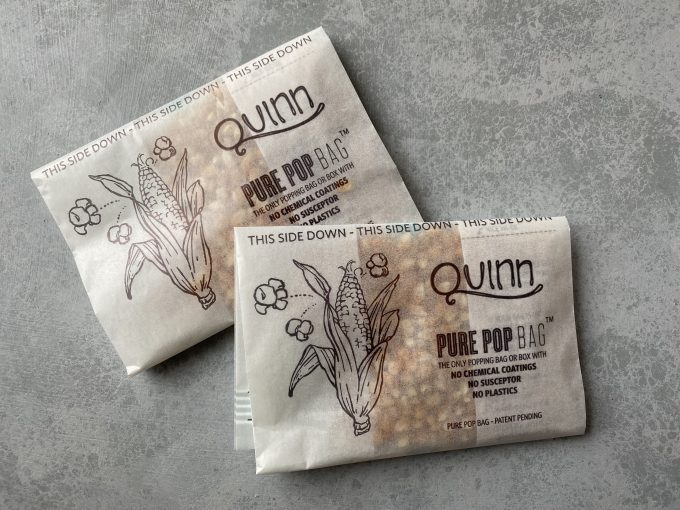 Quinn Popcorn
I recently tried Quinn popcorn for the first time and I was SO impressed. They sent me the Movie Night Popcorn Box which is perfect if you want to try a few different flavors. Their patented microwavable bag is made of compostable paper and free of chemicals. They use real ingredients to flavor their popcorn which is what makes it so delicious. Our 9 year old declared, "This is some high-quality popcorn."
Brami Lupini Beans
Brami sells various flavors of pickled lupini beans. They remind me of a cross between a lima bean and a butter bean. Apparently, these are common in Italy, but you probably haven't had one if you're here in the states. One cup of cooked lupini beans has 26g of protein, which is pretty crazy. For reference, one cup of cooked black beans has about 15g, so these lupini beans are full of protein!
FitJoy Pretzels
I recently tried FitJoy's grain-free pretzels, and I have to say I was impressed. These pretzels are salty and crunchy, and you'd never guess they're made without traditional flour. These pretzels are a blend of cassava flour, chickpea flour, and potato starch. Perfect for anyone who is gluten-free or avoiding grains!
Right Foods Ramen
I first discovered Right Foods when I went vegan ten years ago. All of their products are vegan and oil-free. Their vegan "chicken-style" ramen is my personal favorite. When I worked in an office, I'd keep these at my desk for quick lunch options. Now I enjoy them when I'm too busy to whip up soup from scratch.
Dry Roasted Edamame
If you want a salty snack that will keep you full until dinnertime, this dry roasted edamame is the answer! It's salty and crunchy, but each serving contains 14g of protein! This is an excellent snack to reach for after a workout.
Sweet Foods
That's It Fruit Bars
These bars are especially great if you have little ones who love fruit snacks. Instead of giving them gummies made with corn syrup, try these all-natural bars made with nothing but fruit. That's It bars are made with only two ingredients with no added sugar. I keep one of these in my purse, so if I ever need a pick-me-up, I have something easy to snack on!
Rind Snacks
I first tried Rind snacks at the Natural Products Expo last fall, and I quickly fell in love. They make dried fruit snacks, and they keep the peel on, so there's less food waste and more fiber. Plus, these snacks are delicious! The strawberry & pear combination is my personal favorite.
Health Warrior Chia Seed Bars
I have a special place in my heart for Health Warrior because they got started right here in Richmond, VA! Their chia bars are such a tasty snack. I love that they come in a 100 calorie size for when I need something small to tide me over. For a heartier snack, check out their pumpkin seed bars! The sea salt dark chocolate is my favorite.
Unreal Almond Butter Cups
I first tried Unreal snacks at the Natural Products Expo and instantly fell in love. Chocolate and peanut butter is my favorite, and the dark chocolate cups are my number one pick. I love that these are individually wrapped, so it's easier to stop at one… or two.
Skinny Dipped Almonds
If you want to satisfy your sweet tooth but keep sugar at bay, these Skinny Dipped Almonds are perfect. The crunchy almonds are dipped in a thin layer of chocolate, so you get the satisfying sweetness without going overboard. My favorites are dark chocolate cocoa and dark chocolate peanut butter (they taste like a vegan buckeye!).
Kodiak Cakes Flapjacks & Muffins
I've loved Kodiak Cakes for a long time, and I always have a box of their pancake mix in my pantry. But these single-serving cups are perfect for a healthy snack. Our 8 year old LOVES them, and they're great for a quick breakfast. Made with whole grains, these muffins and flapjacks will keep you full.
Can't stop snacking? Here's a list of my favorite "high volume" snacks, which means you can eat a big serving without tons of calories!