Healthy Road Trip Snacks with iHerb
This post is sponsored by iHerb. All opinions are my own.
Whether you're headed on a long road trip or you need some easy snacks to take to the beach, I'm sharing some of my favorite healthy bites that are quick to make and perfect to eat on the go!
We have a few little trips planned this summer and I'm excited for some road trips and family visits! Now that I'm more on the go these days, I've started making more snacks that are easy to transport.
The Best Road Trip Snacks
The best snacks need to be healthy, portable, easy to eat, and shelf-stable. All of these treats can be eaten with one hand and don't require any refrigeration or special storage. Plus, you can make these in advance so you're ready to head out the door!
I ordered all of the ingredients for these snacks from iHerb. iHerb carries over 30,000 natural products and they ship to over 180 countries. They even offer customer service 7 days a week and in 10 languages!! Everything is shipped from climate-controlled distribution centers to ensure the quality of their products and groceries.
Their prices are great and I love being able to skip a trip to the grocery store. iHerb is also perfect for items that might be hard to find if you don't live near a specialty grocery store. They have tons of gluten-free, paleo, and vegan products. So grab your ingredients and let's make some snacks!
Apple Pie Bites
These tasty bites are made with dates, dried apples, cashews, and almonds for a simple snack that is easy to take on the go! You can press them into bars or shape them into balls and pack a few when you're headed out the door. These bites are naturally sweet, without any added sugar.
To make these Apple Pie Bites, add ½ cup pitted dates, ½ cup dried apples, 1 cup of cashews, and ½ teaspoon cinnamon to a blender or food processor.
Pulse 8-10 times until the mixture is clumpy. Roll into balls and store in an airtight container.
Tropical Trail Mix
Skip the store-bought trail mix (which is often just peanuts and candy) and make this tropical trail mix at home! It has dried pineapple, dried bananas, coconut, cashews, and almonds for a sweet and salty combination that is hard to resist! I packed some of this trail mix for a day trip with my girlfriends and it was a hit.
To make the trail mix, combine 1 cup roasted cashews, 1 cup roasted almonds, ½ cup dried pineapple, ½ cup dried bananas, and ¼ cup coconut flakes. Stir until combined and store in an airtight container.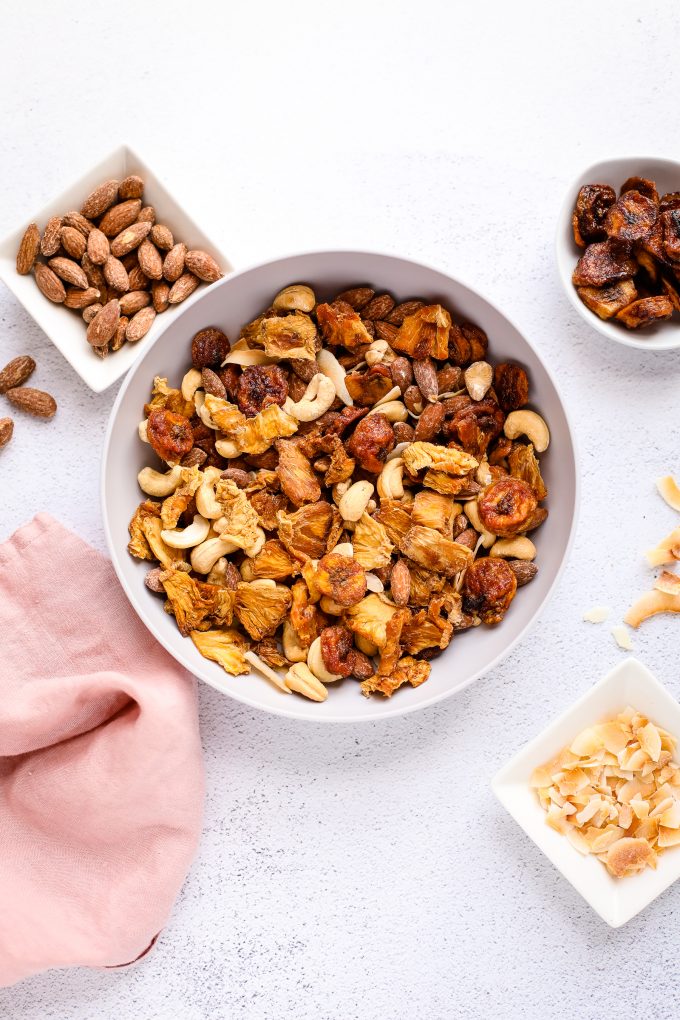 Almond Flour Peanut Butter Cookies
These cookies are made with almond flour and peanut butter and they're naturally sweetened so you can feel good about grabbing a cookie when your sweet tooth starts calling. Because they're a good balance of healthy fats, complex carbohydrates, and protein, this is a snack that will keep you energized all afternoon long!
Print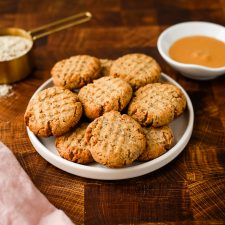 Almond Flour Peanut Butter Cookies
Author:
Prep Time: 5 minutes
Cook Time: 10 minutes
Total Time: 15 minutes
Yield: 12 cookies 1x
Category: Cookies
Method: Baked
Cuisine: Dessert
Diet: Vegan
---
Description
These cookies are made with almond flour and peanut butter and they're naturally sweetened so you can feel good about grabbing a cookie when you're craving a treat!
---
---
Instructions
Move the oven rack to the top-middle position then preheat the oven to 350 degrees.
Combine the peanut butter, coconut oil, maple syrup, and vanilla in a large bowl.
Stir in the almond flour, baking soda, and salt.
Drop rounded tablespoons of dough onto a baking sheet.
Press a criss-cross pattern on top with a fork. (The cookies will not spread, so flatten them as much as you like.)
Bake for 8-10 minutes until golden brown.
Remove from the oven and let cool completely before removing from the baking sheet.

---
Keywords: almond flour peanut butter cookies
No time to prepare any snacks? No problem! iHerb has tons of healthy snacks you can get delivered right to your door! Whether you're looking for vegan options, gluten free goodies, or the brands your kids know and love, they have just about everything!
Some of my favorite grab-and-go snacks are:
Now that you've got your snacks, the only question is… where are you headed?

Curious to try iHerb? New or returning customers can get a discount with my link! No minimum purchase required! It's a great way to stock your pantry without having to leave your house!