Healthy Oatmeal Cookies
These healthy oatmeal cookies are made with whole wheat flour and oats. They're just as delicious as your favorite chewy oatmeal cookies, but with healthier ingredients!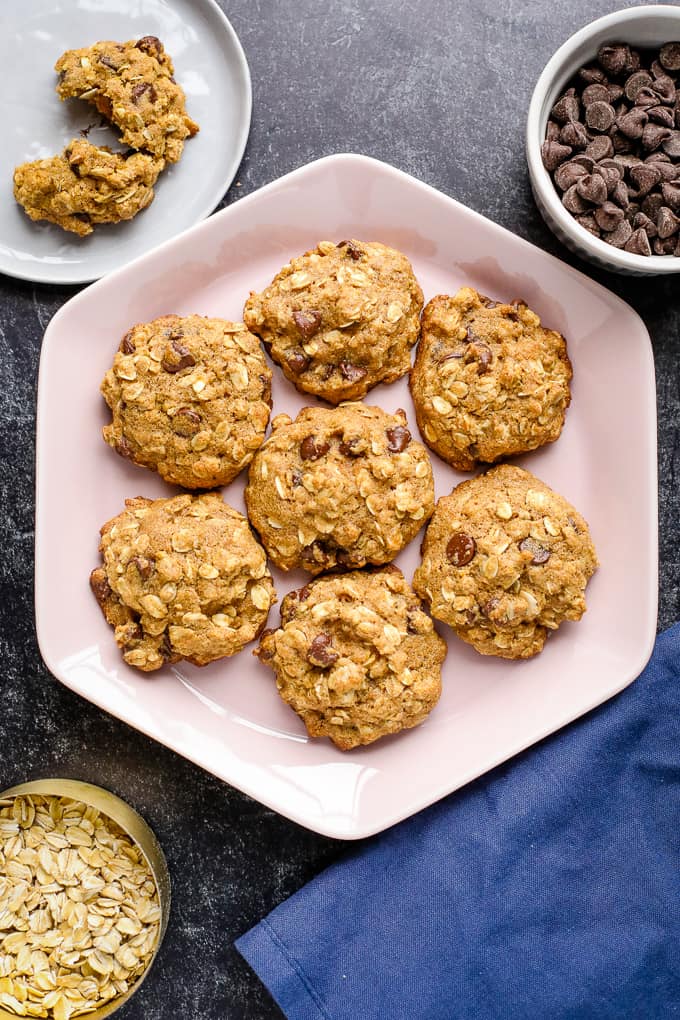 Let's be honest here. These oatmeal cookies are cookies. Yes, they're made with oatmeal. Yes, they have lots of healthy fats in them. But… they're still cookies. These healthier oatmeal cookies are delicious, and they're better for you than a lot of other desserts. So let's call it even.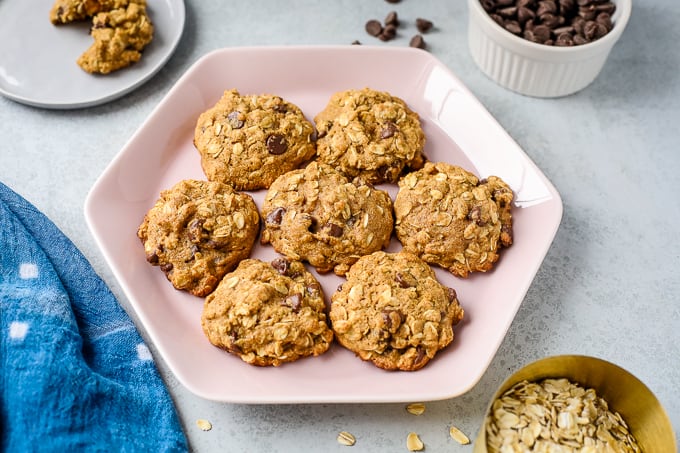 Ingredients List
Maple syrup- This unrefined sweetener is perfect for adding the right amount of sweetness to these cookies!
Coconut oil- This adds just enough fat to make the cookies soft and tender.
Applesauce- This helps give the cookies a soft, moist texture while reducing the amount of oil or butter needed.
Vanilla extract- This enhances the sweetness and flavors in the cookie.
Salt- Salt brings out more of the sweet flavors and gives these a more complex taste.
Baking soda- This is critical for leavening and helps with browning.
Old fashioned oats- I like the chewy, hearty texture that comes with old-fashioned oats, rather than instant oats.
Whole wheat pastry flour- This whole grain flour is still light and fluffy so you get soft, chewy cookies.
Chocolate chips- I like using dark chocolate chips for a richer flavor, but feel free to use whatever you have on hand.
What are the Best Oats for Oatmeal Cookies?
You may notice there are a few different types of oats at the grocery store: old fashioned rolled oats, quick-cooking oats, steel-cut oats, and instant oats. For this recipe, I recommend using old fashioned rolled oats, which are the thickest and heartiest kind of oats. But you can substitute quick-cooking or instant oats if that's what you have. I don't recommend using steel-cut oats.
What is Whole Wheat Pastry Flour?
Whole wheat pastry flour is milled from a different kind of wheat. It's made from white soft wheat rather than red hard wheat. Don't let the term "white" confuse you. It is still 100% whole wheat flour. But it has a lower protein content than regular whole wheat flour so it has a much better texture for things like baked goods. I like the Bob's Red Mill brand. Feel free to substitute all-purpose flour or whole wheat flour, if that's what you have on hand.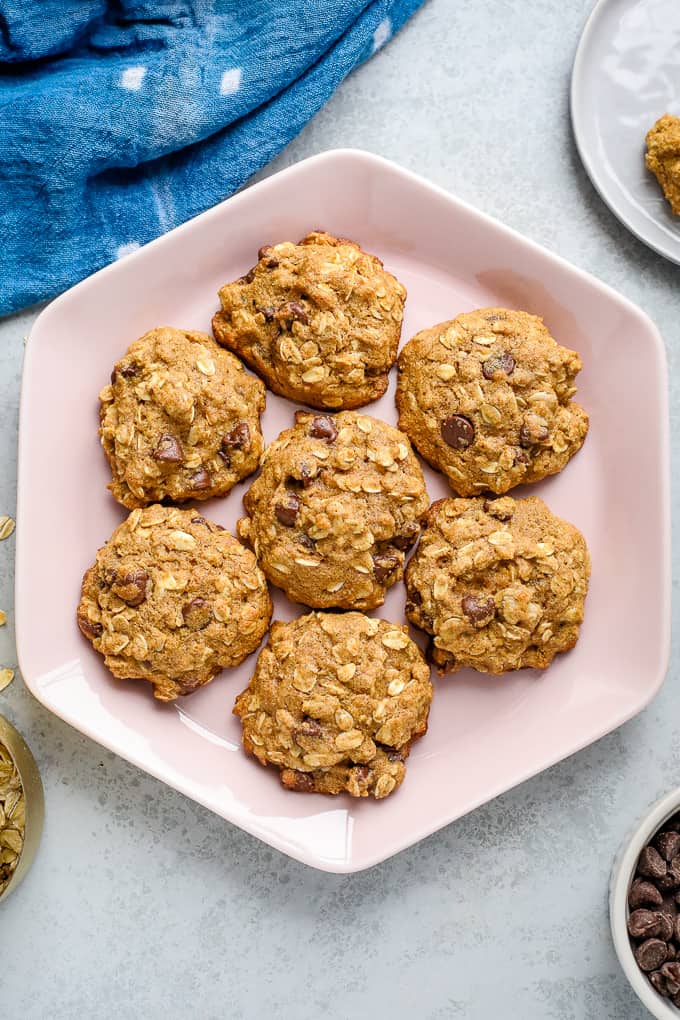 Tips for Perfect Cookies
This recipe makes about 10 cookies, but try to avoid crowding the cookie sheet. If you have a large pan, you can bake them all at once. If you're using a small sheet, you may need to bake two batches.
I bake my cookies on a silicone baking mat because I don't want to worry about them sticking to the pan. If you don't have a mat, feel free to use parchment paper or a nonstick baking tray.
Be sure to use melted coconut oil, so it's easier to mix. Be sure it's warm enough that it won't solidify when mixed with the applesauce and maples syrup.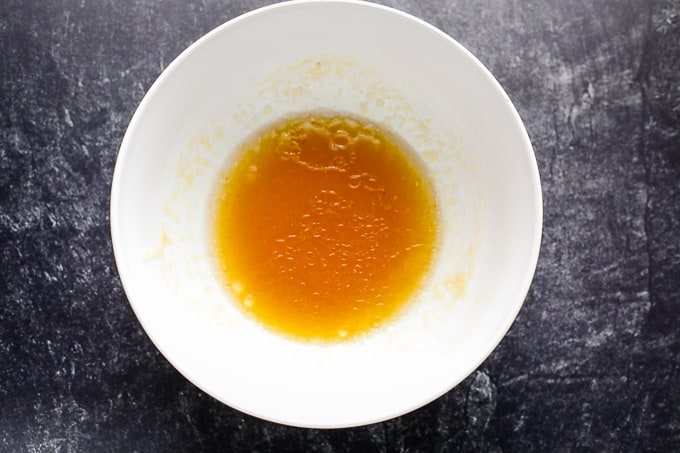 How to Mix Oatmeal Cookie Dough
I like to use a spoon rather than a hand mixer. The dough will be pretty thick, but it's not too hard to stir. Keep mixing until you don't see any streaks of flour. I like to use chocolate chunks for this recipe but you can also use mini-chocolate chips if you want to ensure a bit of chocolate in every cookie!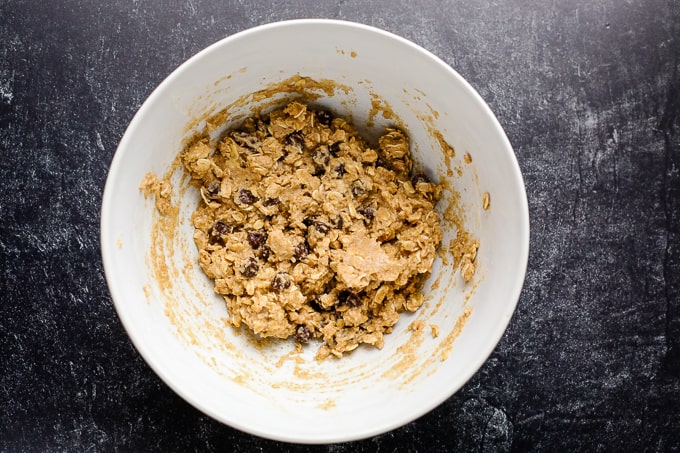 Are Oatmeal Cookies Gluten-Free?
These oatmeal cookies are not gluten-free, but you can substitute the whole wheat flour for gluten-free flour, if you like. I wouldn't recommend trying this with coconut or almond flour, but a traditional 1 to 1 gluten-free flour should work as a substitute. Also, be sure to check that your oats are gluten-free if you have an allergy!
Are These Cookies Vegan?
These cookies are naturally vegan, as long as you use dairy-free chocolate chips! Coconut oil is used in place of butter and applesauce is used instead of an egg, so these cookies can easily be vegan! My favorite brand of dairy-free chocolate chips is made by Enjoy Life, but Kroger recently came out with a similar dairy-free chocolate chip under the Simple Truth brand.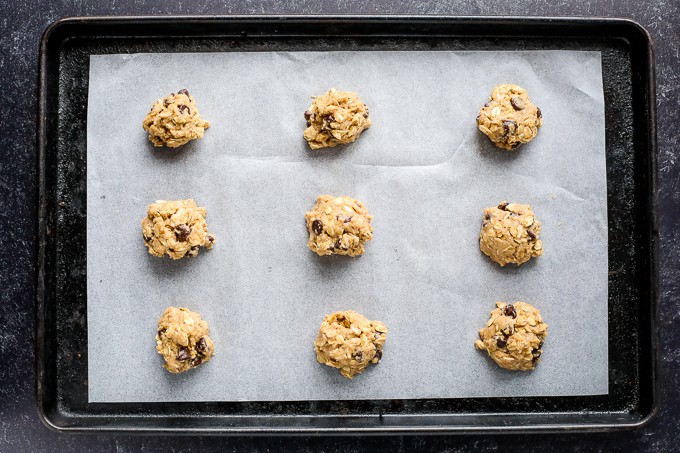 Cookie Baking Equipment
I prefer to use a rimmed baking sheet for baking cookies. These help ensure even baking. To prevent sticking, line the baking sheet with parchment paper or use one of these silicone baking mats.
A cookie spatula can also come in handy! These small, thin spatulas make it easy to lift cookies off of a baking sheet or to get brownies out of a cake pan.
It can also be helpful to have an oven thermometer to be sure your oven is calibrated. You may be surprised that your oven runs much hotter or much cooler than you thought! This can be a very handy tool if you do a lot of baking.
Substitution Ideas
I like using maple syrup to keep this recipe vegan, but you can substitute honey or agave instead.
Any chocolate chips are delicious but I like using dark chocolate chips because it gives you a richer flavor. Semi-sweet is tasty as well!
To change the flavor, try using butterscotch chips or peanut butter chips in place of the chocolate chips!
If you don't have whole wheat flour, feel free to use all-purpose flour instead.
How to Double the Recipe
This recipe is easy to double, as all the ingredients can be doubled without any tweaks. To make the recipe easy to follow, simply tap the "Scale: 2x" button on the recipe card and you'll see an updated list of ingredients.
How to Store Oatmeal Cookies
If you have leftover cookies, store them in an airtight container at room temperature. You can also store them in the freezer for up to 1 month. Just defrost at room temperature until thawed.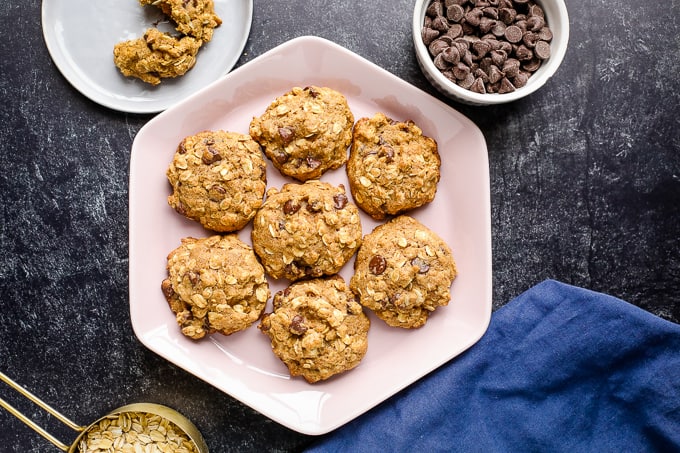 Print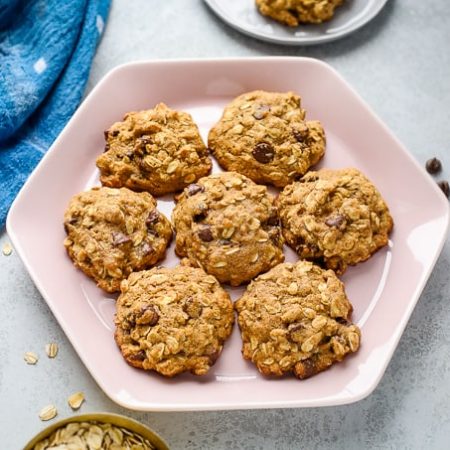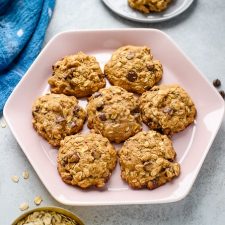 Healthy Oatmeal Cookies
Author:
Prep Time: 10 mins
Cook Time: 10 mins
Total Time: 20 mins
Yield: 9 1x
Category: Dessert
Method: Baking
Cuisine: Cookies
---
Description
These healthy oatmeal cookies are made with whole wheat flour and oats. They're just as delicious as your favorite chewy oatmeal cookies, but with healthier ingredients!
---
1/4 cup maple syrup
2 tablespoons coconut oil, melted
2 1/2 tablespoons applesauce
2 teaspoons vanilla
1/2 teaspoon salt
1/4 teaspoon baking soda
1/2 cup old fashioned oats
1/2 cup whole wheat pastry flour or whole wheat flour
1/4 cup dark chocolate chips
---
Instructions
Preheat the oven to 350 degrees
Combine the maple syrup, coconut oil, applesauce, and vanilla until mixed.
Then add in the salt, baking soda, oats and flour and mix until a dough forms.
Stir in the chocolate chips.
Drop in rounded tablespoons onto a cookie sheet. I usually make about 10 medium sized cookies.
Bake for 9-11 minutes or until lightly browned.
Let cool slightly, then transfer from the baking sheet to a cooling rack.
---
Notes
This makes a small batch of cookies, usually between 8-10 depending on the size of the cookies. You can double this recipe if you want to make a bigger batch!
Keywords: Healthy oatmeal cookies
Dig in, and remind yourself that while you're eating a cookie, you're also eating whole grains and all that.
Looking for other healthy cookie recipes? Here are a few of my favorites:
These chickpea chocolate chip cookies are one of my most popular recipes, for a good reason! No one will guess these cookies are secretly healthy!
These peanut butter cookies are gluten-free and refined-sugar-free, so they're a tasty but healthy treat!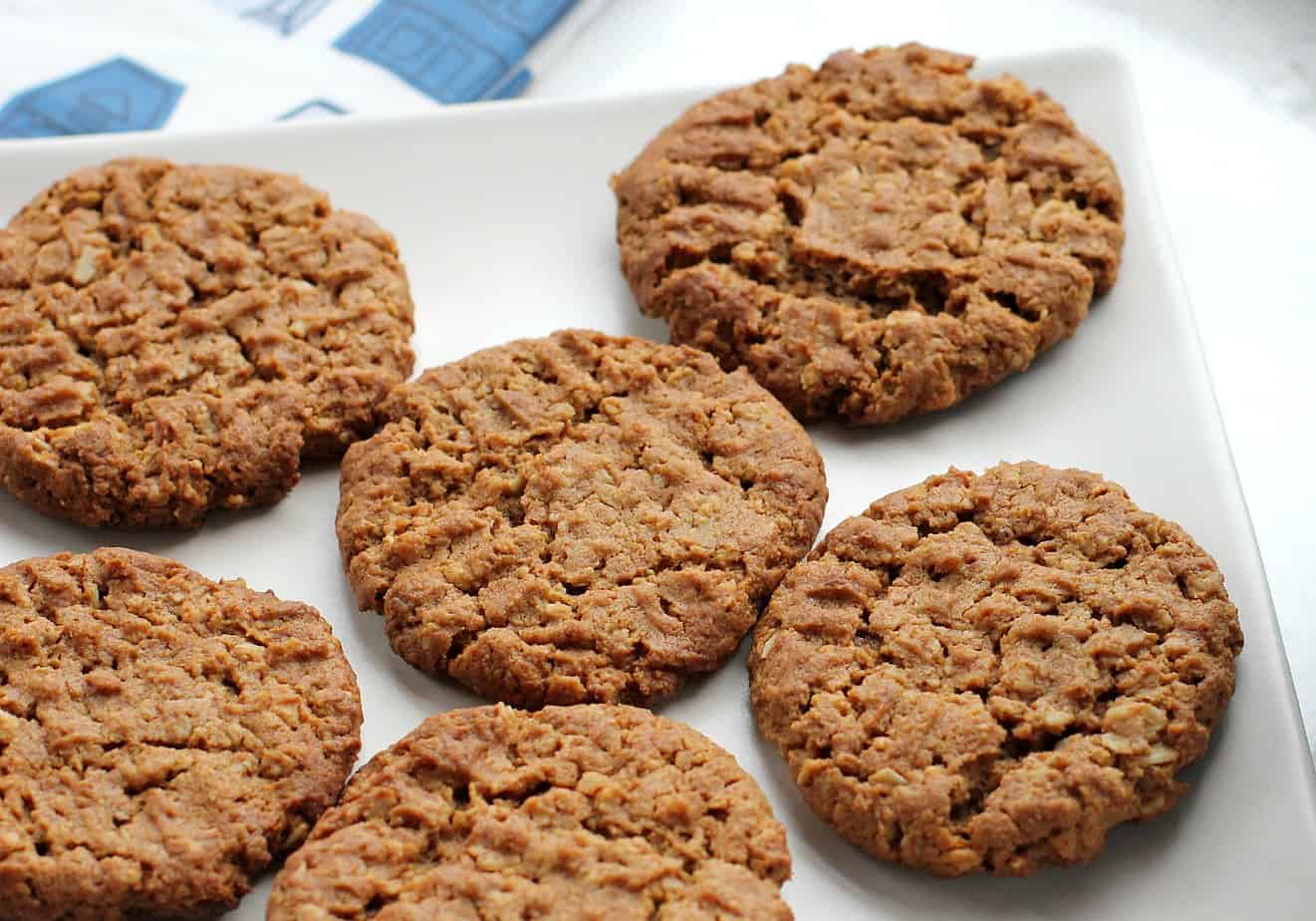 What's your favorite type of cookie?
This post was originally published in November 2013. Updated March 2021.