Frozen Vegetable Soup
This delicious vegetable soup is made with a colorful mix of frozen vegetables for an easy recipe that doesn't require any chopping!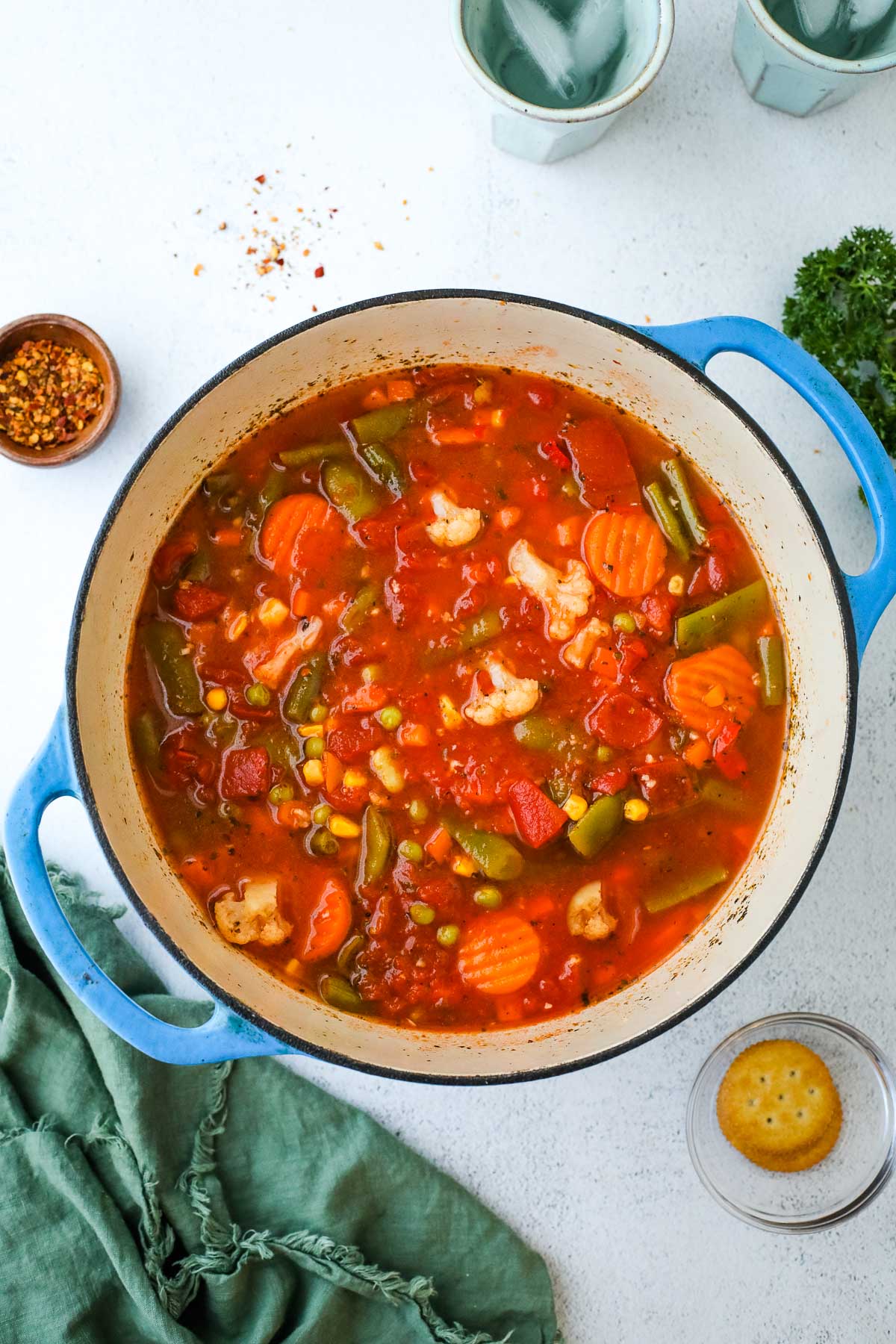 I eat a lot of soup. It's an easy way to get many vegetables into my diet in one simple recipe. This soup reheats well, so it's a great meal prep recipe, and since it's made with frozen vegetables, this soup is great if you're on a budget! If you like this recipe, try my 10 vegetable soup recipe!
Benefits of Using Frozen Vegetables
Frozen vegetables make a great base for this soup, and there are a lot of advantages to using frozen vegetables. They are picked at the peak of freshness and then flash-frozen, which helps preserve their nutrients. This means that frozen vegetables can actually be more nutritious than their fresh counterparts, which may have been sitting on store shelves for days or even weeks.
Frozen vegetables are typically less expensive than fresh produce and have a much longer shelf life, making them a cost-effective and convenient option to keep on hand. Frozen vegetables are pre-cut and pre-washed, saving time and effort in the kitchen.
Ingredients and Substitutions
Frozen vegetables– I used two different blends of frozen vegetables. They contained a mix of peas, carrots, corn, green beans, lima beans, and cauliflower. You can use any blend you like! I've included more tips and details below.
Garlic– I love creating a flavorful base by adding plenty of fresh garlic cloves. I use a garlic press to mince my garlic quickly.
Tomatoes– I prefer fire-roasted diced tomatoes for the best flavor, but any canned tomatoes are fine.
Marinara sauce– This is a simple way to add flavor to the broth. You can use plain tomato sauce if you don't have any marinara sauce or pasta sauce, but add an additional teaspoon of Italian seasoning to balance out the flavor.
Broth– Be sure to use a flavorful broth. I like Edward & Son's "Not Chicken" bullion, which has more flavor than most boxed broth. Ocean's Halo also makes a great chickenless chicken-style broth.
Seasonings– I used Italian seasoning to give this soup a savory flavor. You can make your own Italian seasoning blend using the recipe below.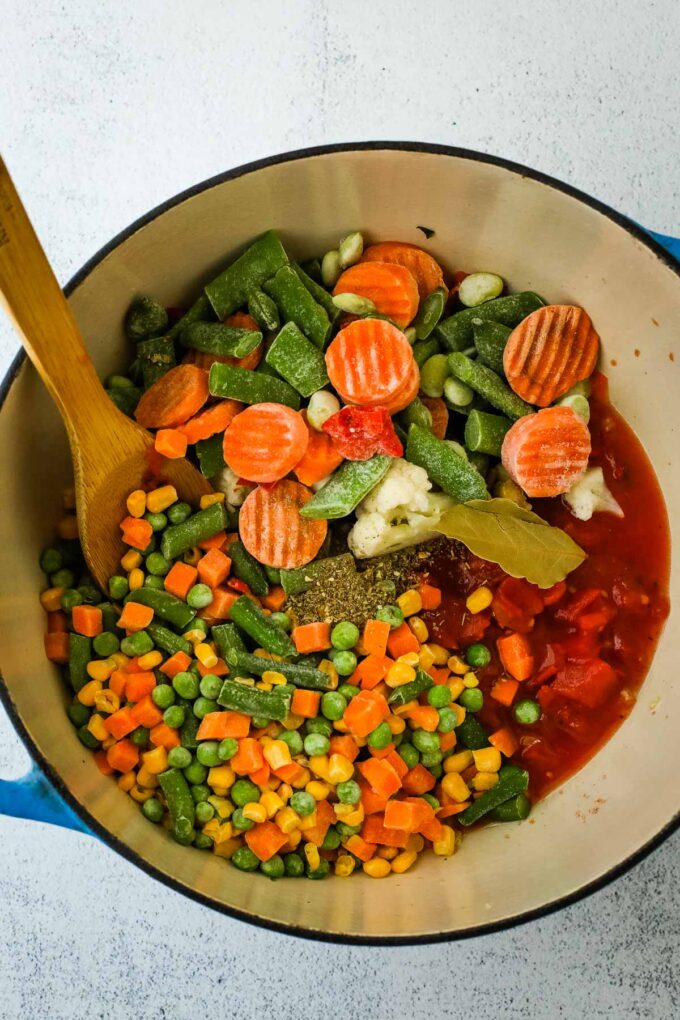 The Best Frozen Vegetables for Vegetable Soup
There are a lot of different frozen vegetable blends that you can use for this recipe. Be sure the vegetables aren't sauced or seasoned yet. Here are a few of my favorites:
California Blend– This style is typically made with broccoli, carrots, and cauliflower.
Mixed Vegetables– This simple blend is one of the most common, made with carrots, corn, and peas. This is one of my favorites to use. Sometimes this mix will contain green beans.
Italian Style Blend– This variety typically contains zucchini, carrots, cauliflower, lima beans, Italian beans, and sometimes bell peppers.
Peppers & Onion– This mix is made with a rainbow of bell peppers and white or yellow onion.
For this recipe, I used 12oz of mixed vegetables and 12oz of an Italian-style blend variety.
How to Make an Italian Seasoning Blend
I typically have an Italian seasoning blend in my pantry but if you don't have one, here's how to whip up a basic blend using the spices in your spice cabinet:
2 tablespoons dried basil
2 tablespoons dried oregano
2 tablespoons dried parsley
1 tablespoon dried thyme
1 tablespoon garlic powder
1 tablespoon onion powder
1 teaspoon dried rosemary
Mix all the spices together in a small jar or airtight container.
How to Make Vegetable Soup with Frozen Vegetables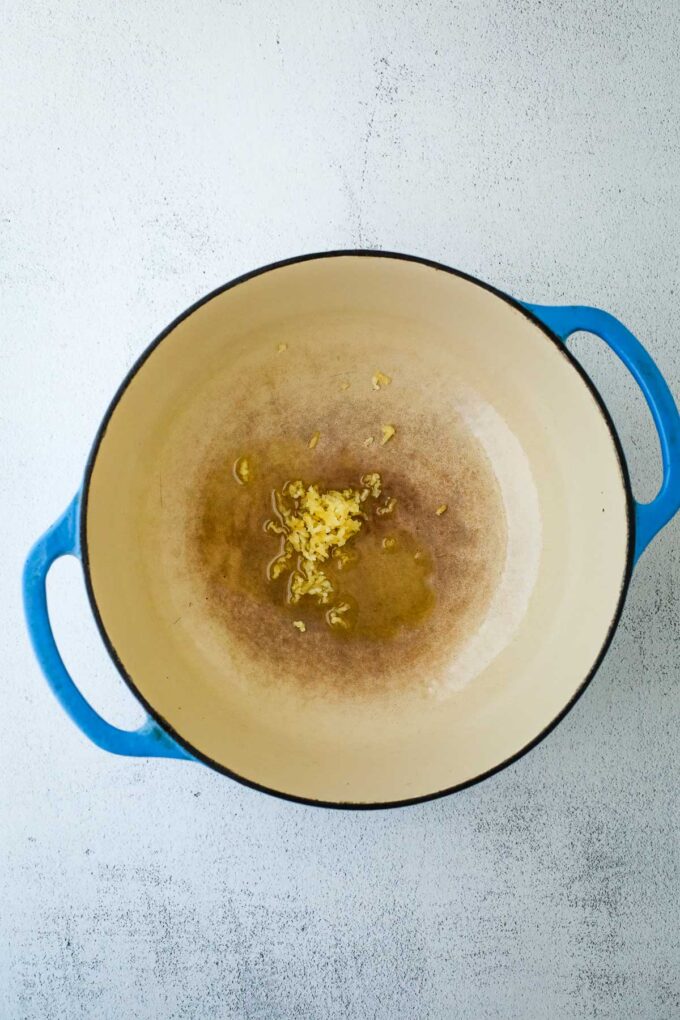 How to Build Flavor
If you've ever tasted a bite of soup and wondered, "How can I give my vegetable soup more flavor?" Here are some simple ways to build flavor:
Add a Parmesan rind. Don't toss the rind the next time you finish a block of Parmesan cheese! Freeze it until you're making soup! Add the rind to the broth to add a savory, umami flavor. I use this trick for my tortellini soup, and it's so good!
Don't forget the vinegar. A dash of vinegar enhances all of the flavors in this soup. If you don't have red wine vinegar, try balsamic vinegar or a squeeze of lemon juice.
Include a splash of soy sauce. It may sound a little strange, but this savory, salty sauce is an umami flavor bomb! It's a great way to enrich the broth. Add one tablespoon to the broth of this soup for a little boost of salty flavor.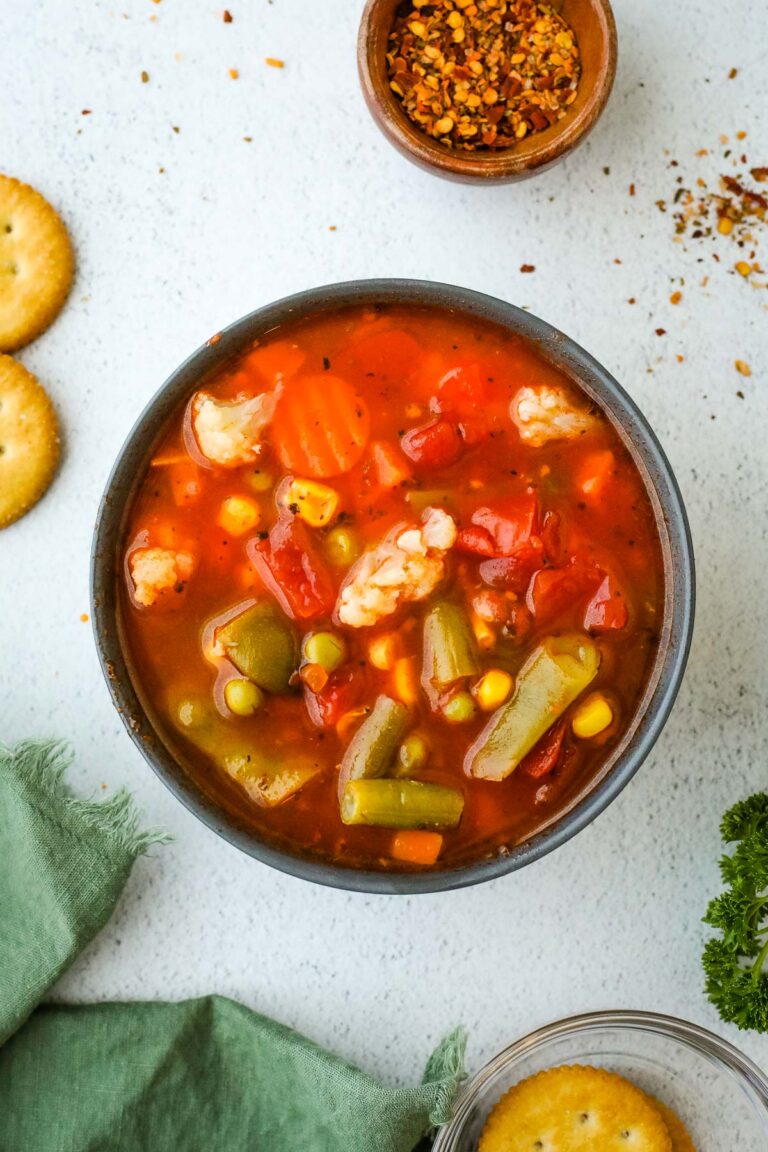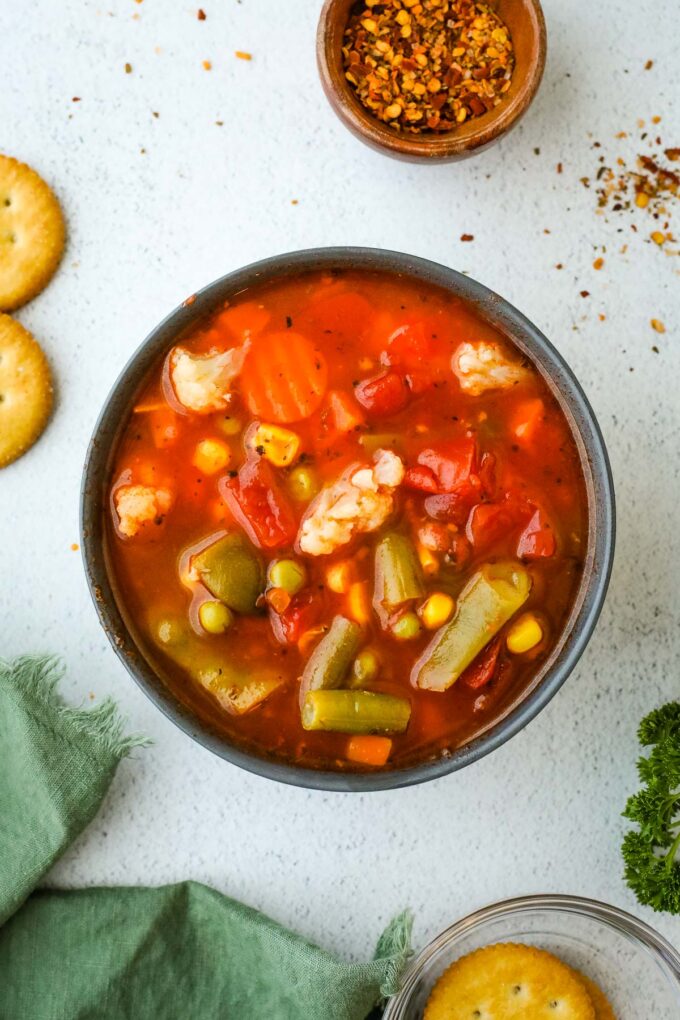 Frequently Asked Questions
Do you thaw frozen vegetables before adding to soup? No. You do not need to thaw the vegetables before adding them to the soup. We simmer the vegetables in the broth, which will add flavor while they cook.
Can you cook vegetable soup from frozen? If you have leftover vegetable soup, you can freeze it. To cook, reheat it on the stovetop until warm or defrost it in the microwave and then continue to microwave it until warm.
What vegetables can you not put in soup? This is entirely up to you and your taste preferences. I don't recommend using frozen spinach, Brussels sprouts, or frozen riced veggies, as the soup tends to get too soggy. Some vegetables, like butternut squash or potatoes, will take longer to cook, so you may need to adjust the cooking time if you're using those ingredients.
Print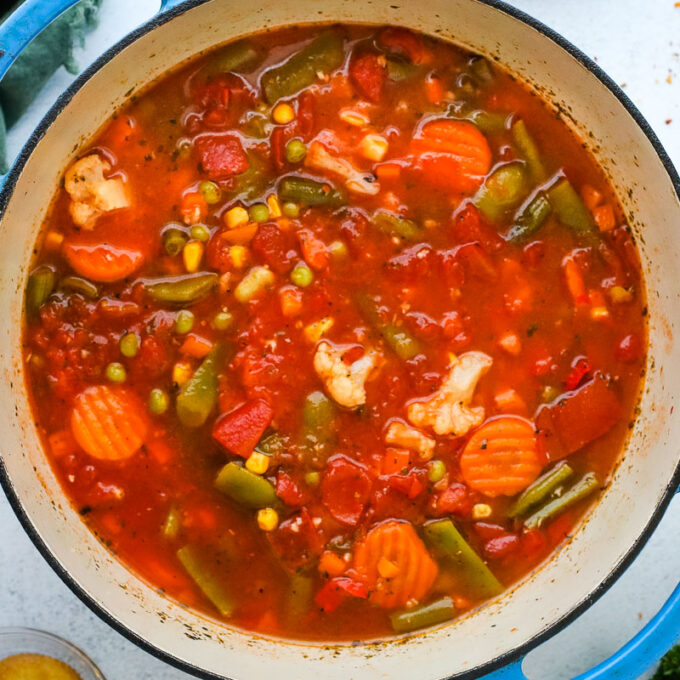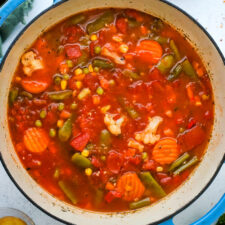 Frozen Vegetable Soup
Author:
Prep Time: 5 minutes
Cook Time: 25 minutes
Total Time: 30 minutes
Yield: 8 cups 1x
Category: Soup
Method: Stovetop
Cuisine: American
Diet: Vegan
---
Description
This delicious vegetable soup is made with a colorful mix of frozen vegetables for an easy recipe that doesn't require any chopping!
---
1 tablespoon olive oil
6 cloves garlic, minced
12oz frozen vegetable blend
12oz Italian frozen vegetable blend
1 15oz can fire-roasted diced tomatoes
1 cup marinara sauce or pasta sauce
4 cups vegetable broth
1 teaspoon Italian seasoning
1 bay leaf
2 teaspoons red wine vinegar
---
Instructions
Add the olive oil and garlic to a large pot or Dutch oven.
Cook the garlic over medium heat, stirring frequently, for 2-3 minutes or until fragrant.
Add the frozen vegetables, tomatoes, marinara sauce, seasonings, vegetable broth and vinegar, then stir until combined.
Bring to a boil, then reduce heat to low. Simmer for 20-25 minutes or until the vegetables are tender.
---
Keywords: frozen vegetable soup, soup with frozen vegetables
If you enjoyed this recipe, try my quinoa vegetable soup! You can use frozen quinoa and frozen vegetables so it's just as quick and easy!