Calabrian Chili Pasta
This spicy Calabrian chili pasta sauce is rich and flavorful, but easy to make with just 5 ingredients. It's a delicious weeknight meal that is completely plant-based!
I love simple recipes like this one because they don't require very many ingredients and I usually have everything in my pantry. Using a unique ingredient like Calabrian peppers is a great way to switch up your pasta night and add a little spice (literally) to your plate! I used whole wheat pasta, so this recipe is really filling and satisfying!
What Are Calabrian Peppers?
Calabrian peppers are a type of chili pepper originating from the Calabria region in Southern Italy. These small, red chilies with a spicy and slightly sweet flavor. They are available in various forms, including whole dried chilies, crushed flakes, and chili paste. For this recipe, I used Calabrian chili paste. These chilies are often used in Italian cuisine to add heat and flavor to dishes like pasta, pizza, and sauces.
Where Can I Buy Calabrian Chili Paste?
I've had luck at most larger grocery stores like Publix, Fresh Market, Wegmans, and Whole Foods. But you can also order them online from Amazon if you can't find them in a store near you. I like the Divina brand which you can get on Amazon.
Ingredients and Substitutions
Pasta – I recommend using a short pasta shape like penne, ziti, or rigatoni. I used whole wheat pasta.
Olive oil – Olive oil is used for sautéing the ingredients and adds a rich flavor to the dish. Be sure to use a high quality olive oil.
Onion – The minced onion adds a sweet and savory base flavor to the sauce and complements the heat from the Calabrian peppers. You can use shallots as a substitute for onion.
Calabrian peppers– Calabrian pepper chili paste provides the dish's signature heat and a distinctive, slightly fruity flavor. You can find this spicy paste at most major grocery stores, but you can also order them online. I like the Divina brand, which you can get on Amazon.
Tomato paste – Tomato paste contributes a concentrated tomato flavor and helps thicken the sauce. It adds richness and depth to the dish.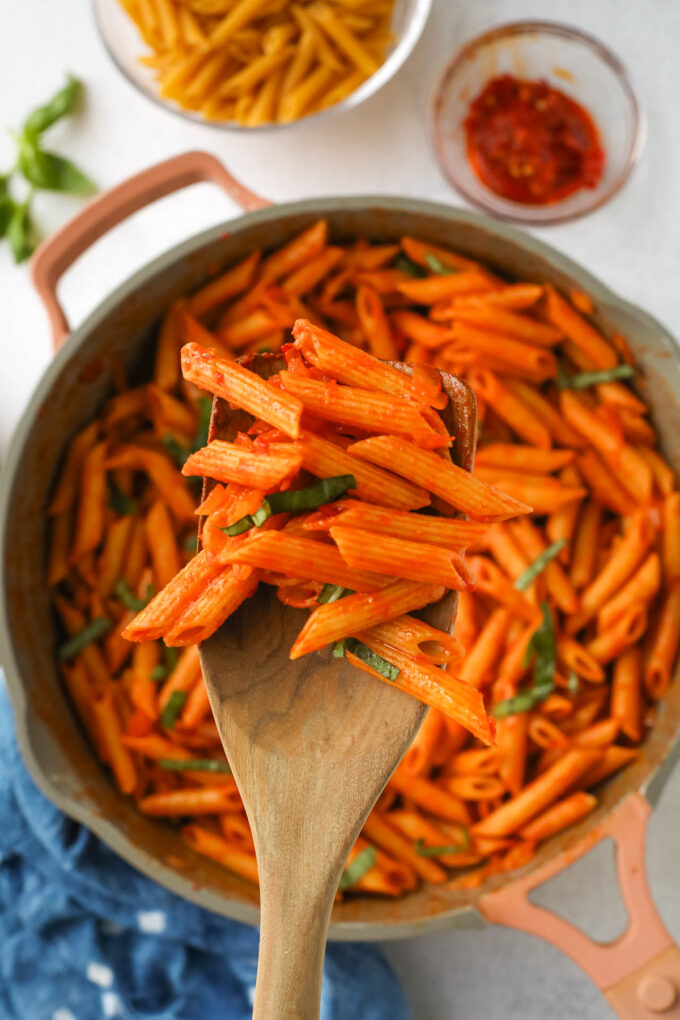 How to Make Calabrian Chili Pasta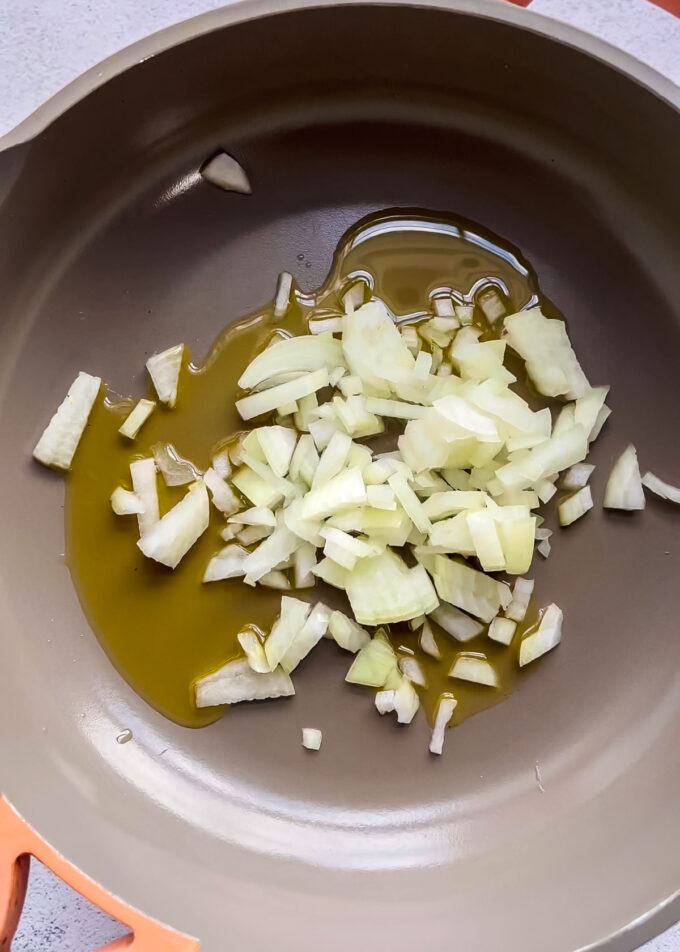 How to Store and Reheat Leftover Pasta
Store the cooled pasta in an airtight container. Save some of the starchy pasta cooking water for reheating. When reheating on the stovetop, simmer the pasta in a bit of the saved water, ensuring even heating and texture preservation. For microwave reheating, place pasta in a microwave-safe dish, add a small amount of pasta water, cover, and heat in short intervals, stirring in between. Adding a little pasta water when reheating will help maintain the pasta's texture and prevent it from becoming dry.
What to Serve with Calabrian Chili Pasta
Since this dish has a lot of heat, you might want to balance it out with something creamy. Try this baked feta recipe or enjoy it with whipped ricotta. It would also be delicious with these healthier breadsticks! If you're looking for a plant-based side dish, try this vegan chopped salad.
Print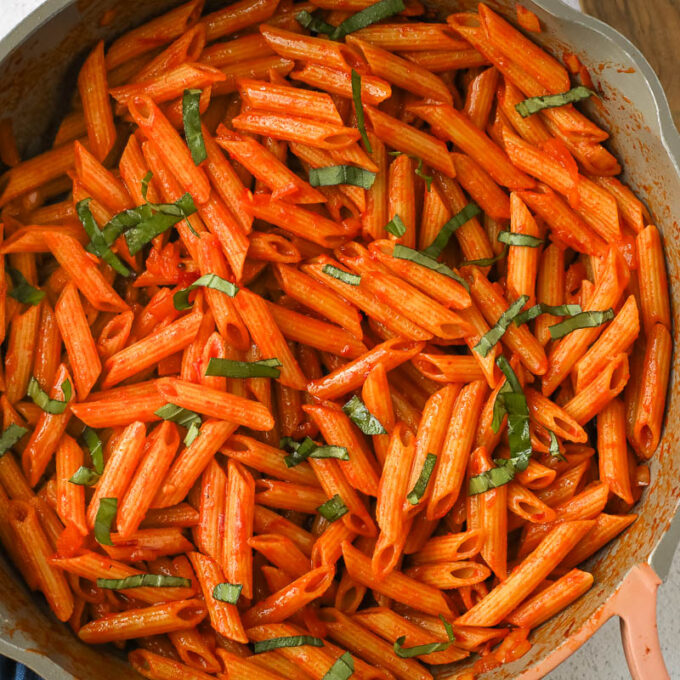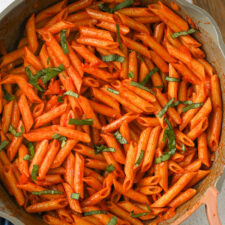 Calabrian Chili Pasta
Author:
Prep Time: 5 minutes
Cook Time: 10 minutes
Total Time: 15 minutes
Yield: Serves 4
Category: Dinner
Method: Stovetop
Cuisine: American
Diet: Vegan
---
8oz penne or other short pasta (I used whole wheat)
2 tablespoons olive oil
1 small yellow onion, minced
1 tablespoon chopped Calabrian peppers
1/4 cup tomato paste
Salt to taste
Basil for garnish (optional)
---
Instructions
Cook pasta according to package directions, reserve one cup of pasta water, then drain and set aside.
In a large skillet, add the olive oil and onions and cook over medium heat for 5 minutes.
Add the tomato paste and Calabrian peppers, and continue to cook for 3-4 minutes.
Add ¼ cup of pasta water and stir in the pasta. Add additional pasta water to thin, if needed.
Garnish with fresh basil.