The Best & Worst Halo Top Flavors
Halo Top continues to create new versions of their healthy ice cream in a variety of flavors. From dairy free options to keto options, there's something for everyone who wants a healthier pint of dessert!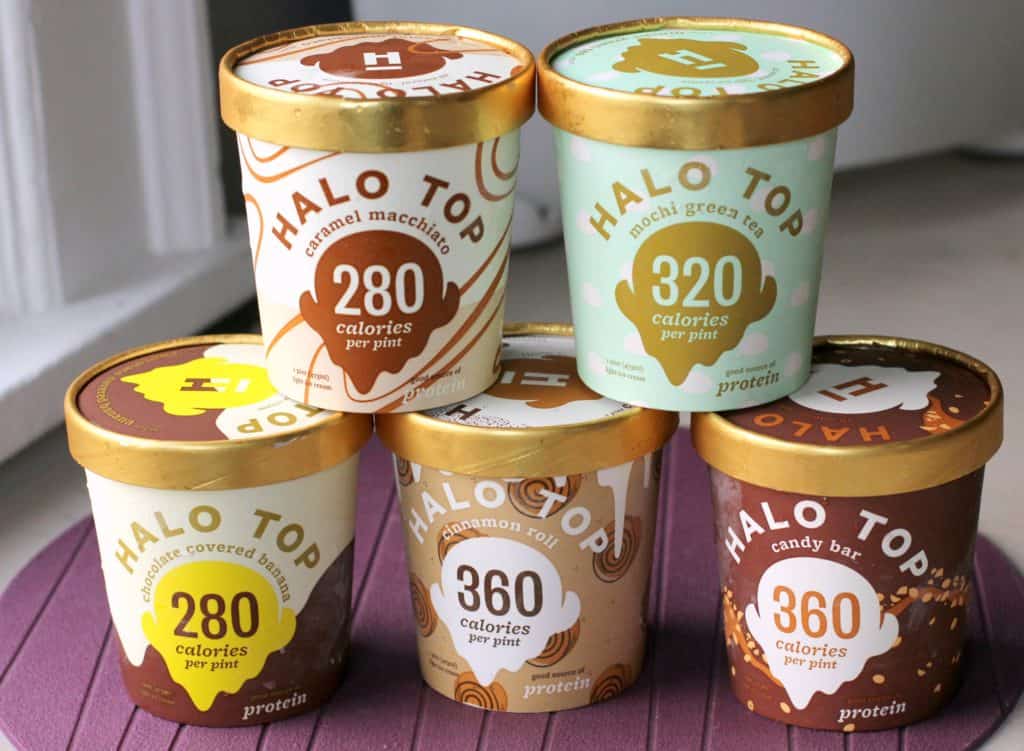 I'll go ahead and guess that at this point, you've at least heard of Halo Top. If you have no idea what I'm talking about, go check out my original Halo Top review from way back in 2015. Ok, if you're lazy, I'll give you a quick rundown: Halo Top is "healthier" ice cream.
What is Halo Top?
When it comes to the nutritional information, each pint of Halo Top has less than 400 calories (most are between 280-360) and they're lower in sugar, higher in fiber, and higher in protein than most ice creams. If you check the nutrition facts, a whole PINT of Halo Top is similar in calories to 1/4 pint of the premium stuff. Does it taste exactly like Ben and Jerry's? No. Is it a good option when you want something sweet but healthier? I think so!
Halo Top started out with a pretty traditional lineup of flavors: Vanilla, Chocolate, Strawberry, & Lemon Cake. Since they began, they've created tons of new flavors and styles. There is a dairy-free version and a keto version, but for the sake of keeping this post short, I'm mostly going to focus on their traditional flavors.
To be totally honest, when I heard about the new flavors coming out, I wasn't really that thrilled about any of them. I'm generally a chocolate fan, and most of the flavors didn't involve chocolate. But since I get so many questions about Halo Top (and let's be honest, I love those kinds of questions) I thought I'd do a full review. Before you go buying pints of Halo Top, there are a few things to keep in mind.
How much does Halo Top cost?
Pints of Halo Top aren't cheap. They're typically around $5. (Sometimes on sale for $4.) So while the calories might not deter you from eating a whole pint in one sitting, your wallet could. Keep an eye on larger grocery store chains like Kroger and Wegman's which are more likely to have it on sale. I've seen it at a lot of smaller specialty markets, but it can be over $6.
Is Halo Top healthy?
Halo Top uses erythritol, a sugar alcohol, and stevia which are low-calorie sweeteners. They're more "natural" than aspartame, but if you're wary of those types of sweeteners, you might not want to try these. This ice cream is also a high protein snack. Most pints contain about 20g of protein. So compared to traditional ice cream, it's probably a healthier choice. But if you prefer more "natural" foods, this might not be it.
What's the best way to eat Halo Top?
Halo Top has the best texture if you take it out of the freezer for a few minutes before you eat it. It doesn't have all the stabilizers and softeners that most ice creams contain, so give it a few minutes before you dive in. The texture of the ice cream is pretty similar across flavors, but some flavors do have chunks of candy, nuts, or fudge.
Get those spoons ready. Here we go. I had a taste testing partner (thanks, Carin!) so I combined our thoughts and feedback below. There's one additional flavor (rainbow swirl) that I haven't been able to find yet! Once I find it, I'll add it to the list.
My Favorite Halo Top Flavor: Peanut Butter Cup
This one is the overall winner. The texture is amazing, the flavor is incredible, and it has actual SWIRLS of peanut butter-y goodness. This legitimately tastes like 100% regular ice cream. Granted, it's slightly higher in calories than some of the others. This one has 320 calories per pint but you could still eat the whole pint for the same amount of calories as ONE serving of Ben and Jerry's. So yeah.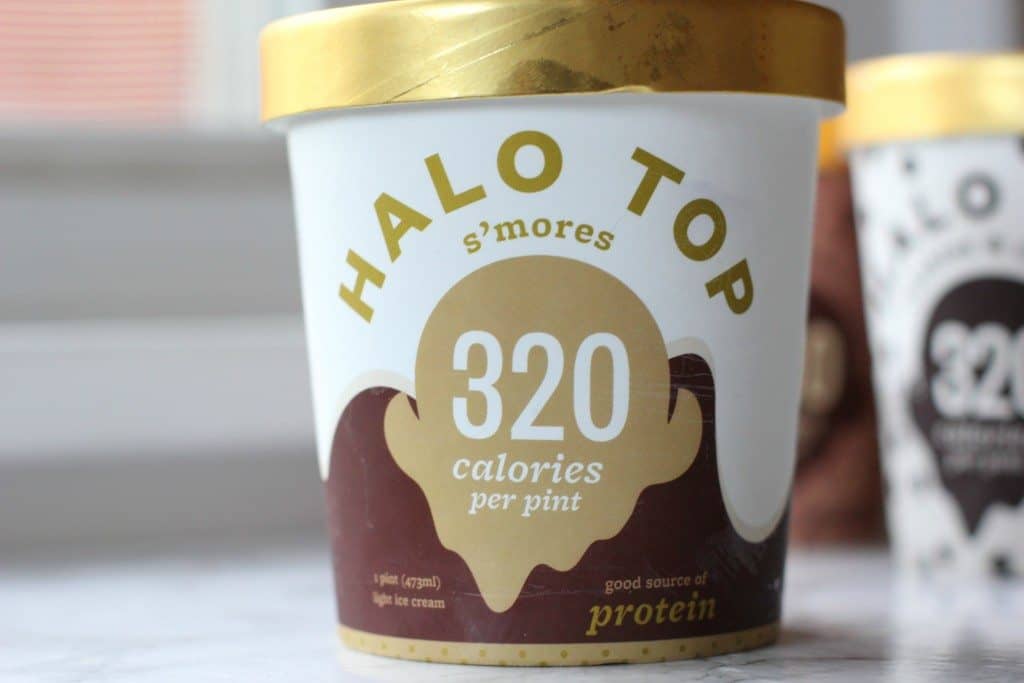 S'mores
I'm not a big marshmallow person but luckily that wasn't the main flavor. This tasted like vanilla with a hint of graham cracker plus little chocolate chips. It's definitely more interesting than plain vanilla so it's nice for something different. I probably wouldn't buy it regularly but it's a solid choice.
Oatmeal Cookie
This one was ok. It tasted like a cinnamon oatmeal cookie so if you like cinnamon, you might like this one. It had actual oatmeal pieces in it which was a little weird (I mean, it's just raw oats) but after a few bites I kind of enjoyed the texture. I'm not a huge cinnamon person so this wouldn't be my go-to but it was nice.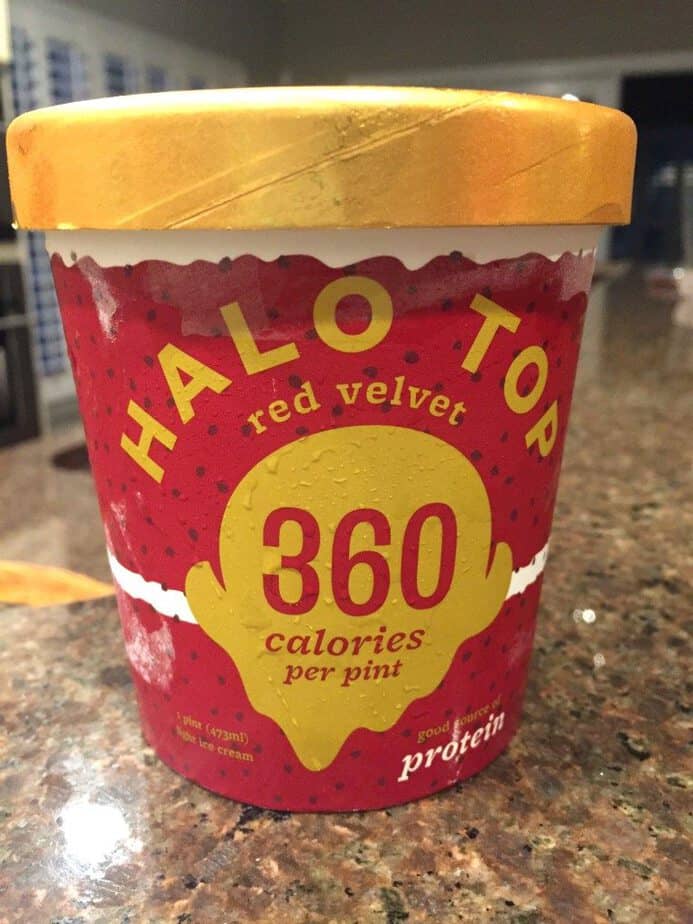 Red Velvet
If you like red velvet things, then you won't be disappointed. It's sort of like the birthday cake flavor (but obviously with more of a red velvet flair) but this one has little chunks of… fudge? I'm not even sure what the chunks are but they're delicious. They kind of taste like cookie dough.
Chocolate
It may sound basic but this is still one of my favorites in terms of flavor. I do love drizzling a little peanut butter on top, though. I think this is a good one to serve with a brownie or a slice of cake, but it might not be the first one I reach for as a solo flavor.
Chocolate Almond Crunch
I was disappointed in this one. To me, it tastes like chocolate-covered cherries. And I don't like chocolate-covered cherries. I honestly checked the lid like 4x to make sure I hadn't accidentally grabbed the cherry one. I can't really explain it other than to say it didn't taste like chocolate. The crunchy almond pieces were nice but nothing special. This was just alright.
Cookies and Cream
This one tastes artificial to me. Maybe it's because it tasted like Arctic Zero's cookies and cream from back in the day, but whatever the reason, it just felt a little fake. I thought there would be cookie pieces but it was more like completely blended. So while there were cookie pieces, you couldn't really taste them. It was like cookie dust.
*Seasonal* Pumpkin Pie
If you're a pumpkin fan, you better hurry. This one is a seasonal flavor so it won't last long! I'll be honest, I'm not obsessed with pumpkin everything, so this one didn't grab me. It certainly has a strong pumpkin flavor and it was sweet, creamy, and it had little chunks of pie in it. If you've had the Red Velvet Halo Top flavor, it kind of reminded me of that one, but pumpkin flavored. Bottom line, if you love all things pumpkin, I'm pretty certain you'll enjoy this one!
Mochi Green Tea
Of all the newer flavors, this one was my least favorite. The green tea flavor was good, but I wasn't really sure where the mochi part came in. It was a creamy texture and sweet without being overly sweet, but there wasn't anything about this flavor that had us going back for more.
Cinnamon Roll
This one tasted like eating cinnamon roll dough. The cinnamon flavor was quite strong, (maybe a little too strong) but if you're someone that loves cinnamon rolls, then you should definitely give this one a try. It tasted a bit sweet to me, but the flavor was pretty authentic. It had tiny bits of cinnamon roll pieces, which were a nice addition. You could visually see a cinnamon swirl throughout the ice cream.
Caramel Macchiato
Carin and I both agreed that this one tasted like a Starbucks Frappuccino. If you're someone that loves frappes give this one a try. I'm usually not a big caramel fan but I actually liked that this one had a strong coffee flavor. If you like the sea salt caramel flavor and you're a coffee fan, I think you'll like this one.
Pancakes and Waffles
This flavor seemed to be all over social media. I had high hopes when I opened it up because I could see the bits of pancake and waffle in the ice cream! Unfortunately, it was way too maple-flavored for my tastes. I'm not a huge maple syrup fan, so I could pass on this, but if you're someone who truly loves a big stack of hot cakes and syrup, this one's for you. The texture was great, the pancake bits were tasty, but it heavy on the maple.
Chocolate Covered Banana
This one surprised me. I didn't expect to like it but I found myself going back for more tastes. It definitely has a "banana runts" type of flavor and the banana part is stronger than the chocolate. But as soon as you open the pint, you can see the chocolate swirl in there and the flavor comes through nicely. If you don't like banana flavored things then you should pass on this one (I mean, obviously) but if you're on the fence, you might be pleasantly surprised. Carin ranked this one as her #1 of the new Halo Top flavors, and it was my #2 pick.
Candy Bar
I came in with high hopes for the Candy Bar Halo Top and I wasn't disappointed. This one was the most chocolatey of the new flavors and it had lots of candy pieces. We felt like the "candy bar" this pint was supposed to resemble was probably a Snickers. (The peanut pieces led us down that path.) To me, this one tasted the most like "regular" ice cream, thanks to all the mix-ins. Candy Bar Halo Top was my #1 pick and Carin's #2 pick.
So how do these compare to all the other Halo Top flavors?
I'd say peanut butter cup is still my overall favorite. Those peanut butter swirls are downright heavenly. But if you're just not a peanut butter fan (who are you?!) then Candy Bar would be my next pick! It's a tight race for third place, but I'd probably go with cookie dough or chocolate, depending on my mood!
Birthday Cake
This one tastes like a funfetti cupcake! It's one of the older flavors and it's still one of my favorites. It's creamy with a buttery vanilla flavor and plenty of sprinkles for fun! This is a great one to serve with a slice of cake!
Overall, I think the flavors are on point. If you're crazy about pumpkin, you'll probably like pumpkin. If you're obsessed with cinnamon, get yourself a pint of the cinnamon roll! Carin and I were both impressed at how so many of the flavors were truly on point. I know Halo Top isn't everyone's cup of tea (or pint of ice cream?) but if you're curious about the new flavors, give them a try!
Dairy Free Halo Top
The dairy-free Halo Top is made with coconut milk instead of whey protein. The dairy-free ice cream comes in seven different flavors. I tried the peanut butter cup and I found the coconut flavor to be noticeable and I didn't love it with the peanut butter flavor.
Keto Halo Top
This one frustrated me a little bit because the pints really aren't low calorie. The keto versions typically have nearly double the calories of the regular pints. I think it's misleading that many people might grab these pints thinking they're "healthier" when they're really just ice cream made with sugar substitutes.
Just FYI- this post isn't sponsored at all. I'm not, nor have I ever been, compensated by Halo Top. As always, these are my honest opinions!
Which Halo Top flavor would you like to try?