What I Ate Saturday
This weekend went by way too fast. Even though it was a long weekend, I felt like it flew by! I already shared a few of the bites that I had on Friday, I thought I'd give you the highlights of what I ate in a day over the weekend.
I've been rocking the smoothie bowls. I seriously can't stop. Just expect these on repeat until forever. (Or until I can't find good strawberries anymore.)
I'm all about the toppings. And adorable bowls that don't stack properly with the rest of our bowls. Sorry, Alex. (Last night, Alex discovered that I've been hiding more decorative bowls inside the other decorative bowls. He's on to me.)
I hadn't gone grocery shopping and I didn't feel like fighting the crowds over the weekend so I was relying on pantry staples for lunch. Easy black bean soup to the rescue!
I did have some ripe avocados on hand so I made some of Mark's famous guacamole.
It's definitely better when Mark makes it, but this one was pretty good!
We actually got a lot of cleaning and yard work done in the afternoon, so I think we were both pretty hungry for dinner. We went for a walk around Carytown and then stopped at The Daily for dinner.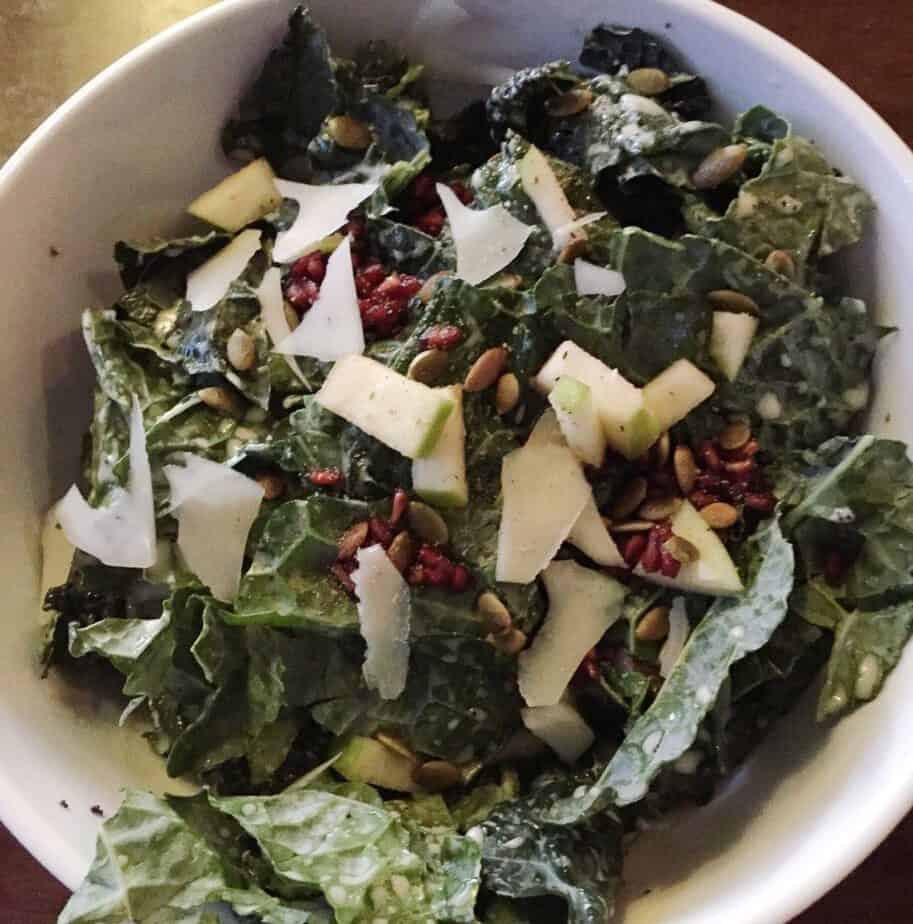 They have one of my favorite kale salads! It's topped with apples, pumpkin seeds, pomegranate, and pecorino cheese. The bowl is like twice the size of my head. I ate every bite because it's so good. After dinner, we grabbed an iced coffee at Sugar & Twine, which we shared on our walk home.
Since we ate an early dinner, we had room for dessert later. We took a trip to Sweet Frog with a couple of friends.
Fun fact: When Alex and I first started dating, we literally went to Sweet Frog like 3 times a week. It was dangerous. I think we've dialed it back to more realistic levels but we're still regulars. I just love frozen yogurt! Ice cream is one of my favorite desserts and I love all the fun toppings! I usually go for a cake batter + chocolate frozen yogurt base with cookie dough, Oreos, Reese's, & strawberries on top. So I guess the day started and ended with a delicious bowl piled high with toppings!
What's your favorite dessert?
Linking up with Arman for What I Ate Wednesday!