Ironically, as I was snapping a photo of my morning coffee, I was sitting in a SXSW interactive session called "Eating to Live Online: Virtual Food & Real Life" which was a panel session about, well, this. They started with the question "Does anyone really care what you're eating?" And where it landed was, well, yes. Companies care. Your friends care. Politicians care. Brands care. People care. And Jenn's WIAW party cares. But more about the session is at the bottom of this post. For now, let's get to yesterday's eats.
Breakfast
I had a banana topped with a lot of PB2 and a little bit of KIND granola. I munched on this while catching up on e-mails, then I squeezed in a quick 20 minute circuit workout. I've been doing so much walking around Austin, I've kept my workouts pretty short.
This kept me surprisingly full. Normally my stomach starts growling by 10:30, but this really kept me satisfied. Must be the PB2!
Lunch
Brittany recommended the Blue Dahlia Bistro, and it certainly did not disappoint. My friend Erica and I split this hummus platter, and then I devoured most of this towering salad.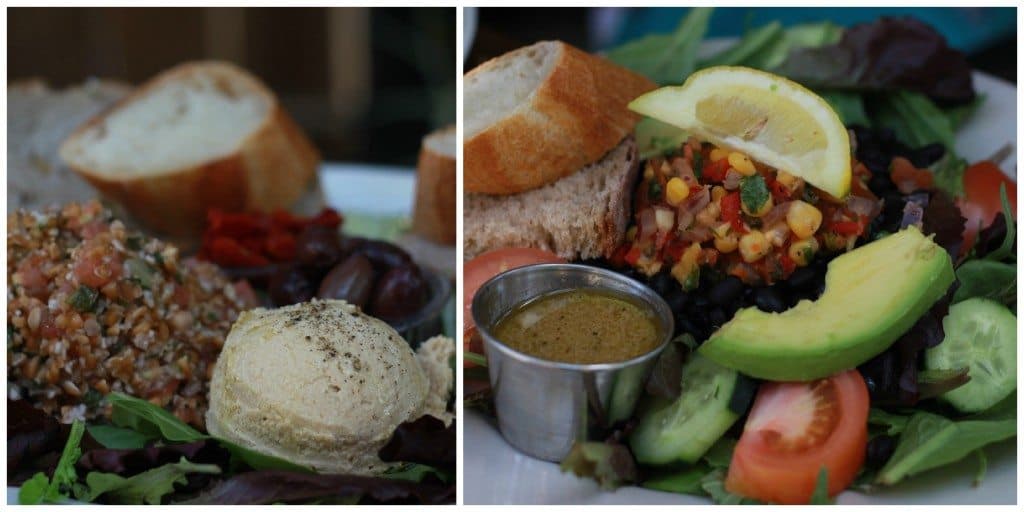 That lunch kept me super full through the rest of the sessions in the afternoon, although I did munch on a clementine.
For dinner, Kate and Erica and I met up with my blogger-friend Brittany at Hopdoddy. (Yes I went to this place twice.) It's that good. They use a lot of local, organic ingredients, and they had one of the most fantastic veggie burgers I've ever had. It could compete with Northstar Cafe. And they have kombucha (made locally in Austin), so that's an automatic win. My burger was enjoyed with fries and half of a salted caramel milkshake. Oh, and a Sangarita. (A sangria margarita!)
Overall, I was able to enjoy a lot of relatively healthy food (although I ate wayyy too much!) and it was fun trying so many vegetarian friendly places! I really did love Austin, although I have to admit I was ready to get back to RVA.
This didn't feel like this was the right place to write about the sessions, but if you're curious about some of what I learned, I'll be posting some recaps on Tumblr. Here's my recap on the Eating to Live Online: Virtual Food & Real Life panel discussion, which was all about food blogging, and our cultural relationship with food.
What have you been eating?