What I [Will] Eat Wednesday
Its time to start thinking ahead.
So lets talk about what I will be eating today. I've actually broken out of my food ruts the past few days, so these are some new favorite things! (Thank you Jenn, for hosting the party!)
Breakfast: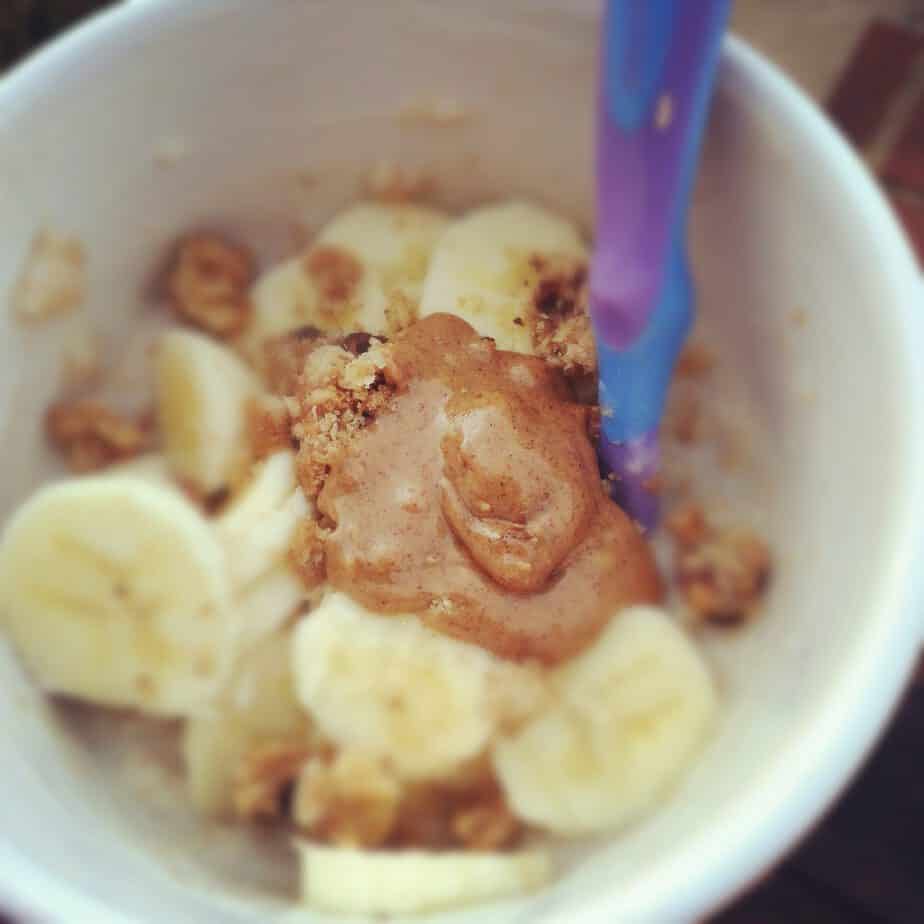 For the first time in like, 2 years, I had something that wasn't a smoothie or yogurt for breakfast. Maybe it's the cold temperatures? [More likely it's the fact that I haven't been grocery shopping to get more yogurt and soymilk.]
This was 1/3 cup oats, 2/3 cup water, 1 egg white, 2 packets of stevia. Microwaved and then topped with 1/2 banana, 1/2 tbsp of almond butter, and some cookie crumbles, from the delicious cookies that Brittany gave me on Sunday!
Lunch #1:
I usually eat a snack around 11, and then go to the gym during lunch. So this is sort of like mini lunch #1.
I'd never had a Kind Bar before. But thanks to the lovely folks at Lolihop, I got one in the box they sent me to review!
I totally bought more of these, and I can't wait to eat another. It powered me through my workout!
Lunch #2:

That's 1 cup plain chobani 0% greek yogurt, 1 cup blueberries, and a handful of fiber one. Simple. Delicious. (I finally sprung for overpriced blueberries because I missed it so much at breakfast.)
Afternoon Snack:
I either have a snack at work, or a snack as soon as I get home from work. Lately, this has been Fiber One with Honey Clusters.
This stuff is soooo good. I also love it on top of yogurt and smoothies.
The Snack that became Dinner:
I blame Stephanie for this one.
But I'm quite lucky to have a roommate to blame for these things. And just like Steph's sugar cookies, these things are addicting.
Oh and did I mention this is the easiest party snack ever? I made it for tonight's Christmas party, but my "sampling" was a little out of control 😉
Seasoned Oyster Crackers
1 package Ranch dressing mix (1 oz)
1/2 tsp dried dill weed
2 tbsp vegetable oil
1/4 teaspoon garlic powder
5 cups oyster cracker
Set your oven oven to 250 degrees. Combine all of your ingredients in a bowl and toss to coat. (You do need the oil to help the spices stick, so don't skimp!) Spread out on a baking sheet and bake for 15 to 20 minutes in the preheated oven, stirring gently after 10 minutes. Remove from oven, and allow to cool before serving. Then dig in, and you'll never stop. Addicting to the max.
I ate so many of these that I didn't really feel hungry until later that night.
Evening snack:
Yesterday, I sliced up some b-nut squash, and ate it with a mountain of ketchup. No joke, I eat a lot of ketchup. And I'm well aware those squash fries look kind of gross. But let me tell you, they're amazing. This will be reappearing at dinner, because I have half a squash leftover…
What will you be eating today? Do you like Fiber One cereal?