What I Ate [in Manhattan] Wednesday
I'm in New York for a few days, for a work conference, so I'm snapping pics like a mad-woman. I'm sure I just look like a camera crazed tourist, but that's ok. I could have made this one of those "how to eat healthy when your traveling posts" but I'm not doing that, because to be perfectly honest with you, I usually kind of suck at that. Habits fly out the window, and I tell myself that it's a special occasion, so I might as well indulge. And that thought process isn't so bad. Except when every single thing is an indulgence. Then I end up all slugish and full of sugary regret. *sigh*
But what did keep me accountable, was knowing that I'd be sharing all my eats with you guys 😉 (Yes, it's true. I'll share my fashion faux pas with you, but I draw the line at crappy food.)
So here's what I ate yesterday, in Manhattan!
Breakfast:
The hotel had plain organic yogurt, so I combined this with some fresh fruit, corn flakes, and granola.
Morning Snack: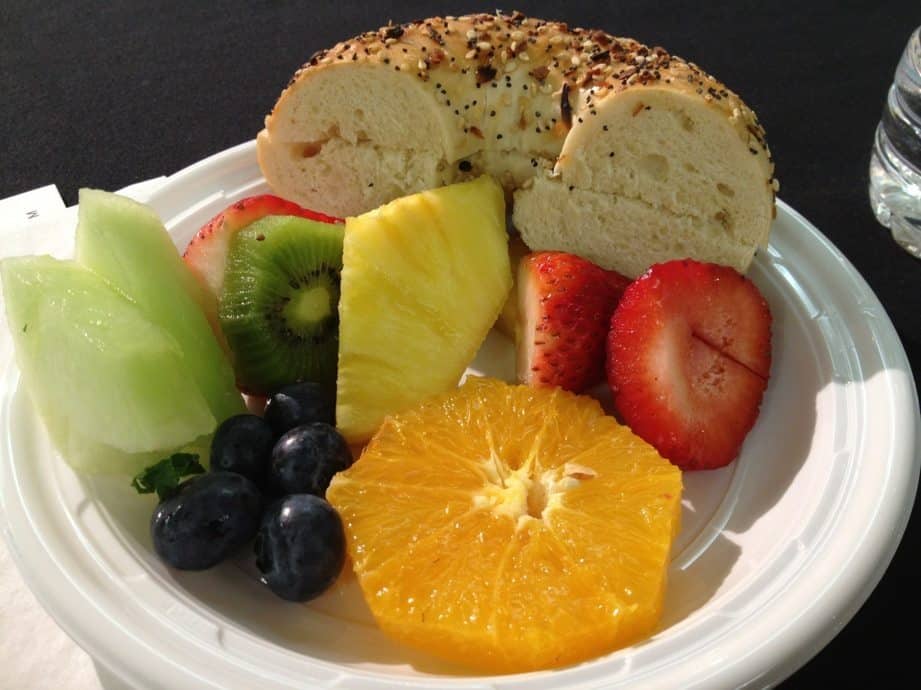 We had a break to grab some snacks, so I snagged some fresh fruit, part of a bagel, and a coffee. I only ate the top part of the bagel, because that's the best part.
Lunch:
They brought in some of NYC's best food trucks, so we got to try lots of things! I tried the "Mexicue" smokey BBQ black bean tacos, tortilla chips, (and unpictured salad, and couscous). I didn't eat all the tacos, but I pretty much demolished the rest.
Afternoon Snack:
They had an ice cream stand at the conference, so I had half a scoop of chocolate ice cream!
Thank goodness this stuck with me, because when the conference ended, I did quite a bit of shopping. I didn't get back to my hotel until after 9!
Dinner:
I picked up dinner on my way back to my hotel, and found this awesome salad place that does GIANT chopped salads! And they post all the nutritional information, so you know exactly what you're getting! How awesome is that? I also got some Terra Chips, which I devoured on the way home.
There is pretty much every vegetable imaginable in there. It was quite delicious.
Shopping:
… and since I'm sure you're wondering what I got…
Hat, 2 tubes lipstick, necklace, earrings, tank top, cropped sweater, 3 dresses, and a pair of pants!
Did I mention that I got all of that for less than $100?
Yep, it's true. I'm a bargain hunter, and I scored some great deals! (Those pants were only $5 at Ann Taylor Loft!) Isn't that crazy? I was pretty excited! Now hopefully it will all fit in my suitcase 😉
Are you a sale shopper?