Vegan Shepherd's Pie
This shop has been compensated by MorningStar Farms. All opinions are my own.
Looking for the ultimate
vegan comfort food
? This Shepherd's Pie pie has a "meaty" filling with plenty of vegetables, topped with creamy potatoes for a meal that will satisfy vegetarians and meat-eaters alike!
There's something about Shepherd's Pie that just feels like comfort food. Maybe it's the combination of a meaty filling with creamy potatoes. Or maybe it's the smell that fills the kitchen to let the whole family know what's for dinner. Either way, I was excited to create a vegan version of Shepherd's Pie that is just as filling and delicious as the version I remember as a kid! It's the perfect fall recipe to add to your menu.
This vegan shepherd's pie uses plant-based meat from MorningStar Farms®. The Grillers Crumbles are a perfect, savory addition to pasta dishes, chili, veggie sloppy joes, and more!​
How to make a vegan "meat" filling
For the meat, we're using MorningStar Farms® Grillers Crumbles. You can take it directly from the freezer to the skillet! It adds lots of protein to this dish and the texture is great. I love that it only takes a few minutes to cook too! MorningStar Farms® plant-based veggie meal starters are a delicious, meat-free addition to any meal or diet! These Grillers Crumbles are 100% vegetarian, a good source of protein with 9 g per serving, and it's cholesterol-free.​
MorningStar Farms® has been committed to making vegetarian and plant proteins to satisfy every appetite and occasion. From burgers to bacon, pulled pork to corn dogs, vegetarian to vegan, MorningStar Farms® is plant-based goodness made for everyone.
Print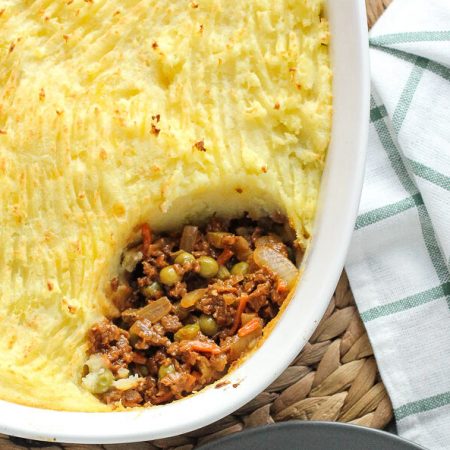 Vegan Shepherd's Pie
Author:
Prep Time: 20 minutes
Cook Time: 45 minutes
Total Time: 1 hour 5 minutes
Yield: 8 1x
Category: Dinner
Method: Oven
Cuisine: Comfort Food
---
Description
Looking for the ultimate vegan comfort food? This Shepherd's Pie pie has a "meaty" filling with plenty of vegetables, topped with creamy potatoes for a meal that will satisfy vegetarians and meat-eaters alike!
---
Filling
1 package Morningstar Farms® Grillers Crumbles
1 tablespoon vegan butter
1 large onion, chopped fine
1/2 cup shredded carrots (about 2 carrots)
1/2 cup chopped celery (about 2 stalks)
1 clove garlic, minced
Salt and pepper
2 tablespoons all-purpose flour
1 tablespoon tomato paste
2 cups low sodium vegetable broth 1 tablespoon soy sauce 1 cup frozen peas
TOPPING
2 ½ pounds russet potatoes, peeled and cut into 2-inch pieces
2 tablespoons vegan butter, melted
⅓ cup almond milk or milk of choice
Salt to taste
---
Instructions
For the filling:
Adjust oven rack to upper-middle position and heat oven to 375 degrees.
Heat the vegan butter in a large skillet over medium-high heat for 30 seconds until melted.
Add onion, carrots, and celery and cook until soft, about 6 minutes.
Add garlic and continue cooking for 2 minutes. Add MorningStar Farms® Grillers Crumbles and cook, for 4-5 minutes until heated through.
Add flour and tomato paste and cook until paste begins to darken (about 1 minute).
Add broth and simmer over medium heat, stirring frequently, until mixture is thick but still saucy (7 to 10 minutes).
Stir in peas, then remove from heat. Transfer to a 2-quart casserole dish
For the topping:
Bring potatoes, 1/2 teaspoon salt, and water to cover to boil in a large saucepan over high heat.
Reduce heat to medium-low and simmer until tender, 15 to 20 minutes.
Drain potatoes, return to saucepan and mash potatoes with vegan butter and almond milk until smooth. If you like smoother potatoes, you can use a hand mixer or stand mixer. If you like your potatoes chunky, mash with a fork.
Season with salt and pepper to taste. Spread potatoes evenly over the filling.
Bake until filling is bubbling, about 15 minutes.
Turn on broiler and cook until top is golden brown, 3 to 5 minutes.
Remove from oven and cool 10 minutes before serving.
---
Keywords: Vegan Shepherd's Pie
I've been enjoying MorningStar Farms® products for years, and I'm thrilled that they're adding even more delicious foods to their line up! Keep an eye out for their NEW offerings in the frozen food section. I found them at Walmart! I'm keeping an eye out for the Italian Sausage Crumbles which would be perfect for pasta! MorningStar Farms® products are not only for vegetarians – they are for everyone! In fact, you can get cash back on
Ibotta
with MorningStar Farms® while supplies last!
What's your favorite comfort food?