Vegan Buckeyes
These peanut butter and chocolate treats are an easy and delicious vegan dessert! I love making a batch of these candies for a party or event!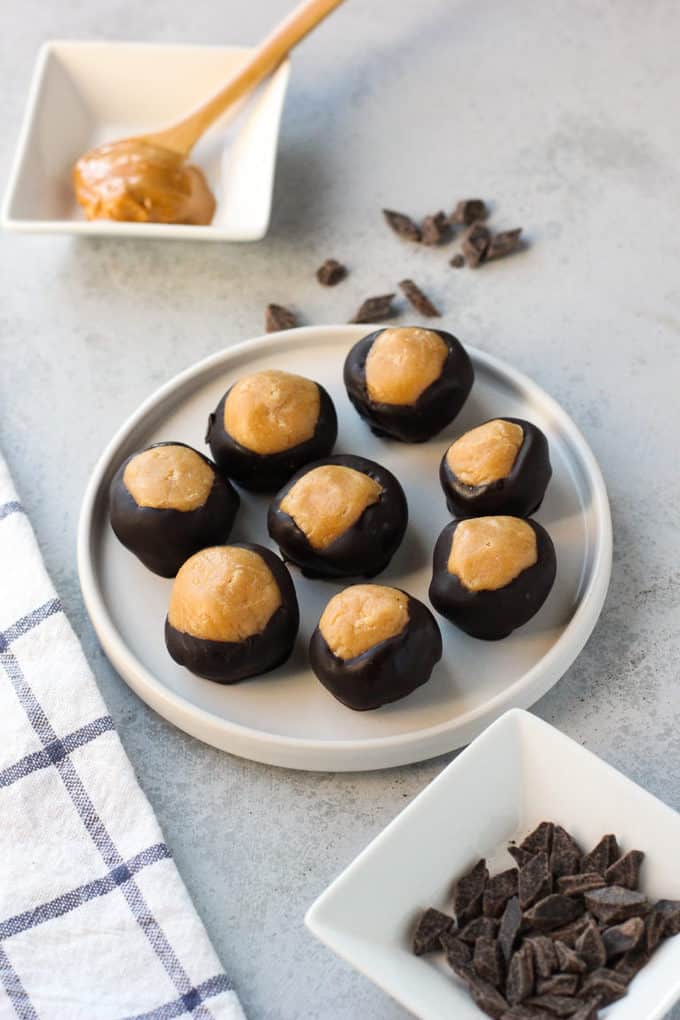 What is a buckeye?
Did you know that buckeyes are the state tree of Ohio? The nuts of the tree were named after the eye of a deer. That might not sound that interesting, but my favorite peanut butter and chocolate candy is named after those buckeye nuts. If you're from the Midwest, you've probably had these candies. It wasn't until I moved to Virginia that I realized lots of people here in Virginia hadn't tried them before! Thankfully, people from any state can agree that peanut butter + chocolate are a match made in heaven. These little vegan buckeyes are easy to make, but they're so delicious!
Are buckeyes vegan?
Traditionally, no. Buckeyes are often made with butter, along with peanut butter, powdered sugar, and chocolate. But this recipe is 100% vegan! Buckeye candies are also naturally gluten-free. This is a great recipe to take to a party because so many people will be able to enjoy these! Plus, you can make this recipe in advance and keep them in the fridge until you're ready to share.
How to make vegan buckeyes
This recipe comes together easily with no baking required! With the help of the microwave (and a bit of time in the freezer), this dessert is simple to make.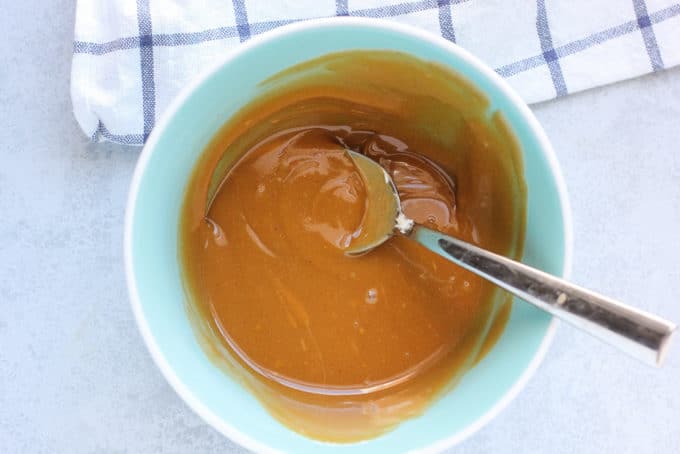 Print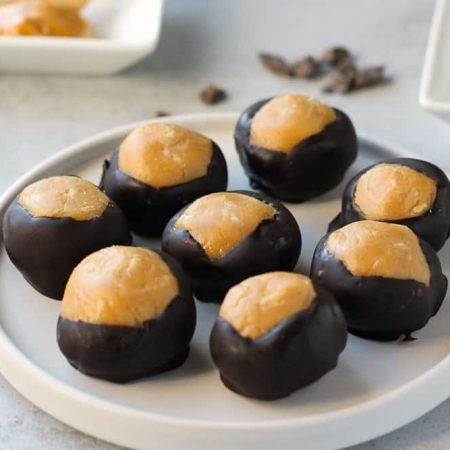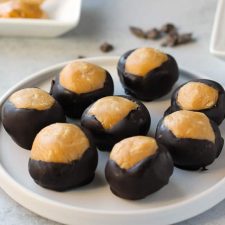 Vegan Buckeyes!
Author:
Prep Time: 20 minutes
Cook Time: 5 minutes (Plus 30 min to chill)
Total Time: 25 minutes
Yield: 48 pieces 1x
Category: Dessert
Method: Microwave
Cuisine: Dessert
---
Description
If you love peanut butter and chocolate, you'll love buckeye candy! These buckeyes are vegan and gluten free so everyone can enjoy them!
---
1 cup vegan butter (I use Earth Balance or Smart Balance)
1 1/2 cups creamy salted peanut butter
1 teaspoon vanilla
4 cups powdered sugar (see note)
2 cups dairy free chocolate chips
---
Instructions
Soften the vegan butter by microwaving on 50% power for 30 seconds at a time. You don't want to melt it, just soften it.
Once the butter is soft, whip it with the peanut butter and vanilla. You can use a mixer or simply mix with a spoon. 
Once the peanut butter and powdered sugar are combined, slowly stir in your powdered sugar.
Scoop the peanut butter mixture into rounded tablespoons and roll into little balls. Stick a toothpick in each of the balls
Freeze the balls for at least 30 minutes
Melt the chocolate chips in the microwave, stirring frequently so the chocolate doesn't burn.
Take the peanut butter balls out of the fridge and dip into the chocolate, leaving a little bit exposed, so it looks like a Buckeye!
Put the Buckeyes back in the freezer until the chocolate has hardened. Store in the fridge.
---
Notes
You can use additional powdered sugar if you like your buckeyes sweeter. 4 cups is the minimum amount you'll need in order to form solid balls. The amount of sugar may also depend on the type of peanut butter you're using, the consistency, and if your peanut butter contains sweetner. You can use anywhere between 4-6 cups of powdered sugar.
You can use any sort of margarine but I prefer Earth Balance.
Make sure to use dairy free chocolate chips. The Enjoy Life brand are great!
You can easily half this recipe to make a smaller batch.
More Dessert Recipes
We always enjoy buckeyes around the holidays, so they have a special place in my heart! These are one of my favorite treats because you can't beat the peanut butter and chocolate combination! Have you ever had a buckeye candy?
This post was originally published September 2011. Updated September 2019.