Tone It Up Meals: Week 1
I mentioned on Monday that I'm starting the Tone It Up 8 week challenge, so I thought I'd share my meals from Monday, the first day of the challenge!
Breakfast was Greek yogurt + blueberries. Nothing new here!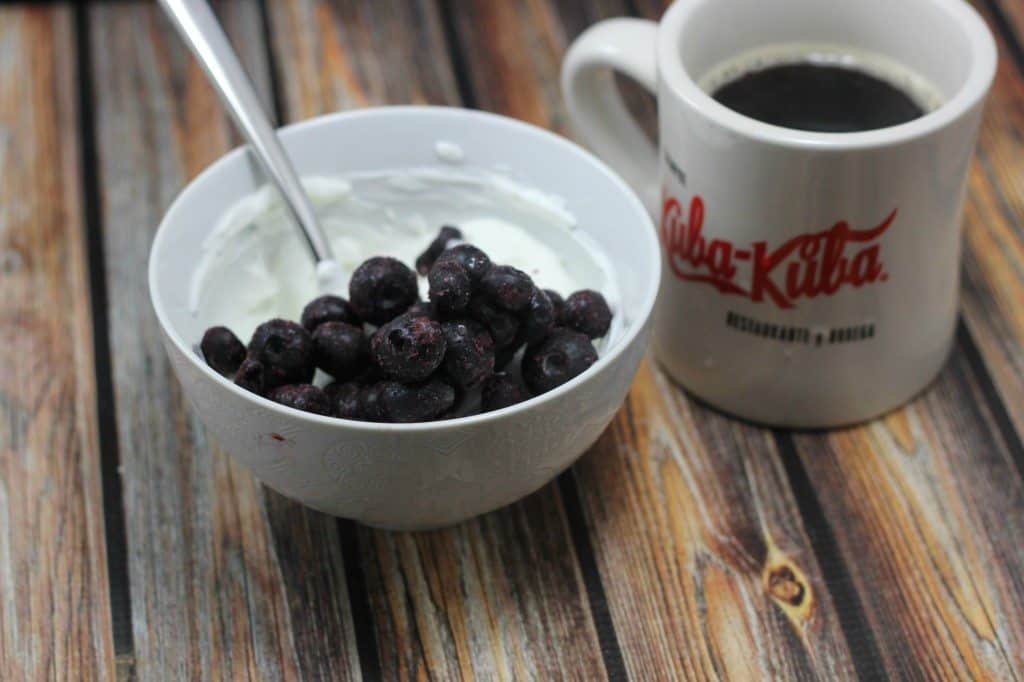 I always focus on getting protein at breakfast, so this part of Tone It Up nutrition plan is easy! Obviously I had to have some coffee with it. Monday of the first day back to work = sleepy.
I had a lot of work to get done so I walked on a treadmill desk for about 40 minutes while answering emails. I was so engrossed in work that I didn't even notice I'd walked for that long! I hopped off and ate my snack.
Fujis are usually my go-to apple. Obviously Honeycrisp are the best but I'm not made of money and those apples ain't cheap!
Our gym at work offers fitness classes during lunch so I made it just in time for a barre class. Barre is one of my favorite lunch time workouts since you don't get too sweaty and it's a nice stretch break during the day. I was definitely sore on Tuesday, though! After class I heated up my lunch and went back to my desk to eat it.
This was red lentils with a masala curry sauce and a couple mini whole wheat pitas. Obviously I snapped this photo before I scooped it into tupperware, but you get the idea. I also grabbed a cucumber tomato salad from the salad bar at work because, veggies.
Around 4:00 I went back to the fridge to grab my afternoon snack.
I had some bell pepper and cucumber with a little tzatziki. The veggies had a nice satisfying crunch and I love the creaminess of the tzatziki thanks to Greek yogurt.
My sister in law invited us over for dinner which was awesome for so many reasons: I got to see my nephews, hang out with my parents, and eat an amazing vegetarian dinner cooked by my sister in law! She made this quinoa enchilada recipe in the crockpot and I'm definitely going to be giving this a try at home. I love love loved it!
We ended up hanging out with my family for the rest of the night and I had some Skinny Pop popcorn as well as a few pieces of Icelandic dark chocolate that my brother had picked up at Whole Foods. I'm trying to curb my night time snacking but the sweet + salty combination was the perfect way to end the day!
What have you been eating lately?
I'm linking up to What I Ate Wednesday!