The Monticello Heritage Harvest Festival
Alex and I spent most of our weekend in Charlottesville for the Heritage Harvest Festival at Monticello. It was basically a dream weekend since it involved food, wine, and a whole bunch of folks who care about food quality, the environment, and vegetables.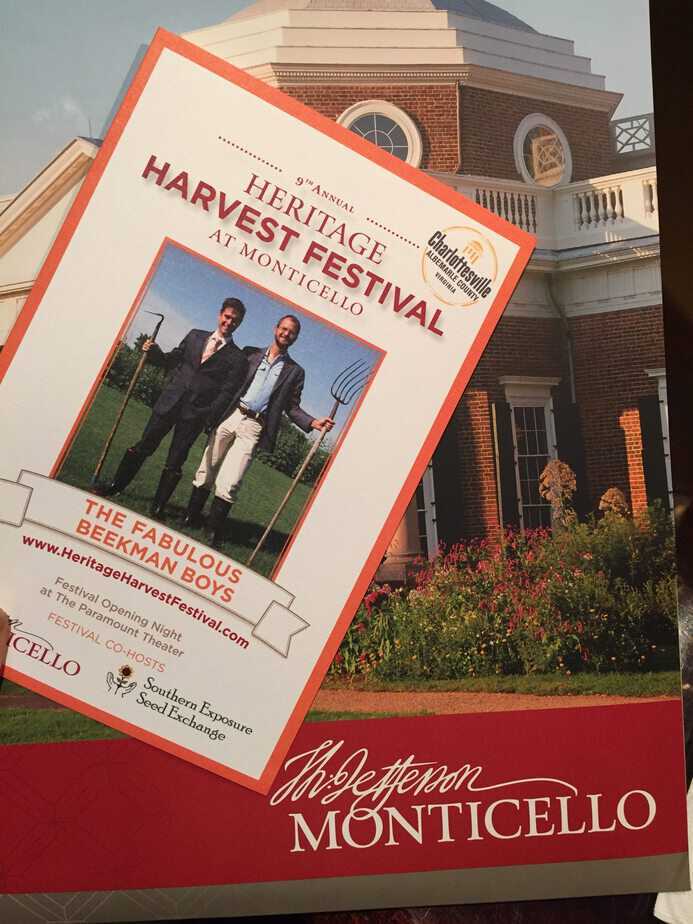 Friday night kicked off with the Beekman Boys, two Manhattanites who gave up their city life to start a farm in the country. The story of how the ended up where they are today is pretty interesting (you can read more about them on their site) but what really struck me is how they're working on changing the game for ordinary farmers. These guys are extremely educated and it doesn't hurt that they're quite charismatic. I'm pretty sure these guys could sell anything but rather than just capitalizing on their ability to sell, they're using their talents to make a difference in the farming industry.
They talked about the "mortgage lifter" tomato and how they used this type of tomato to develop a pasta sauce. And it's not just any sauce. This sauce is on a mission:
[We] use 25% of the profits from this sauce to help aid another farmer.We're teaming up with an agricultural 501c3 so make that happen.

The other 75% of the profits will go right back into the business to hopefully develop a whole range of "Mortgage Lifter" food products that will not only help support American small farms with profits, but also by growing a sustainable food brand for small farms to supply.
The whole story of the sauce is on the Beekman Boys' blog, here! You can also read about their upcoming partnership with Target. It's a pretty exciting deal!
I also had the chance to meet them after the show. I was a little starstruck but they were super friendly!
On Saturday, we went to the festival which was on the grounds on Monticello.
We attended a few different workshops but we both agreed that our favorite was the apple & cheese pairing class. Gail Hobbs-Page, from Caromont Farm, shared about different varieties of cheese and how they're made. My absolute favorite was the Esmontonian. I'll definitely be getting some from Relay Foods once it's back in stock!
My favorite of the apples was the Winesap. I'm so glad that fall means apple season!
The grounds were gorgeous and luckily it didn't rain too hard while we were there, although you can see how misty and foggy it was!
Obviously, we had to try a donut from Carpe Donut. This isn't your typical donut stand. Carpe donuts are made with simple, organic ingredients. So not only do you get a great tasting donut, but you also don't get a bunch of weird artificial flavors or preservatives. I love knowing exactly what's in my food!
Alex and I actually served donuts instead of cake at our wedding, so donuts will always have a special little place in our hearts!
We also got to see a few animals roaming the grounds! This little guy seemed ready to pose for a picture!

It was such an inspiring weekend. I think it's easy to get frustrated with the food system in America and sometimes it just seems too daunting for anyone to make an impact. But hearing from the Beekman boys, meeting local farmers, and seeing the support of the community, it got me so excited for the future. These are the people that are making a difference.
Does your city have a similar type of festival? If so, have you been?