The weekend was a bit of a blur, but I think that's because time really does go by faster when you're enjoying life!
I got to spend quite a bit of the weekend with various bloggers, which is always a good time. One of the best parts is that no one questions why you whip out your camera every 30 seconds. Everyone respects the need to Instagram each moment. Tweeting is second nature. Yep, it feels quite nice.
Friday night, Gabby, Lauren, Shannon, Katherine, Brittany, Valerie, and I went to Happy Hour at the VMFA. They actually have a pretty fantastic happy hour. 1/2 bottles of wine from 5-8pm. Can you beat that? Probably not. And even more conveniently, the food truck court is located a few steps away. So Lauren, Valerie and I met up with the always-fashionable, Brian. Dinner from food trucks, enjoyed outside on the lawn. I was more than content.
Saturday morning, Brittany and I went to the Farmer's market to pick up some tomatoes for a #CanItForward adventure. Before our canning, we stopped by Fresca on Addison, a local vegetarian restaurant, for some lunch. I had the OMGarlic sandwich, with a kale salad. It was the perfect light lunch.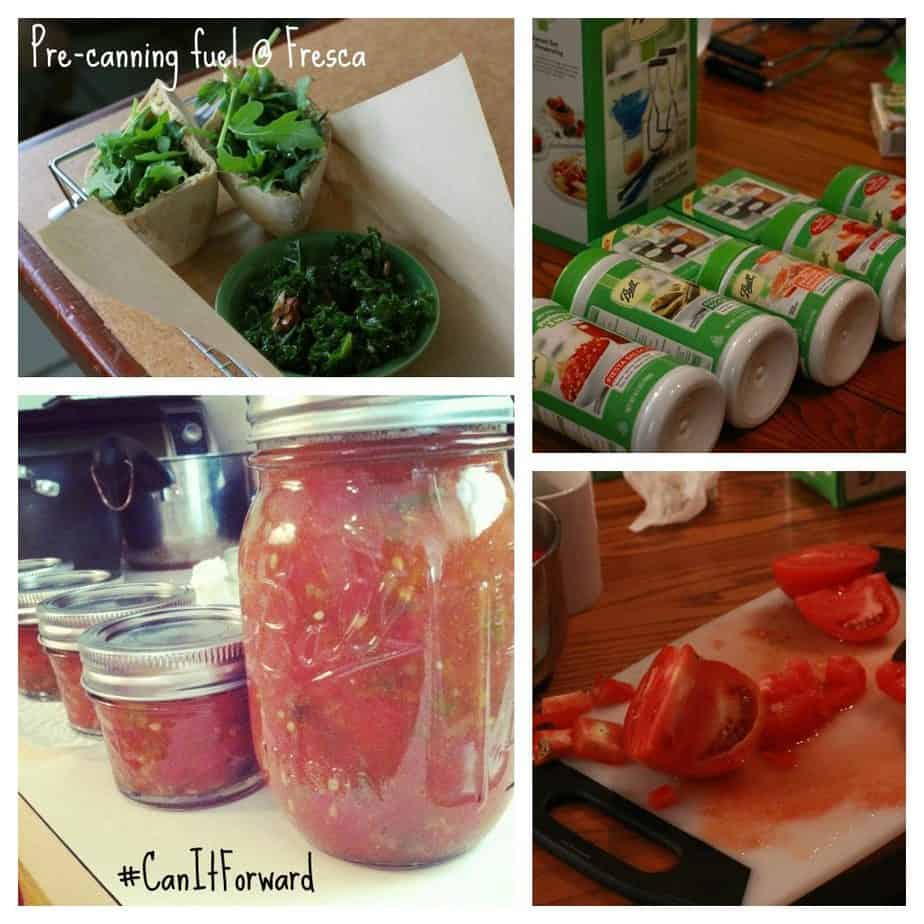 We spent the afternoon in the kitchen, laughing and talking while we attempted to can some salsa. I can't really tell you how it is… since it's in a can… and should probably be there for the next few months, in order for the whole "canning" concept to really work, but I'm sure it's going to be excellent.
Later that night, my roommate graciously made dinner for me (& her boyfriend, and our friend Erin). Technically, the main dish was ribs, but I turned the salad into a main dish, and let me tell you, it was amazing.
Black Bean & Avocado Salad
This recipe is gluten free & vegan
2 cups black beans (rinsed and drained)
2 avocados, sliced
1 orange bell pepper, diced
1 jalapeno pepper, sliced
1/4 cup fresh cilantro
1/2 tsp cumin
1/4 cup lemon juice
2 tbsp olive oil
This is a pretty simple recipe, and you really just need to throw it all into a giant bowl and serve. I wouldn't recommend making it ahead of time, since you don't want the avocado to look brown. It also helps if you mix the lemon juice and the olive oil together before mixing into the salad, because it'll distribute a little better.
I had this with a slice of zucchini bread, and it was a pretty filling dinner! It's gluten free, vegan, raw, and delicious. I'm definitely going to be making this again soon. It's light & fresh and perfect for a warm summer night.
Overall, I'd say it was a pretty fantastic weekend!
What summer foods are you enjoying?