Roasted Cauliflower Soup
This roasted cauliflower soup is rich, creamy, and completely plant-based! Roasting the cauliflower brings a caramelized sweetness that will have you coming back for seconds!
I'm not usually a big fan of puréed soups. I usually prefer something chunky and hearty, but this cauliflower soup blew me away. I tried it without blending it at first, but I found that I loved the texture best when blended into a silky smooth soup.
Roasting the cauliflower brings out the natural sweetness, which pairs really well with the carrots and other vegetables. This recipe is easy to make and I love that it doesn't require any cream, even though it tastes rich and creamy! If you love this recipe, be sure to try my Carrot Potato Soup or this Cauliflower Potato Soup!
Ingredients and Substitutions
Cauliflower: The main ingredient in roasted cauliflower soup — it brings a mild, nutty flavor and creamy texture when roasted. You can use fresh or frozen cauliflower.
Olive Oil: This is used for roasting the cauliflower, helping it develop a golden brown, roasted exterior. You can substitute it with other cooking oils like canola or avocado oil.
Carrots: Carrots contribute a natural sweetness and vibrant orange color to the soup. They also add thickness and body when blended.
Onion: Chopped onions provide a savory and aromatic base for the soup, enhancing its overall flavor profile. You could substitute with shallots if desired.
Celery: Chopped celery adds a subtle earthy flavor and contributes to the soup's depth. You can leave it out if you don't have any.
Garlic & Thyme: The seasonings help add flavor and depth to the soup.
Vegetable Broth: I like the "not-chicken" style broth from Edward & Sons, which is a vegan-friendly broth that tastes more similar to chicken broth. Be sure to use a flavorful broth for the best results.
How to Make Roasted Cauliflower Soup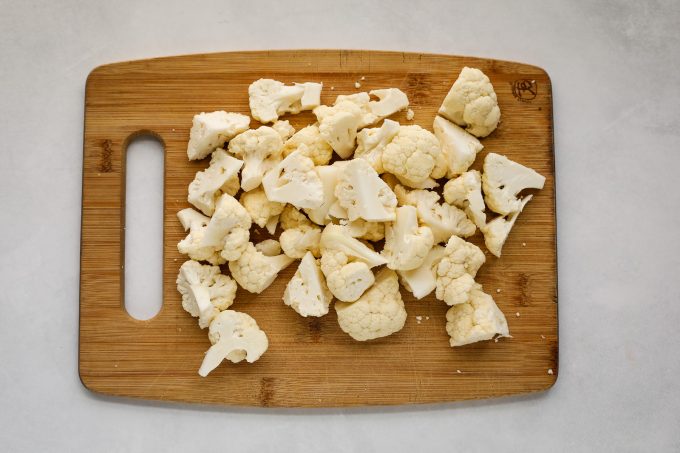 How to Blend Hot Soup
Be careful when blending hot soup. You may need to allow the soup to cool slightly for about 5-10 minutes. Blend in smaller batches if necessary, filling the blender jar only halfway. Secure the blender's lid firmly and start blending at a low speed initially to minimize splatters. Most blenders have a removable plug on top that can be removed to allow steam to escape. Cover the hole with a kitchen towel to avoid any splatters. Blend until the soup reaches your desired consistency, release any remaining steam carefully when opening the blender, and adjust the seasoning as needed.
Frequently Asked Questions
Can I use frozen cauliflower? Yes! It may take a few extra minutes to roast in the oven, but frozen cauliflower works just fine.
Is this recipe vegan? Yep! Even though it's super creamy, there's no cream in this recipe.
Is cauliflower good for you? Yes! It's a great source of fiber as well as vitamins and minerals.
Can I make this recipe without oil? You won't get the same rich flavor, but you can make this recipe without oil. When roasting the cauliflower, sprinkle with a little water. This helps prevent the cauliflower from drying out. (But keep in mind, this steams the cauliflower slightly and you won't get the depth of flavor that you would from roasting with oil.) For the carrot, onion, and celery, you can sauté those in a small amount of vegetable broth instead of oil.
What to Serve with Cauliflower Soup
Not sure what to pair with this soup? Try serving it with Wildgrain bread (I love their sourdough loaves) or pair it with a little vegan naan. If you want more vegetables, try serving it with this vegan chopped salad.
You can also have fun with toppings! I love topping my cauliflower soup with crunchy croutons — and these homemade croutons are easy to make! You can even make polenta croutons if you want a gluten-free option. Also try it with diced green onions, crushed red pepper flakes, or a sprinkle of Parmesan cheese, if you're not vegan.
Print
Roasted Cauliflower Soup
Author:
Prep Time: 10 minutes
Cook Time: 45 minutes
Total Time: 55 minutes
Yield: 8 cups 1x
Category: Soup
Method: Stovetop
Cuisine: American
Diet: Vegan
---
Description
This roasted cauliflower soup is rich, creamy, and completely plant-based! Roasting the cauliflower brings a caramelized sweetness that will have you coming back for seconds!
---
1 head cauliflower cut into 1" pieces
2 tablespoons olive oil, divided
2 large carrots, chopped
1 large onion, chopped
2 ribs celery, chopped
4 cloves garlic, minced
1/2 teaspoon dried thyme
4 cups vegetable broth
Salt and pepper to taste
---
Instructions
Preheat oven to 425 degrees.
Toss the cauliflower with one tablespoon of olive oil and season with salt and pepper.
Roast for 15 minutes, then flip and continue to roast for another 10 minutes or until lightly browned.
In a large pot, add the remaining olive oil, carrots, onion, and celery.
Cook over medium heat, stirring occasionally, for 8-10 minutes or until the vegetables are softened.
Add the roasted cauliflower, garlic, and thyme. Continue to cook for 2 minutes.
Add the vegetable broth and bring to a boil, then reduce heat to a simmer and continue to cook for another 15-20 minutes or until the vegetables are very soft.
Carefully transfer the soup to a blender. Allow steam to escape through the vent in the top, covered with a kitchen towel.
Blend until smooth.
Season with additional salt and pepper to taste.
---
Keywords: cauliflower soup