My Restful Winter Routine
This shop has been compensated by Collective Bias, Inc. and its advertiser. All opinions are mine alone. #BigelowTea #TeaProudly #CollectiveBias
I turned in the first draft of my cookbook just before the holidays, so I went into 2018 with a pretty big weight off of my shoulders. After such a busy season, I've tried to schedule less, plan less and generally do less. Last year, I totally overcommitted and ended up with so little downtime. Alex and I had something to do nearly every single night of the week and it was exhausting. This year, I'm trying to take a step back and give us more time for breathing. It took me a little while to adjust but I feel like I've finally hit my stride. I wanted to share a few of the things that have helped me start off 2018 on a happier, healthier note.
Planning Quiet Time
A few months ago, I downloaded the Calm app which has a free meditation timer. It sounds silly but setting a timer really does help me focus. I started with 5 minutes a day and I've been working my way up to 15 minutes. I don't do it every day but I'm trying to make it a habit. I find it especially helpful on Sunday nights when my mind starts thinking about the week ahead. It's nice to take a few minutes to set some intention and focus for the week.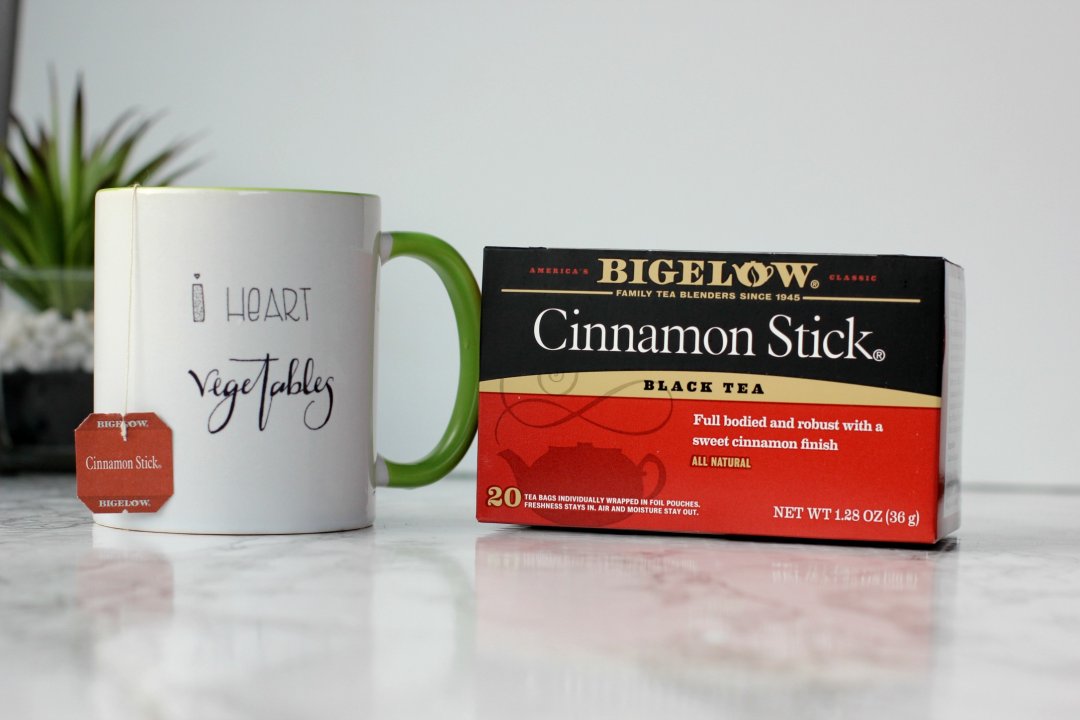 Trading Afternoon Coffee for Tea
I still drink plenty of coffee in the morning but I've switched to tea in the afternoon. I find that I sleep better if I don't have a lot of caffeine after lunch and there's nothing better than a good night of sleep! It's also nice when I'm in the mood for a little pick me up, but I'm not really hungry for a snack. Lately, I've been sipping on Bigelow Tea because they have tons of different flavors. Cinnamon Stick is my personal favorites. It's great when I want a little bit of caffeine, but not as much as a cup of coffee. I also love their Green Tea which comes in regular or decaf. January is "Hot Tea Month" so go check out how to #TeaProudly! Keep reading for a chance to win some fun goodies from Bigelow Tea!
The hardest part? Deciding which tea to buy! I decided to snag a bunch of different flavors. You can find them all at Walmart and be sure to follow them on Twitter, Instagram, and Facebook!
Reading Actual Books
I love my iPad and the Overdrive app is awesome (hello, free library books!) but I'm trying to read more "real" books since I'm already spending so much of my day staring at screens. I'm less distracted when I'm reading a book because I don't have notifications popping up. My favorite book I've read recently was Whole: Rethinking the Science of Nutrition, which totally changed the way I think about protein sources. Seriously, go read it.
Turning Off Distractions
I keep my phone on Do Not Disturb as much as I can. I like that my phone doesn't light up every time I get a notification, but I can still see them when I tap my home button. It's an easy way to check my notifications when I need to but they're not constantly flashing and dinging. I also put my Instagram and Facebook apps into a folder, so I'm less likely to check it just because it's staring me in the face when I'm on my home screen.
Waking Up Easier
This isn't new, but it's one of my favorite tips, so I'll say it again: Get a wake-up light! We have this one (it's not cheap, but it's worth it) and you can set it to simulate a sunrise at whatever time you want to wake up. For example, if I want to get up at 6:30, I'll set it so that it'll gradually increase the light until 6:30 so that once the alarm goes off, the room is already bright. It makes it SO MUCH EASIER to wake up when it's pitch black outside in the winter. If I could give one of these to everyone I know, I would. They're magical.
These little things may not be life-changing, but they've certainly helped me start off this year on a more relaxed note. If you need a little help relaxing… be sure to enter the #TeaProudly sweepstakes below! You could win a nice little cozy prize pack!