Family Reunionizing
Hey there friends. Happy Monday! The family reunion was a lot of fun, but I'm happy to be back in civilization with internet, cell phone reception, and my own kitchen.
It was an interesting weekend to say the least. My family is crazy, just like every other family.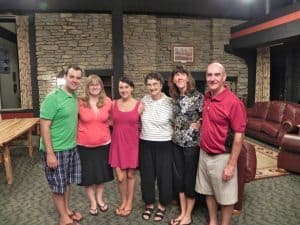 Brother, sister in law, me, grandma, mom and dad!
The reunion weekend was named "The Summer of Canned Heat", denoting both the extreme temperatures, and a tribute to my mom's cousin, who was apparently married to the drummer of Canned Heat. This led to the watching of a 3 hour documentary about Canned Heat, which, for those are you who are unaware, is apparently "The greatest boogie-blues band of all time"… according to the dvd. I can't make this stuff up.
I also can't make up this picture.
The table next to us, at "Mexi-Itali" (yes, a Mexican-Italian restaurant) had a bag of cheese curls to eat with their meal. Oh southern Ohio, how you depress me.
On a more positive note, every year we have a golf tournament in memory of my grandpa, so it's always fun to see who will get the trophy!
I was armed with my cooler full of yogurt and vegetables, so I managed to survive. I also talked my dad into going to the gym with me, and my 69 year old uncle came too. It was a very cute moment of family bonding. I wish I'd taken a picture. My family has a few health-conscious members… but in general, they're very… unenthusiastic toward healthy food.
Do you eat like your family?
<3 Liz