My DIY Treadmill Desk
If you feel like you spend too much time sitting, then you need a treadmill desk! This easy DIY version is simple to build on a traditional treadmill and it makes it easy to walk and work at the same time!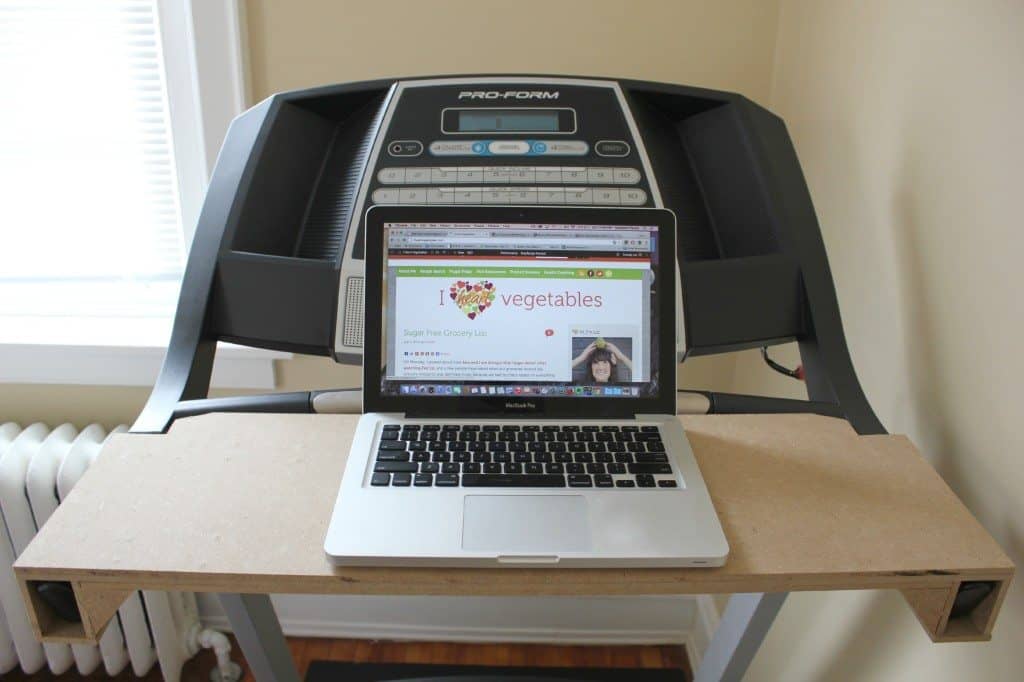 The benefits of a treadmill desk
I've been dreaming of one of these for a while, since I hate spending any more time than I have to sitting at the computer. Having a day job at a desk and a hobby that requires a lot of computer time means it's easy to spend the whole day sitting. This little treadmill desk means I can get steps and work on the computer! I'm seriously thrilled!
What type of treadmill to use
We ordered this treadmill from Amazon a couple of weeks ago and it arrived on Thursday! It was quite a workout getting it up the stairs, but it only took about an hour to get it all set up. You can order any brand of treadmill you like but make sure that it has flat "arms" that extrend straight out, parallel to the ground. This is what you need to rest the desk on.
How to build a treadmill desk
We picked out the wood from Home Depot on Friday morning and by Friday night, I was walking and typing at the same time. We were originally planning to use oak for this but particle board was lighter so we thought it might be easier to take it on and off. We got a sheet (it was about 2′ x 4′ x 1/8″) and Alex made the cuts with our table saw. He measured around the handles in order to build a box around the sides, to make the tabletop more stable. Every treadmill is slightly different, so you'll have to take measurements for your specific treadmill, but here's the basic outline of how Alex did it:
For the top two pieces, measure the width of the treadmill arms, plus about 1/2″ extra (since the arms will have to go over the sides.) Basically the extra has to be 2x the thickness of the board you're using. So if your board is 1/4″ thick then it needs to be 1/2″ longer than the treadmill width.
You'll want to cut these first, since these are the two largest pieces. These will be stacked on top of each other, to make sure the desk is thick enough.
Next, cut 2 "arm bottoms" from the scrap wood leftover from one of the top pieces
Then cut the four "arm sides" from the scrap wood leftover from the other top piece.
The rest of the wood, shown above in grey, will likely just be leftover wood. Alex used some of this scrap wood to continue to reinforce the desk, but you may or may not need it.
Here's a close up of how the side pieces fit around the handle of the treadmill:
Obviously, it is easier to do this with a table saw and a nail gun but you could probably still try it with a hand saw and some screws, it just might take a bit longer.
The trick was, everything had to be pretty exact for it to slide on and off properly. It's seriously perfect! And it only costs about $10 to build this desk on top of the treadmill!
If you're trying to get more steps in off the treadmill, check out this post on the most comfortable shoes for walking!
Would you work on a treadmill desk?