Baked Mexican Frittata
I did a pretty terrible job taking pictures this weekend, which is a bit sad since there was so much going on! I spent most of Saturday at Common Good RVA, an exploration into ways that we can improve our city in our everyday lives. There were some great speakers, thoughtful discussions, and an overall positive mood that made me feel so encouraged! I'll just share this picture from the CommonGoodRVA Twitter handle, so you can at least see how gorgeous it was while we ate lunch outside: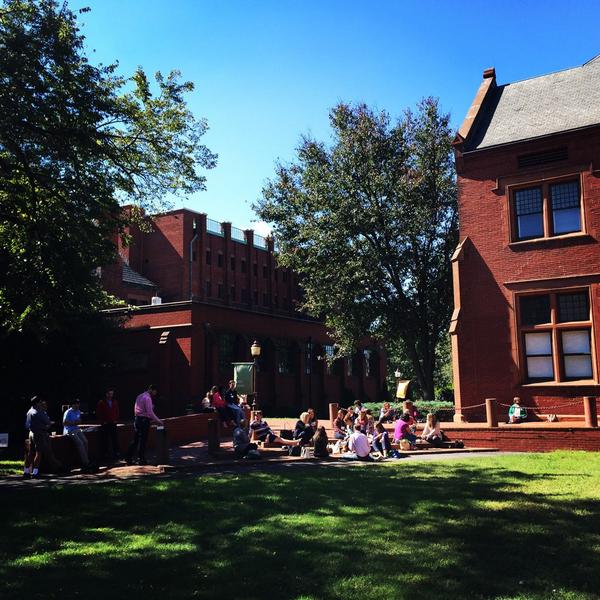 If you're in Richmond, you should get involved. It's a great group of people!
Anyways, let's talk about frittatas!
I'm  not a huge fan of eggs but sometimes a craving just hits. Or maybe it's really just a craving for cheese and eggs seems to be the best vessel. I'm not sure. I'm not even sure if this is a real frittata. I don't know what the rules are, but it's cheesy, eggy, and full of vegetables so you can't really go wrong. The beans add a little extra protein and fiber and you could certainly sub in difference vegetables (peppers anyone?) for what you have on hand. Plus it's meatless, so I'm linking up with Tina for Meatless Monday!
Print
Baked Mexican Frittata
Author:
Prep Time: 10 mins
Cook Time: 30 mins
Total Time: 40 mins
Yield: 6 1x
Category: Dinner
Cuisine: Vegetarian
---
Description
This skillet meal only uses one pan so you've got less dishes to clean! It's loaded with vegetables and makes a great meal any time of the day!
---
3 tablespoons butter
1 medium zucchini
1 yellow squash
2 cups frozen sweet corn
1 can of black beans, rinsed & rained
1/2 tsp chili powder (less if you don't like it spicy)
1 teaspoon dried oregano
½ teaspoon salt
2 cups shredded cheese (I used cheddar + mozzarella)
3 eggs, beaten
1/2 cup panko breadcrumbs (Mine were gluten free)
---
Instructions
Heat the butter in a large cast iron skillet or oven safe pan.
Preheat the oven to 375.
Sautee the zucchini and yellow squash for 4 minutes over medium heat until it begins to soften.
Add in the corn and black beans.
In a large bowl, beat the eggs and mix in the spices and shredded cheese.
Pour the egg mixture over the vegetables in the skillet.
Sprinkle with panko crumbs.
Cover with foil and bake for 18-20 minutes or until the mixture has "set" in the pan.
Turn the oven to broil and bake for 3 more minutes or until the top begins to brown.
---
Mmm. Everything should have panko crumbs on top.  Mine were gluten free, which meant this whole recipe was gluten free. (Not that it matters to me personally, but if that's your thing, you're in luck.)
We did end up with a lot of leftovers. I think next time I might halve the recipe. But then again, leftovers aren't a bad thing. They certainly do make packing your lunch easier!
Did you do anything fun this weekend?