10 Vegetable Soup Recipe
This 10 vegetable soup recipe is loaded with a rainbow of veggies with plenty of spices and seasoning for a bold flavor! It's easy to make and filled with good-for-you ingredients!
The recipe that inspired this soup was the 10 vegetable soup recipe from Panera Bread. They have a vegetable soup that is loaded with tons of different vegetables and I decided to recreate it at home! It's an easy way to use just about any vegetable you have in your fridge and substitutions are simple, so you can probably skip a trip to the grocery store!
10 Vegetable Soup Ingredients
This list might look long but remember, there are plenty of ways to make substitutions so don't stress if you're missing a few things!
Olive oil– A little olive oil helps bring out the flavors of the vegetables as they soften.
Onion– I used a small yellow onion but you could also use a white onion or a couple of shallots.
Celery– I love the subtle flavor celery adds to the soup base and it has a great texture.
Carrots– A few carrots add a layer of sweetness to the recipe.
Poblano pepper– Poblano peppers aren't super spicy but they bring a subtle heat to the dish.
Red bell pepper– I love the sweetness of a red bell pepper but any color is fine.
Yellow bell pepper– Again, I love it for color and sweetness but any color will do.
Garlic– I added a lot of garlic because I love the flavor. Feel free to cut back if you're not a big garlic fan.
Soy sauce– It may sound a little strange but it adds a salty, umami flavor to the broth.
Red wine vinegar– A little vinegar brightens the flavor of the soup. Feel free to substitute with balsamic vinegar, if needed.
Chili powder– Just a dash of chili powder helps build heat and flavor without making it too spicy.
Bay leaf– I love the earthy flavor this adds to a bowl of soup. Be sure to remove it after cooking.
Fire roasted tomatoes– Diced tomatoes have even more flavor when they're roasted, but any diced tomatoes will be fine.
Corn– A little corn adds a punch of sweetness to the bowl.
Peas– Canned or frozen is fine, and they add more veggies to the mix!
Vegetable broth– I recommended a flavorful vegetable broth like Edward & Son's "Not-chicken" broth.
Chickpeas– Canned chickpeas add protein and fiber to the soup.
Rice– Rice adds a little more substance to the dish. You can use white or brown rice.
Spinach– I love the color it adds to the soup and it's an easy way to sneak in more veggies.
Substitution Ideas
As I mentioned, with so many vegetables in this recipe it's not a big deal if you're missing a couple of veggies. You can also swap in vegetables that aren't listed here. For example, add a can of green beans to replace the peas. Or use green bell peppers in place of red or yellow peppers. Add a little jalapeño in place of the poblano pepper if you want a spicier flavor. Swap kale for spinach. Or use white beans instead of chickpeas.
Does This Taste Like Panera's Vegetable Soup?
Yes! I think it's pretty similar, although I have to say I think this one is even more delicious! It has a lot of flavor thanks to all the seasonings and the rainbow of vegetables gives this soup tons of texture. Even though it calls for chili powder, this soup isn't spicy, so it's a kid-friendly recipe.
How to Make 10 Vegetable Soup
If you're starting with uncooked rice, cook that first then set it aside. For a shortcut, you can use pre-cooked rice that comes in a microwaveable pouch. You can use white or brown rice.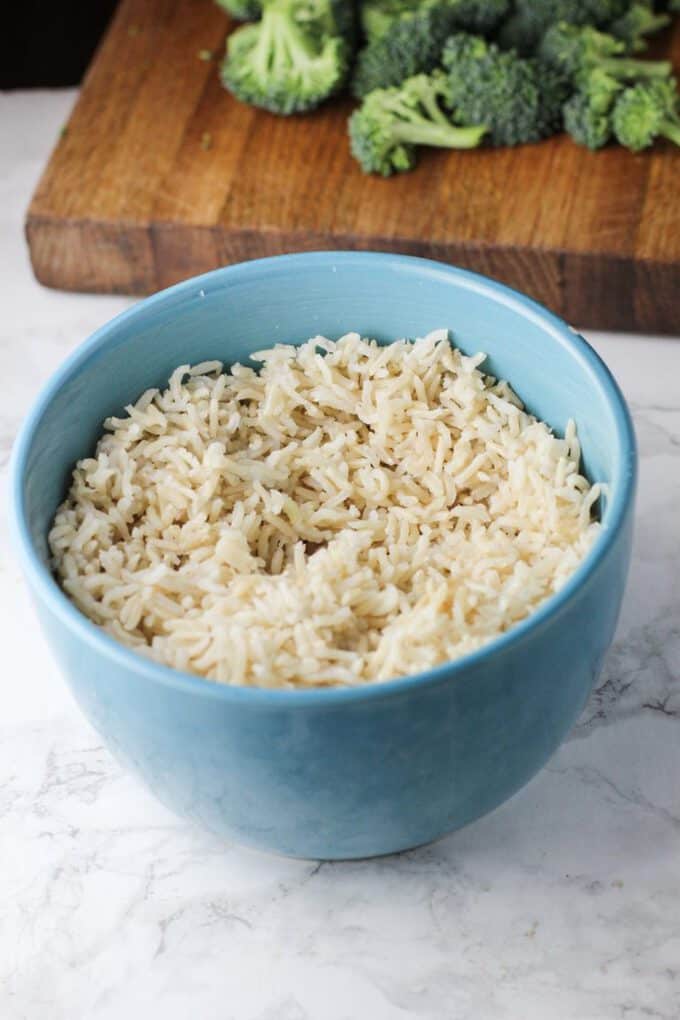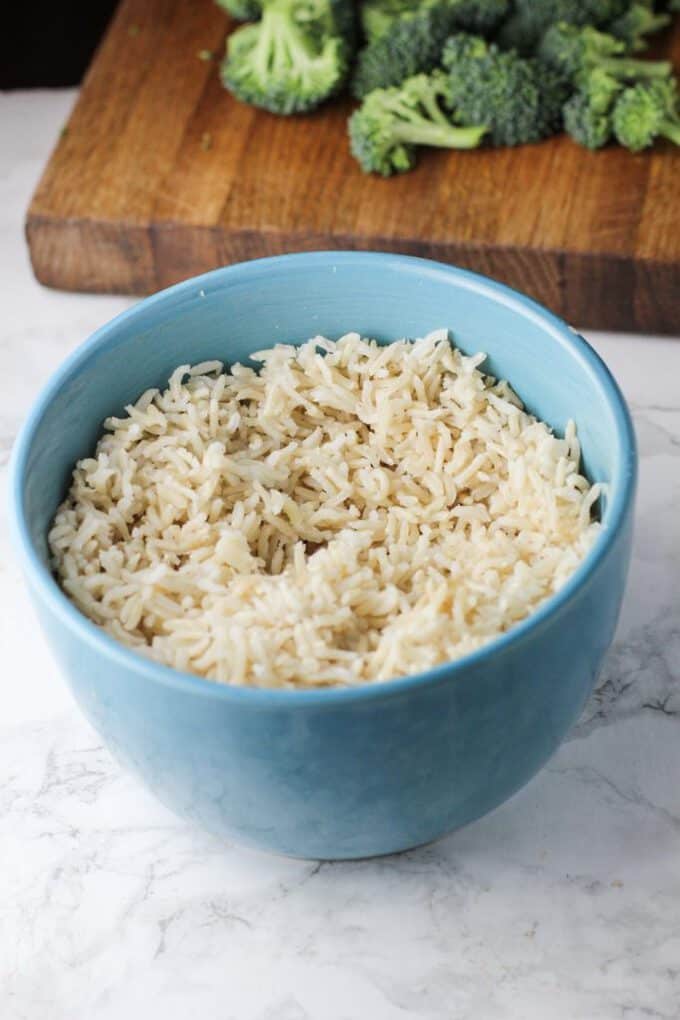 Next, chop all your vegetables. They don't have to be chopped super fine and it doesn't have to be perfect!
Add the olive oil and vegetables to a pot and let them cook for about 10 minutes until softened. Add the garlic and spices and continue to cook for 2 minutes. Then add the remaining ingredients except for the rice and spinach, and bring to a boil.
Reduce the heat and simmer for 15-20 minutes until the vegetables are softened. Add the spinach and rice and continue to cook for 3 minutes until heated through.
How to Store Leftovers
This soup can be stored in the fridge for up to 4 days. It's also a great recipe to keep in the freezer! Allow the soup to cool, then transfer to a glass storage container. Freeze for up to 3 months. To reheat, thaw in the microwave then heat in the microwave or on the stovetop.
What to Serve with Vegetable Soup
Try serving this soup with a hearty loaf of sourdough bread or olive oil bread. Pair this soup with a salad like this spicy kale salad or serve it with a sandwich like this sweet potato grilled cheese! It's a versatile recipe that can pair with almost anything!
Print
10 Vegetable Soup Recipe
Author:
Prep Time: 15 minutes
Cook Time: 25 minutes
Total Time: 40 minutes
Yield: 10 cups 1x
Category: Quinoa
Method: Instant Pot
Cuisine: American
Diet: Vegan
---
Description
This 10 vegetable soup recipe is loaded with a rainbow of veggies with plenty of spices and seasoning for a bold flavor! It's easy to make and filled with good-for-you ingredients!
---
1 tablespoon olive oil
1 white onion, chopped
2 stalks celery, chopped
2 large carrots, peeled and chopped
1 poblano pepper, seeded and chopped
1 red bell pepper, seeded and chopped
1 yellow bell pepper, seeded and chopped
6 cloves garlic, minced
1 teaspoon soy sauce
1 teaspoon red wine vinegar
1/4 teaspoon dried chili powder
1 bay leaf
1 15oz can fire-roasted tomatoes
1 cup corn, canned or frozen
1 cup peas, canned or frozen
4 cups vegetable stock
1 15oz can chickpeas
1 cup cooked brown rice
1 cup spinach
---
Instructions
In a large pot, add the olive oil, celery, onion, carrots, poblano pepper, and bell peppers.
Cook the vegetables over medium heat for 10 minutes until the vegetables have softened.
Add the garlic and continue to cook for 1 minute.
Add the soy sauce, red wine vinegar, chili powder, bay leaf, tomatoes, corn, peas, vegetable stock and chickpeas.
Bring to boil then reduce heat and simmer for 15-20 minutes.
Stir in brown rice and spinach and remove from heat. Stir to combine.
Keywords: 10 vegetable soup
More Soup Recipes