What I Ate [as an elf] Wedensday
I've felt like an elf this week!
I finished up [almost] all my Christmas shopping, and I was in a wrapping frenzy! But let me take you through the day of eats first.
Thanks, Jenn, for hosting the party, as always!
Breakfast:
Yep. Still the same. After a week of oats I'm back to my old ways. Yogurt it is! Plus blueberries and Bear Naked Granola.
Lunch:
I though the salad + hummus combo had been upsetting my stomach, so I've been trying to switch things up.
Curried chickpeas, which were eaten with some vegetable soup. Even though that's essentially the same combo as a salad with hummus, it didn't upset my stomach! Odd!
Snack:
I will eventually do a whole review of the Lolihop box, but I'm waiting until I consume all the snacks!
I did eat an unpictured larabar and I decided I'm not going to eat these anymore. It can eat these in 2 bites! (I mean, I made it last like ten bites, by eating like a rabbit, and I think my co-workers were thinking "why the heck can't she take a normal bite?") See? More trouble than it's worth. And for 220 calories, I'd rather have a huge yogurt bowl. Anyways. Sorry, Larabar fans!
Dinner
G-love and I ate leftovers. We actually cooked a big spaghetti dinner for some friends on Sunday and we made way too much food, which means leftovers were in order. He ate the spaghetti, I ate the leftover salad. And I bought caesar dressing for Sunday, but I didn't eat any of it, because it has anchovies in it 🙁 But that meant I finally tried the Ranch I bought from Trader Joe's! I haven't had Ranch in a long time, but this stuff is relatively low calorie (30 per tbsp!) so I decided to give it a try. And I actually love it!
Yummm. Croutons and parmesan cheese made it extra tasty.
Dessert:
The boys and I were doing a gift exchange tonight, so I whipped up some cookies. I was inspired by Lauren, who was inspired by Jessica, but in the end, I did my own fun twist!
Cherry Almond Cookies
Adapted from How Sweet Eats
Makes ~12 cookies (you could easily double!)
6 full sheets of graham crackers
1/2 cup almond butter
1/4 cup maple syrup
2 tbsp brown sugar
1/8 tsp salt (more if your nut butter is unsalted)
2 tbsp chopped dried cherries
Run the graham crackers through the blender or food processor, or just smash them in a baggie. You do want them finely crushed! Then combine the almond butter, syrup, sugar and salt. You may need to add a little bit more syrup, especially if your nut butter is on the dry side. I used TJ's and it's a little more runny/oily, so mine we're fine with this amount. Then add in the chopped cherries and roll into balls. Flatten a bit, and leave in the fridge for about an hour before serving. BAM.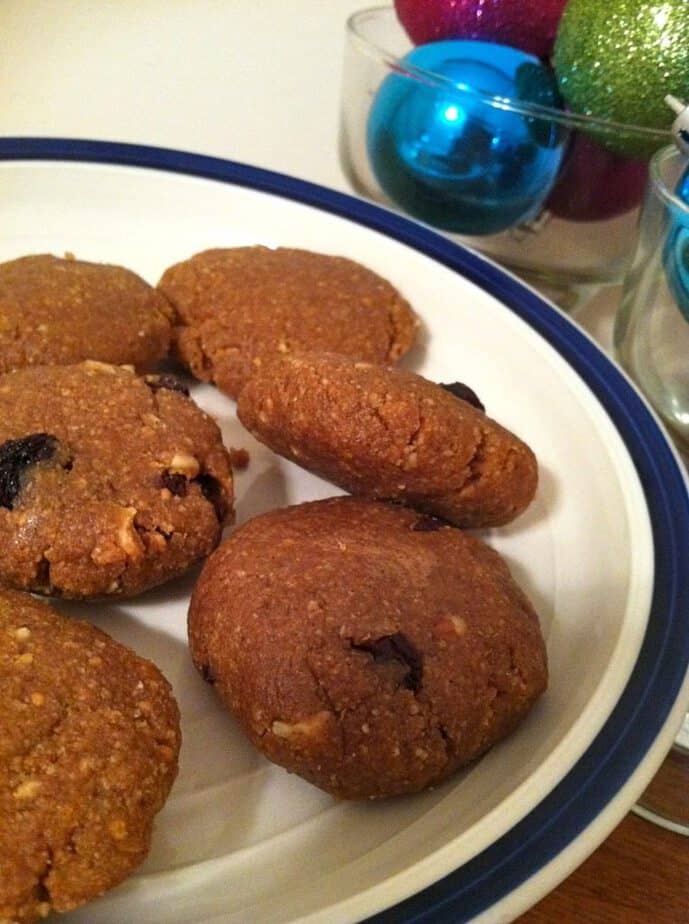 They sort of taste like cookie dough balls 🙂
Early Christmas Presents:
Last night, the boys and I did a gift exchange. It was quite a success! (They did well! Eugene even got me a coat, that fit's perfect! I love it!) I have to say though, these were hands down my favorite:
The man-friend bought me the Nike Free Runs I've been wanting forever! I'm SO excited to use these! And he picked out the colors himself 🙂 I'm super thrilled!
Have you opened any Christmas gifts yet?What have you been munching on?